Today is Day 1 of a new weight loss plan. I am tired of fighting with my body. I turn 50 this year and instead of being fat and fifty I want to be fit and fifty. I bought a Vitamix*. I have lots of in-season green veggies and a few fruits. I am giving it a go and I know the next 4 weeks will be make it or break it. I really want this to work for me and I am committed to giving this my all. I knew the first couple of week are really hard for many people as the body is detoxing and purging.
Here is the plan:
1. Start the day with warm lemon water. I am usually up between 5 and 6 am. It will be hard not to have the coffee first but I am willing myself not to falter.
Take 1 lemon and grind/blend it whole with warm/hot water. Down the hatch!
2. Have a morning smoothie: green, green, green. Lots and lots of green.
3. Midday whole grain bread – have you tried Dave's Killer Bread???? – You have to! The 21 Grain is the best! – with home grown spouts, tomato etc.
4. Afternoon green smoothie.
5. Dinner – assorted veggies, cooked or raw or a large salad, etc.
6. Snack – raisins, prunes, figs, dates, a piece of fruit.
I am working through the details and will tweak as needed. I am planning to blog daily.
About the blogging … I had really decided to quit this blog. What was once great fun and enjoyment turned into something not fun any more. While the content was written for myself the lack of response from readers began to tire me out over the years. Photographing takes time, editing photos takes time, writing takes time, assembling it all together into a nice post takes time. I was spending 3 – 4 hours on blog posts daily and the hobby began to drag me down like a job with low pay, no benefits and co-workers who did not speak to me most days. I knew people were out there but nothing I did seemed to make readers want to talk back to me by leaving a comment. The few who did comments really were lifesavers for a long time. The "Please don't feed the animals" sign at the zoo have are the exact opposite of what to do with blogging. When you walk by a bloggers exhibit (zoo cage, captivity display) please be kind and feed the animals inside the blog. One comment goes a long way in uplifting and supporting that person to keep on with writing and adding content. Be kind to bloggers – please feed the animals.
Right now I am not sure if I am blogging or using this as a personal diary. What I know that I am doing it documenting my journey so I can look back and see where I was and where I went. If you are coming along for the ride, thanks, make yourself known, the internet can be the biggest empty room in the world.
*I saved hundreds of dollars by choosing a refurbished one from Vitamix through Amazon.
I have since the beginning liked my quilt frame. It is the Gracie king model from the Grace company. I made my purchase based on price without much experience with a machine quilting frame. Finding a dealer anywhere local here in rural central Virginia to actually do a hands on comparison of a quilting machine much less a frame is like looking for that needle in a hay stack. For now I have this frame and it is the one I have to use and sometimes I get so frustrated I am even liable to tell you that I am 'stuck with it' until I can save up, sell this one, and get something else.
Well, that may have just changed. I am finding that suddenly the Gracie frame is not as evil as it had become in the past. The main problem with it beyond the constant need to tighten screws and work with the temperature and humidity to keep it level is those awful black plastic tracks that come with the frame. It is clear from the moment you begin putting the frame together that something is going to go downhill sooner or later and you can pretty much count on it being sooner. The plastic tracks are the rails that the steel carriage wheels roll on when you move the long arm during the quilting process. Plastic rails under the pressure of the weight of a machine moving back and forth over it tells you almost instantly that the steel carriage wheels are going to chew into that plastic and wear it down quicker than you expect.
On my frame I have a Tin Lizzie 18×8 manual model long arm machine. The weight of the machine is about 50 pounds. It is the highest weight recommended for the Grace wooden frame. Somewhere in process of quilting a 10th or 11th king size quilt I began feeling the slightest little bumps and dips which throws the quilting off into wibbles and not so smooth sewing lines. Running your fingers over the plastic the places where the steel wheels have chewed into the plastic is readily noticeable. Cleaning the plastic rails with renaissance wax the soft cloth always ended up covered with black dust which is a clear indication of the carriage wearing away the rails bit by bit.

The only way to fix it is to go online at the Grace website and order a new set of plastic tracks. The tracks for the king length cost $28.00. Then you get a bit of a shock because the company charges nearly $25 for the 'shipping and handling'. When the flat box comes in the mail feeling lighter than air you begin to question the validity of the shipping charges. When you go through this same scenario three times in one year you start to get angry. Not only do the plastic tracks wear down but you are rolling along just fine and suddenly they split right down the length and you can't quilt another thing until you replace the tracks. Fortunately you always keep an extra set on hand for such an event but after a couple years it becomes more than just frustrating it makes you hate your quilt frame and the company that makes it.
Let me tell you something else. Getting someone from the Grace Company to actually reply to an email or to contact them by phone is like sitting in the middle of the ocean with a cane pole waiting to catch fish. Chances are, it ain't happening. They have an 800 number but I have NEVER spoken to a real person on the other end of the line. This, as much as the plastic tracks has made me not want to ever use another Grace product. There has to be a better way of dealing with a company and of keeping the long arm moving with having to constantly spend money. Quilting is an expensive hobby. Buying a long arm is expensive. The constant upkeep and repairs of broken plastic pieces and parts is like watching your money run through a sieve. The frustration really builds and the joy of quilting becomes tedious and no longer a joy.
Unless you figure out another way.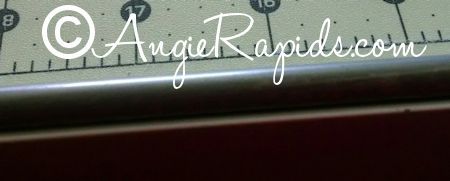 The resolution to the problem was so inexpensive and simple it almost seems like it was too good to be true. I had been reading on a couple quilting groups where a few women had said their husband had replaced the tracks on their frames with steel rods. A million questions later from people who did not give up details or their secrets too easily I finally had what I hoped would be the solution to my problems.
I called the local machine and welding shop. I asked if they had cold one-quarter inch stainless steel rods 132 inches long. The nice gentle man said it was a standard item in a welding shop, it comes cold rolled (meaning very smooth) or hot rolled (meaning unsmooth) and quoted me a price of forty cents per foot. To replace both tracks with steel rods would cost $8.80. You read that correctly. Eight dollars and eight cents plus tax. To also replace the two short lengths of plastic on the carriage itself was $1.77. I spent the total of $11.19 to replace the plastic tracks that were costing me $52.70 every few months because they cracked too easily.
This baby rides on these rails smoothly and evenly. The machine glides like a dream!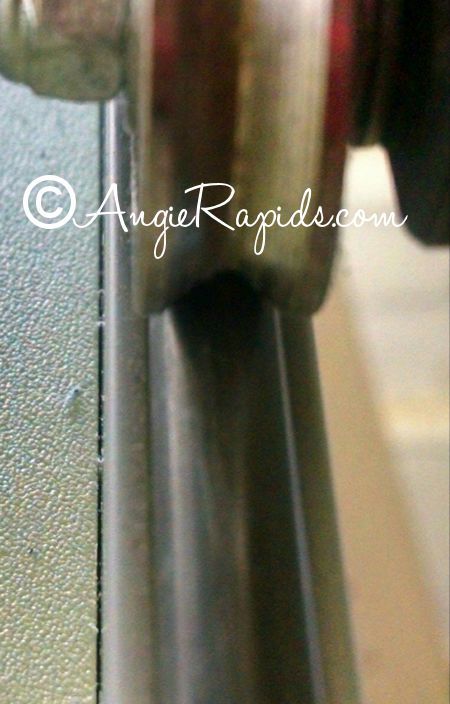 If you are having the same problems I did try replacing those black plastic tracks with the proper length of cold rolled stainless steel 1/4 inch rods easily found in the shop of your local machine and welding company. Double measure or even take one of the black tracks with you. You want the rods to be long enough that you have to bend them just a bit to slip them into the grooves on either end of the frame and lay flat in the lip of the raised aluminum frame track beds to be held securely in place. Same for the rods on the carriage. They need to be long enough that they sit securely under each end cap on the machine carriage.
It took me 15 minutes to move the machine, remove the tracks, slip in the rods, put the machine back in place. I cleaned and polished everything with renaissance wax and this baby corners like she is a high speed train on rails.
I am now, once again, in love with my quilting frame.
Find me on Facebook at HomeGrown
1/2 cup self rising flour
1 1/3 cup self rising cornmeal
1 tbsp sugar
1 tsp salt
1 egg
1 cup buttermilk
1/4 cup oil
1/2 finely chopped small onion
It should be a thick batter but not like heavy mud. Add some water if you need to so you can spoon it out in a hot fry pan with a little lard. Fry gently on both sides.