This is a sponsored post from BlogHer and Welch's.
This time of the year is my most favorite time of the year. The season of Thanksgiving that runs into Christmas and the New Year fills me joy and deep sense of need to pass on traditions to my children. My grandmother and my mother made our holidays special in the food they made and how they brought us together. If there is a legacy in my family it is food, not just the eating of it but the planning and preparing of it along with how it is served, when it is served and how we sit together to eat it.
There are certain recipes we make for those family dinners. Recipes we don't make during other times of the year. The dressing and the capon and the turkey and the ham, the cakes and the pies and the ambrosia. There is a time for everything and in our family Easter, Thanksgiving and Christmas were the times when there was no expense spared and the tables groaned under the weight of bounty we would share.
The first Thanksgiving on our farm with Welch's sparkling red and white.
When it came to those big holiday meals you can bet there would be sweet iced tea. My grandma's tea was sweet. It always reminded me of syrup the next day -if any survived to see the sun rise another day. My momma's tea wasn't so sweet but it was also the beverage of choice on too many meals to try and count. There wasn't a drink order or a preference – even for guests – we took a head count and that was the number of glasses filled with ice and tea and set out each place at the table. The idea of cocktails or wine with dinner was foreign. Wine glasses were things we saw on TV and in the movies.
As a child I would think to myself that when I became a grown up that would change things in my house. I planned to serve wine, both red and white, with holiday dinner. And I did. Well sort of. The big meal I cooked for friends for a holiday gathering I wasn't old enough to buy the wine. I worried over it and thought about asking a friend to bring the wine but then they weren't 21 yet either. That dinner party found the wine glasses filled with sparkling juice, red and white.
Over the years after I married and had children I also made sure not to leave the children out. When wine was poured the children's glasses were filled with Welch's Sparkling Grape juice. For those who chose not to have wine their glasses were also filled with the same sparkling grape drinks. Over the last 6 to 8 years my kids have come to expect it as a part of our holiday celebrations. Without even realizing it Welch's Sparkling juices had become part of our family holiday traditions. In fact, Welch's Sparkling Grape juices have often become the only 'table wine' we have served. At my wedding reception we toasted with the sparkling white grape drink.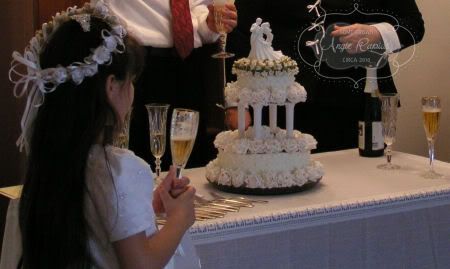 Gracie waiting to toast at our wedding with Welch's sparkling white grape.
This year I am excited to have a few variations to serve at our holiday gathering.
For Thanksgiving I will be serving Welch's sparkling cranberry spritzers and cranberry punch. For Christmas we will sit by the fire and watching sentimental movies and sip sparkling holiday punch and when the neighbors come over we'll share cups of spiced grape punch. New Year's Eve we will ring in the New Year with a holiday toasting punch.
Welch's isn't just for drinking. We love gelatin salads and desserts. Who can have a holiday meal without the gelatin mold? I spice up my holiday cranberry gelatin salads by substituting the cold water with Welch's Sparkling Grape juices.
Welch's Sparkling Juice cocktails are the perfect choice for happy family celebrations. The juices are non-alcoholic, so they're perfect for the entire family. They are deliciously refreshing with a light, bubbly sensation and the upscale package is perfect for special celebrations.
Let me share a wonderful wedding punch recipe with you.
Sparkling Wedding Punch
2 46 ounce cans of pineapple juice
2 cups orange juice (without the pulp)
1 cup lime juice
1/2 cup grenadine
1 cup of sugar
6 cups of chilled Welch's Sparkling White Grape juice.
Combine the pineapple, orange and lime juice. Add the sugar and stir until dissolved. Mix in the grenadine. Chill for several hours. When you are ready to serve pour the juices into a punch bowl, stir in the sparkling juice. Float a heart shaped ice mold made with sparkling white grape juice to keep the bowl chilled.
Which of the recipes would you like to serve during the upcoming holiday gatherings? I'd love to see your own recipes for spicing up holiday dishes with sparkling juices. Happy Holidays to you and your family from my family, Blogher and Welch's Sparkling Grape Juices!
By commenting here you are entered into the drawing for a $100 Visa gift card to stock up on Welch's Sparkling Grape juice products just in time for your holiday celebrations. Please take some time to visit the BlogHer.com exclusive offers page for a total of 11 entries for the sweepstakes drawing from Blogher. See the official Blogher entry rules here. Sweepstakes ends 5pm pst December 31, 2010
Don't forget to check out my review post next week for 2 more chances to win! For a second entry, you can: Tweet about this post with a link to it (and put your tweet URL in a separate comment below); Blog about this post with a link to it (and put your blog post URL in a separate comment below). Sweepstakes ends 5 PM PST on December 31, 2010. For Official Rules click here: http://www.blogher.com/official-rules-holiday-traditions .
317 Responses to "Celebrations and Traditions"