I have been searching for something new to create. I bought some fabric and could not decide on a design. I sat for 3 days looking and searching and could never find anything that felt right. So, I stopped looking.
Then the other day I ran across an old photo. This photo is one I have been researching to find out as much information as possible. I believe it is a depression era image possibly taken when the US Dept. of Agriculture was documenting the conditions of the people in rural areas in need of social services help.  I cannot be sure. If anyone knows any of the history of this photo I would love it if you would share it.
Wednesday the light bulb came on, inspiration struck and today I finished piecing a new quilt top.
It still needs a good pressing and I also have to think about how I want to quilt it.
The block is named The Arrowheads. The design is from the late 19th century and would have been commonly found at the time I believe the photo was taken. What caught my eye is the star just around the center of the block. See it?
These quilt blocks measure 26 1/2 inches square.I had to do the math calculations and make my own pattern pieces. I broke the design down into four 9 patch blocks, four arrows made up of two different sets of flying geese and a rectangle and of course the center square. I really love this block. I love it even better because it is what I call a 2'fer – a two for one. I made something new inspired by something old and filled my desire to piece a black and white quilt.
Now I am thinking about what I will do next.
This is the wreath I wanted to make before Christmas. The burlap is barn red and appears even deeper with the lightness of the green burlap ribbon. The reason I did not make it then and have made it now is purely due to the cost. I cannot believe how expensive burlap is suddenly now that the burlap crafting craze has taken hold and become trendy.I have been a lover of burlap since the days it was uncool to love old burlap sacks.
This is a 24-inch wreath frame and ten rolls of barn red crafting burlap. Total cost for the wreath with clearance priced Christmas merchandise was $10. That is a huge saving considering this same wreath would have cost me about $100  in materials just before the holidays.
I am very happy with it. I made it using the same technique as for the  mesh wreaths. Youtube has many videos if you haven't ever made a wreath from the crafting mesh fabric. Sometimes the burlap can be floppy and not nearly as stiff as the mesh. To correct this I use starch to stiffen the burlap as I put the layers of ruffles on. It is easiest to position the ruffles while it is laying flat then spray it down good with heavy duty starch, allow it dry and then continue with the next layer of ruffles.  I have some natural colored burlap floral stems to add to the basic wreath. I am also thinking with the change of the bow from green to blue this would be lovely 4th of July wreath as well as a white bow would make it festive for Valentine's Day. So many possibilities!
Happy crafting in the new year!
I made this small quilt top from scrap bags I purchased on eBay. The fabric is Pine Fresh by Sandy Gervais for Moda. I randomly created blocks from the various strips with no accounting for width. I tried not to put two strips of the same color together. When the pieces were too similar or had too much black I cut the blocks and started over adding to them to lighten them up.
This morning I put this on the frame.
I am doing a meandering loopty loop with no real rhyme or reason.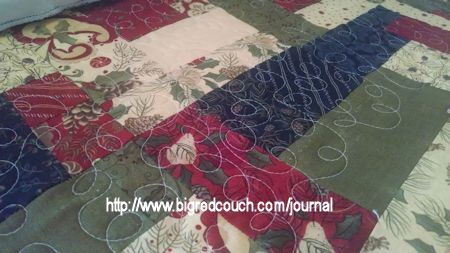 It is turning out really nice. So far I am more than pleased with the results.
What are you working on these days?