I found this clawfoot tub for sale on craigslist for $60 several years ago. We picked it up from a pasture where it was being used as a watering tank for horses.
When we got it home we found it was larger than the current bathtub and would not fit the original bathroom. So she sat and she sat. And she sat some more. Until we had to rip out the bathroom floor and found there was room for her in there after all!
This has been the longest bathroom repair and restoration and I am reaching the point of no return where I want to hurt somebody if they don't hurry up and help me get this done. Because I am almost done. Done. DONE!
Yesterday I flipped her over, primed and painted her outside walls red.
The feet got there own fancy pedicure treatment.
I restored the board and batten to the bathroom walls and now the area where she sits looks like nothing ever happened here in the past 105 years since the house was built.
Here is a little sneak peak. I don't want to reveal too much before the bathroom is finished.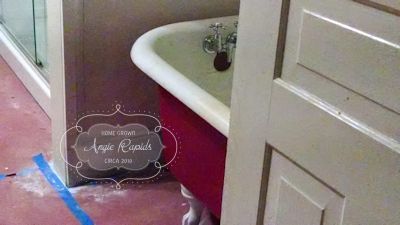 I am really starting to see my dreams take shape in reality!
4 Responses to "Bathing Room Restoration – Clawfoot Tub Edition"