My mother-in-law has a beautiful kitchen. Her colors are watery greens and blues of sea glass from her backsplash to her countertops. When we visit she always has hot dishes of food spread out on the countertops on various hot mats and pot holders so I thought it would be nice if she had pieces to protect her countertops that matched her kitchen when she entertained her friends.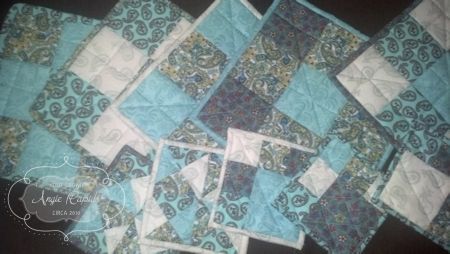 I used insulbright for the heat pads. It isn't heat resistant but it is heat reflective and will provide protection from hot dishes on the counter and tabletops.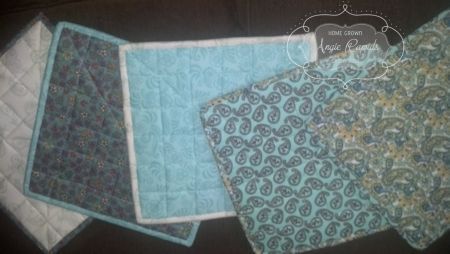 For the pot holders I used therma-flec which also comes quilted and in tan.
Designer hot pad and oven mitts are expensive. Doing them yourself is fun and you can customize them to suit your own kitchen decor and change them seasonally. You do not need a pattern. You can make them any size you want or need. Your imagination is your only limit.
4 Responses to "Quilted Kitchen Linens"