Is there anything more comforting than a hot bowl of soup and a sandwich when it is cold and rainy outside? I say not! I will even go so far as to say there is no soup and no sandwich better than tomato soup accompanied by a grilled cheese sandwich. I know when I offer soup and sandwiches everyone will request tomato soup and grilled cheese. With summer coming to an end and the abundance of fresh ingredients available I took advantage of the blessing and got myself busy.
A local farm offered up some end of season tomatoes so I hopped on the tomato train again. They are 'canning' tomatoes meaning they are 'seconds' or have blemishes and are small.
I brought them home, washed them up, cored them and run them through the food processor to a crushed tomato consistency. I did not peel them. This pot is about 35 – 40 pounds of crushed tomatoes.
I put them in my big stock pot and cooked them down until they began to thicken. You can see how much liquid evaporated and really heightened the flavor of the tomatoes. My ladle could stand on its own in the middle of the pot. This is a very low and slow process. It took nearly 7 hours of cooking at a simmer to reduce the tomatoes to this point.
I sauteed 4 cups of onions and 2 cups of chopped celery and 3 tablespoons of finely chopped garlic. Once they were soft and the onions were just at the point of caramelization I added them to the pot of tomatoes.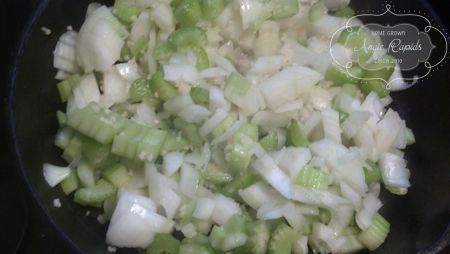 Using a stick blender I pureed the tomatoes, onions and celery until smooth.
The seasoning is tricky. For this batch I added 1 tablespoon of salt, blended the soup, let it mellow a little and then tasted it for flavor. This batch needed only 2 tablespoons of salt to be perfect. The second stock pot needed more. Remember it is also easier to add a little at a time instead of adding a lot and finding you have over salted everything. In something like this the only way to save it would be to cook down a lot more tomatoes and combining the two. Lots 'o work!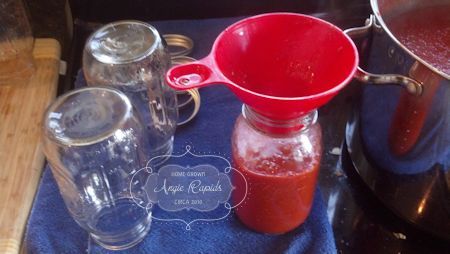 Working in batches of 7 quarts at a time I filled my jars.
I made sure to wipe the rims of the jars clean before adding the hot lids and rings.
Because the last few days has seen temperatures in the 90's (in October!!) I have my canners set up on my side porch to keep the heat out. So out with a canner load and into the pressure canner. I processed these jars for 20 minutes at 10lbs of pressure according to my altitude.
Let me stress here that you cannot -canNOT– water bath can tomato soup. Don't even think about it and don't send me emails asking if you can do it. The only safe process for canning tomato soup is using the pressure canning methods.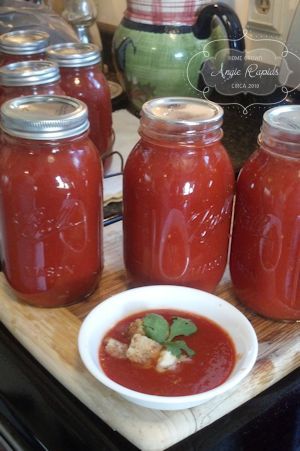 When I open these jars this winter we will feast on delicious homemade soup better than anything that comes out of a grocery store can. A pat of butter, a dollop of sour cream and a few croutons makes this soup a hearty meal served along side a grilled cheese sandwich. If I wanted cream of tomato soup I only have to add a good splash of heavy cream while it warms on the stove.
Making anything while canning means we will be eating that during one of our daily meals. Even as hot as it was we enjoyed steaming bowls of soup with the air conditioner blasting on us while crunching on crispy grilled cheese sandwiches.
Ingredient List
35 – 40 lbs of tomatoes
4 cups of onions
2 cups of celery
2 tablespoons finely minced garlic
salt and pepper
canning jars with lids and rings
pressure canner
11 Responses to "Garden Fresh Tomato Soup"