There isn't much difference in spaghetti sauce and pizza sauce in my kitchen. One is just thicker than the other. When I make a meatless spaghetti sauce I cook it down to almost a ketchup like consistency and then it is pizza sauce. I am flooded with cherry tomatoes right now. This variety isn't as sweet as I would like it to be so I decided to use them for pizza sauce. By the time the pizza is piled high with peppers, onions, black olives, pepperoni, italian sausage, parmesan and mozzarella cheese it is plenty flavorful.
I had about 40 lbs of cherry and grape tomatoes that I washed well and removed the stems and drained until nearly dry.
I filled up my baking sheets with tomatoes and then tossed some garlic cloves, onions, various sweet peppers and a drizzle of olive oil amongst the pretty little globes and baked them in the oven at 350 degrees until they were just starting to turn golden. They will release a lot of liquid. I had three trays and had to rotate the top to the bottom once during cooking time.
Once they were beautifully roasted I the put all of the vegetables in a big pot and using the stick blender pureed them into sauce.
Sometimes the sauce can be too thick to start with and you might dilute it with stock or red wine or just plain water. Taste it and adjust the flavors to your taste with Italian dried herbs (basil and oregano) and adjust the salt. This is when I add a little back flavor with red pepper flakes.
Because I cook it down thick like tomato sauce the pizza sauce needs a longer processing time than the regular spaghetti sauce. I process the sauce in pints for 35 minutes.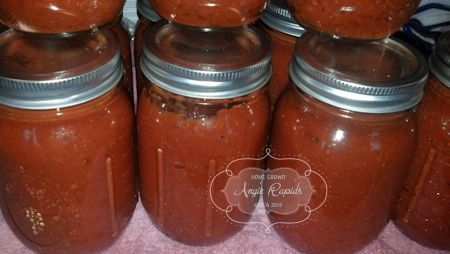 The sauce that I don't can gets made into delicious hot pizza that my whole family loves.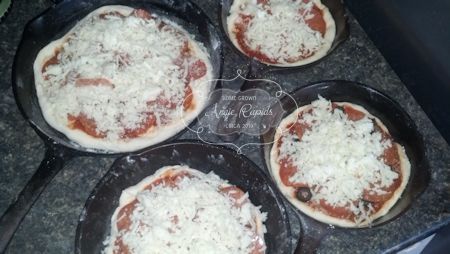 I love that I can use my collection of cast iron to cook pizza in. With so many different sizes I can offer everyone their own personal pizza topped with all the things they love.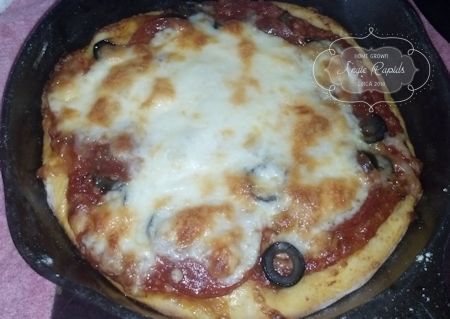 Big or little I think we have it covered.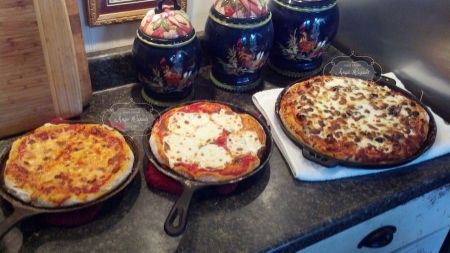 Homemade pizza dough is easy to prepare and so inexpensive. You can make pizza for pennies compared to take out pizza parlors. Homemade pizza can't be beat!
Spaghetti Sauce without Meat
30 lbs tomatoes
1 cup chopped onions
5 cloves garlic, minced
1 cup chopped celery or green pepper
1 lb fresh mushrooms, sliced (optional)
4-1/2 tsp salt
2 tbsp oregano
4 tbsp minced parsley
2 tsp black pepper
1/4 cup brown sugar
1/4 cup vegetable oil
Yield: About 9 pints
This recipe MUST be pressure canned. You CANNOT water bath can this sauce.
Procedure: Caution: Do not increase the proportion of onions, peppers, or mushrooms. Wash tomatoes and dip in boiling water for 30 to 60 seconds or until skins split. Dip in cold water and slip off skins. Remove cores and quarter tomatoes. Boil 20 minutes, uncovered, in large saucepan. Put through food mill or sieve. Saute onions, garlic, celery or peppers, and mushrooms (if desired) in vegetable oil until tender. Combine sauteed vegetables and tomatoes and add remainder of spices, salt, and sugar. Bring to a boil. Simmer uncovered, until thick enough for serving. At this time the initial volume will have been reduced by nearly one-half. Stir frequently to avoid burning. Fill jars, leaving 1-inch headspace. Adjust lids and process according to the recommendations. I am in Central Virginia and this recipe as is for 20 minutes for pints and 25 minutes for quarts. As I stated above, because I cook it down thick I process for the time for tomato sauce. National Center for Home Food Preservation.
One Response to "Pizza Sauce"