An abundance of tomatoes means lots of tomato dishes on the table at meal times. This tomato pie is easy and delicious.
You need one pie shell baked and cooled. If you make your own pie crust crumble 3 – 4 slices of crispy bacon into your dough when you roll it out. If you use a pre-made crust cook the bacon and set it aside for later. Once the pie shell is baked set it aside to cool.
Slice tomatoes and lay them out on a tray lined with paper towels with the lightest sprinkle of salt to draw out the extra juices. About 10 or fifteen minutes for the salt to do its work is enough.
Shave a bit of sweet red onion and set aside with the bacon.
In a bowl combine 1 cup of shredded cheddar cheese, 1 cup of grated mozzarella cheese, 1/2 cup Duke's mayonnaise, 1 tbsp thinly sliced basil and 1 tbsp chopped parsley. If you did not make the bacon crust this is the time to crumble your bacon into the cheese mixture. Mix well and set aside.
With the cooled pie shell layer in the drained tomato slices and a sprinkle of black pepper,
red onion,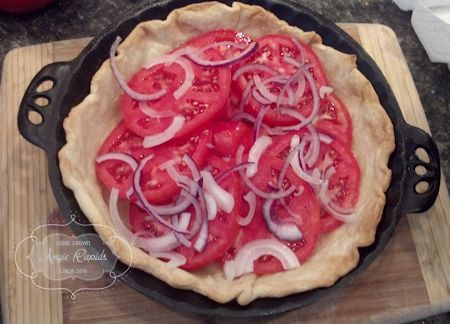 and a layer of cheese until the pie shell is filled.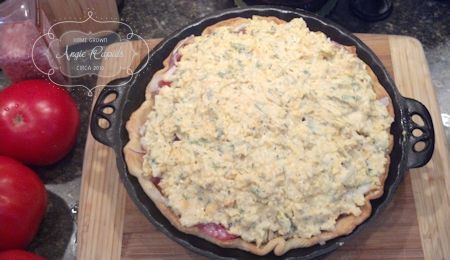 Once the pie is filled bake in a 350 degree oven for 30 – 40 minutes.
It should be lightly golden and set.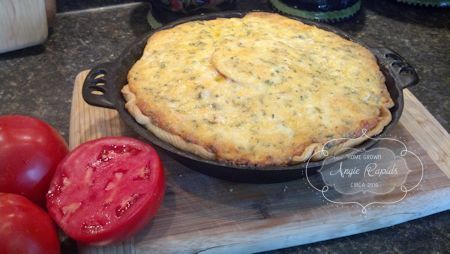 I use a cast iron pie pan and butter it well.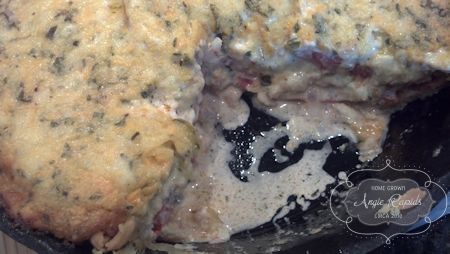 Non-stick every time.
And the tomato pie is delicious.
2 Responses to "Tomato Pie"