Any good southerner knows your greens are only as good as your hot pepper sauce. It is a fact. Don't let anyone tell you different. It is a rule of being southern that cannot be changed. There will be nay sayers and those who break the rules but just ignore them. They know not what they do. As a kid growing up in rural Burke County our schools has pepper sauce on the tables even in elementary school! Yes, they did. Those are the days when school lunches were made with real food for hungry kids. Pepper sauce is serious business in the south.
Pepper sauce is simply nothing more than good vinegar that has been flavored with a variety of hot peppers grown in summer gardens all across the south. You put peppers in a jar or bottle, cover with the vinegar brine, set in a cool dark place and let mother nature do the work for you. You don't have to run the jars through a water bath and you don't have to store it in the refrigerator. Nothing can grow in the acidic salt environment.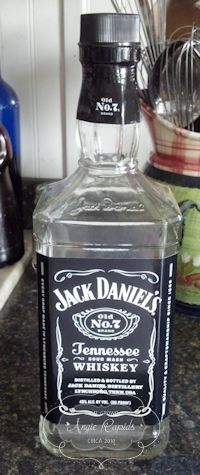 I love to find uses for attractive empty bottles. You can see several of my collection here and here. This time I am using empty Jack Daniels bottles for my pepper sauce. I love the square bottle and the peppers look beautiful inside there. Also? That little drop of whiskey left in the bottle will add a depth of flavor to my pepper sauce.
The brine is very basic:
2 cups of vinegar (I prefer apple cider vinegar but you can use white)
1 tbsp of salt
You can double it (4 cups vinegar 2 tbsp salt), triple it (6 cups vinegar 3 tbsp salt) – whatever you need to fill your jars or bottle. Just keep the ratio the same.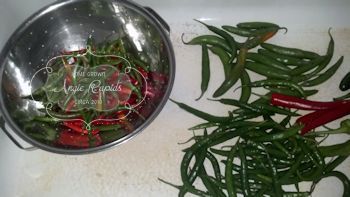 Wearing gloves!! (Danger, Will Robinson!!) Wearing gloves wash the peppers and remove the stem end so that the vinegar can get down inside of the pepper to really flavor the vinegar. I pack my bottles as full as possible and use a skewer or a chopstick to get them deep in the jar. I save a big pepper for last and try to wedge it across the mouth of the jar just below the neck so that smaller peppers won't float up. Everything stays under the brine.
Then I fill the bottle with the vinegar brine. Shake it around a little. Poke and jiggle. As those pepper cavities fill up with vinegar you will eventually have to add more to the bottle. It may be fine today but next week you make have to add some more.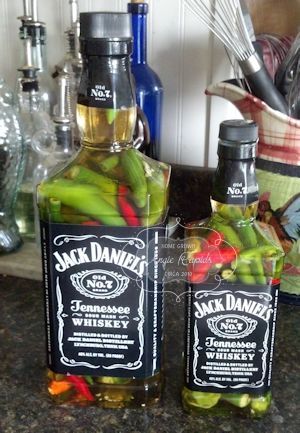 Put the pour spout back on, screw on the lid. You're done. When you use up the vinegar in the bottle just add more the same as you did to start. These peppers will flavor a ton of vinegar.
Late this fall when the frost has hit the collards and you have nice mess of greens cooked this pepper sauce sprinkled across the top with a little chopped onion and cornbread is all you need for a delicious meal. I promise you won't want your greens any other way -and southern girls always keep their promises.
6 Responses to "Hot Pepper Sauce"