The basic canning recipe for peppers is a ratio of vinegar to water with salt and sometimes sugar and even then some people don't use the water and only use the vinegar. If I am canning the rings to use in recipes or to eat with sandwiches or our favorite mexican dishes I go the vinegar and water recipe route. If I am flavoring the vinegar with peppers for my winter greens I don't add water. It can be confusing but you have to decide what you are canning for.
This is the standard hot pepper brine:
5 cups vinegar (5%)
1 cup water
4 tsp canning or pickling salt
2 tbsp sugar
and it is used with about 6 – 7 lbs of peppers.
This is the standard yellow pepper brine:
5 cups cider vinegar (5%)
1¼ cups water
5 teaspoons canning salt
2 tablespoons celery seed
4 tablespoons mustard seed
The mustard seed is supposed to help keep the banana pepper rings crisp.
Lately I have notice more people want a banana pepper ring more like those served at subway – a less vinegar tasting and more sweet end result. So I used a different recipe for a sweeter end result.
This week I canned banana peppers and a milder jalapeno pepper specifically for eating with other foods like on sandwiches or burritos. So I used the water, vinegar, sugar recipe for canning them.
20 large peppers
2 cups vinegar (I used white)
2 cups water
1/2 cup sugar
1/2 tsp ground turmeric (optional)
Bring brine to a boil to allow the sugar to dissolve.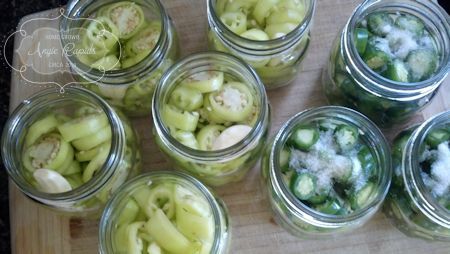 Cut pepper rings and fill jars. If you are cutting hot peppers wear gloves. Even then wash your hands carefully with soap and water. You can still spread the oils and touching your face or eyes will tell you so!
To each jar add:
1 clove of garlic (per pint jar)
1 tsp canning/pickling salt (per pint jar)
Fill jars to 1/2 inch head space with boiling brine. Apply lids and rings. Process in a boiling water bath for 10 minutes. Cool. Remove rings, wash jars and store in your pantry.
Since my peppers are just starting to come in I don't always have a large amount of peppers at one to work with. The banana peppers in these photos used the entire recipe of brine for 5 half pint jars. When I mixed up a second batch for the jalapeno jars I had brine left over. I poured that brine into a clean hot jar put on a lid, cooled, then stored in the fridge. The next time I have peppers to can I will use it. When doing small batches it is really easy to process the jars quickly without the need for a giant water bath canner by simply using a smaller pot with lid with enough water to rise 2 inches over the jars. Don't feel like you need to acquire bushels of peppers to make a canning session worth your effort. I canned these while I was making supper one evening. It went very quickly and I was finished in under an hour including my clean up time.
21 Responses to "Pickled Banana Peppers"