This instructional is by request from one of my readers on Facebook. Hi, Tracey!
I have to presume that you already know that everything you use should be clean and sterile – jars, lids, rings, utensils, etc, before beginning your canning adventures. Yes? Yes!!
I had a large brisket that I cooked to medium rare. I trimmed the thin end off for slicing. The thick end, or the butt, has layers of fat through the meat. I returned it to the oven and let it finish slow cooking. Once it was cooked and cooled I sliced it apart and took out the large pieces of fat and trimmed the meat.
Then I shredded the beef, added my favorite barbeque sauce and brought the entire pan up to a slow simmering boil.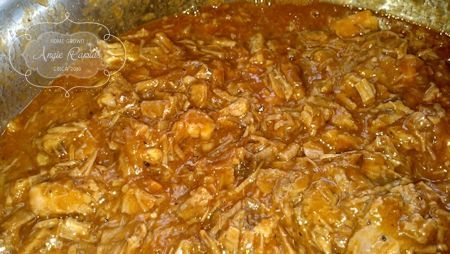 Next I ladled it into sterile pint sized wide mouth jars making sure to remove all the air bubbles and wiping the rims clean. Then added sterile lids and rings and placed those jars into my pressure canner.
For my altitude I processed the pints at 10lbs of pressure for 75 minutes as instructed in the USDA canning guide instructions.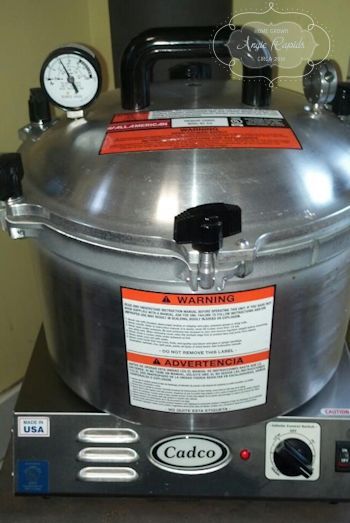 Once the canner had completed the processing time and cooled down I removed the jars and sat them in a draft free place to cool and seal.
Canning meats is a very easy process. The prep work is what I find to be the most tiring. Once you get those jars in the canner and set a timer it is to sit down a minute, read a book or browse facebook and catch your breath. Don't be intimidated by the idea of canning meats, poultry and fish. About the only difference in it and vegetables is the amount of time needed for processing. Follow the USDA canning guide and you'll do fine.
These jars are shelf stable and ready at any time to be opened, heated and made into wonderful BBQ sandwiches. My husband enjoys being able to go to the pantry and choose any number of his favorites already prepared and waiting for him to pop a top, heat and eat. I truly feel that being able to can our own foods is a real luxury. Not only do I know exactly what went into our foods when time is short and a meal needs to be put on the table I don't have to scrambled for something quick. It is already there. Someone forgot to take the chicken out of the freezer? No one turned on the oven for the casserole to bake? No problem! A meal is ready and waiting in the pantry! I hope you find the joy in canning your foods as well.
For the rest of the brisket come back tomorrow and I will show you how I canned beautiful sliced brisket ready for mushroom gravy and creamy whipped mashed potatoes!
3 Responses to "Canning BBQ Brisket"