Have you noticed that since more and more people are canning at home the cost of canning supplies has gone through the roof?
Just a couple years ago a case of canning jars was found in most place for $5 or less. Now in many stores those same jars are running almost double that price. Canning jar lids have always been pennies each and just the other day I needed large mouth lids in a pinch and the only place I could find them was in a local grocery store and they were priced at $3.89 for a box of 12. That right there is price gouging! As more and more canners start scouring for deals on used jars and other supplies and turning to reusable canning lids it has been hard to find a good deal anywhere!
I have observed large chains like W@lm@rt keeps lots of canning supplies in stock all year long but lately finding canning jars on any of their store shelves has been impossible. In the height of summer when jars are plentiful I tend to stock up but sometimes I still run out of jars. If I am given a large amount of produce and can't find jars to put it in I have to freeze it until a later time. Freezer space is at a premium around here and reserved most often for meat, fish, poultry, etc. I have on occasion been able to find off season jars at various dollar stores. Thank you Dollar General and Family Dollar!!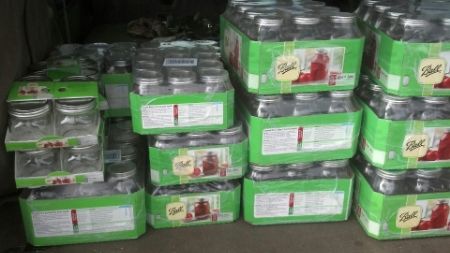 Jars purchased half price clearance last fall.
I have decided I am not going to play ball with the makers of Ball canning jars and other products. I have been buying the Golden Harvest jars. Guess what? Ball, Kerr and Golden Harvest are all made by the Jardin Corportion which is the umbrella of Ball. Grr!!
Other brands of jars on the market are Penley – made in China, Better Homes and Garden – made in China, and Mainstays – made in China. I make a huge effort not to buy made in China goods. 🙁
There really isn't a place to turn for alternative canning supplies!
Except commercial processing jars and I am not sure if those jars are really made for multiple uses in high pressure canning.
Lehman's is carrying a line of bulk canning lids but I haven't been able to pin point where they are made. The price of sleeve of these lids is far better than the Ball 12 pack lids. Locally if I purchase the ball lids in the little boxes I pay about .28 cents per lid. Buying the sleeve of lids in bulk from Lehman's reduced that cost to about .18 per lid. Not a great price but still better than the cost of the Ball lids.
I also use Tattler lids but those are only for jars that will be used by me. I don't use those for anything that I might give away. They are reusable but they too are expensive initially. The replacement of the rubber gasket is the iffy part of that equation. They should last for several rounds of canning but the replacement cost of the gaskets are .22 in bulk which is still right up there with the expense of one use dome lids.
I have become aware of many who use commercial jars and lids. I have even used some of those one piece safety seal lids but not with great success. I am still uncomfortable using those. I have seen people reuse commercial canning lids from grocery store purchased jar foods but the food those jars terrify me to near death. When I hear someone's family has a 'stomach bug' and everyone has it my mind immediately files through to a flash photo image of those home canned jars with spaghetti sauce and pickle lids on them exactly like a scene from CSI.
If you do that and have occasional stomach issues …. I don't need to say more. I won't even get started on the unsafe canning practices being shared on popular Facebook pages. You can't tell people anything … until they get sick as a dog and even then they are less apt to believe it was their own unsafe canning techniques.
So, as I continue to ramble here on the cost of home canning and how the craze sweeping the country is costing us more and more, I need to get to the point.
I don't have a point other than to say I have started buying my lids in bulk at the cheapest prices I can find. Sometimes that means a large lot of lids on ebay and sometimes it means buying the sleeves of lids from Lehman's.
What are you doing to help keep costs down?
12 Responses to "Rising Cost of Canning Supplies"