I was blessed to be able to get a quilting frame. (I will do a review of it soon.) The first thing I put on it was a quilt top I got super cheap off ebay. I didn't want to spend two weeks putting together a quilt top and then risk messing it up on the first try out of my machine and frame.
It took me almost two weeks to slowly work my way though the length of the quilt. I practiced with various heart motifs. Made huge mistakes and had to rip it out. 15 minutes going in took almost 6 hours to rip out. Gah!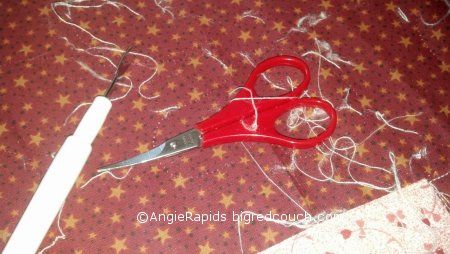 I used white thread this time because I wanted to be able to see where I needed to improve the smooth flow of my hands.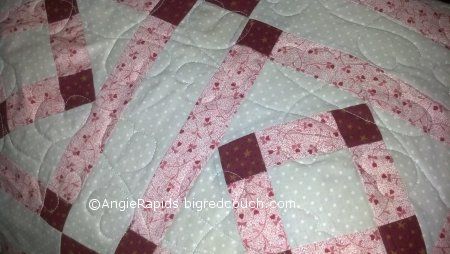 Finally it was off the frame, trimmed and needed binding. I spent most of the last two chilly days sitting by the fire, watching TV and hand stitching the binding.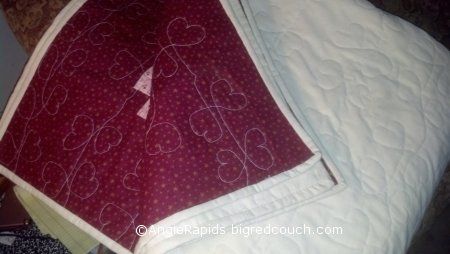 When I finished I couldn't wait to get it into the washer.
I did not pre-wash the backing fabric on purpose. I love unbleached muslin. I love the way it shrinks when you wash it the first time.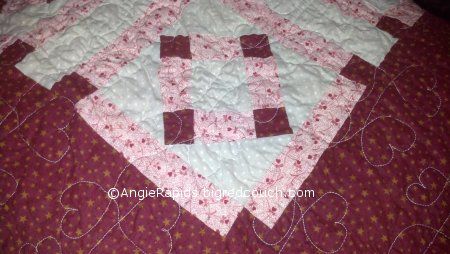 I love the look of a quilt when the backing has started to shrink against the top pulling it into wrinkles and puckers. The quilt looks soft and aged.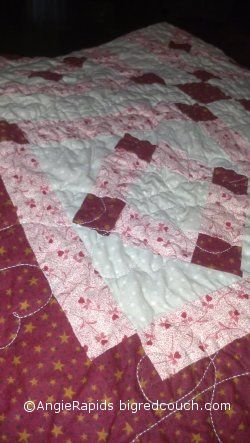 How do you prefer your quilts flat and looking new or puckered and wrinkled looking worn with age and use?
4 Responses to "Hot off the Quilt Frame"