Pickle Something Edition!
I love homemade jars of Christmas joy. Each every one that we receive during the holidays makes me feel warm and tingly because I know the effort and thought that it takes to pour that much love into jars to share with those you love.
I suggest you pickle something and give it as gifts instead of running out at the last minute and buying a token gift.
Today I am working on pickled cherry tomatoes. They are soooo good!! How nice it is to have tomatoes on hand for beautiful salads when the snow is flying and the icy conditions keep us indoors. They also make wonderful garnishes for cocktails.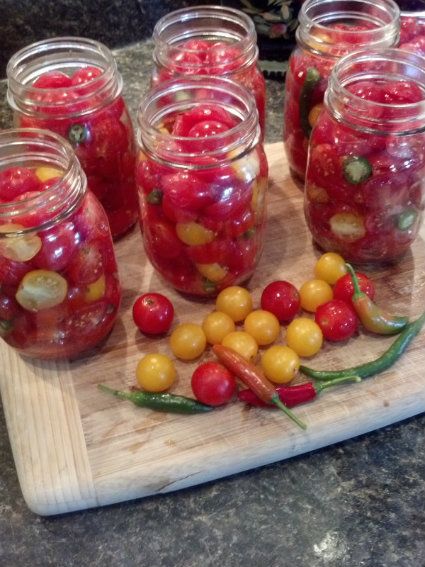 Pickled Cherry Tomatoes
1 1/2 c. water
1 1/2 c. apple cider vinegar
1/4 c. kosher salt
2 tbsp sugar
Bring to a boil and simmer.
Pack three 8-ounce jars with 12 ounces of cherry tomato halves. Add:
1 sprig of dill (or a good heavy sprinkle of dried dill.)
1 clove of garlic
2 whole black peppercorns
a few slivers of onion
2 whole or slices of red or green hot peppers or a sprinkle of red pepper flakes
Fill jars with boiling vinegar mixture. Apply lids and rings. Process in a water bath for 15 minutes.
HomeGrown Christmas Day 10 – Pickle Something Edition!
16 Responses to "HomeGrown Christmas Day 10"