It has been my fortune to have so much extra milk, especially the goat's milk these past weeks.
With so much available the opportunity to try new things and to experiment a little left me a little less nervous and worried over the idea of a disaster and wasting several gallons of good milk. So far things have worked out well.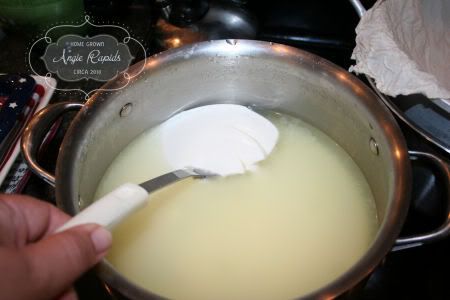 This is how the curd sets overnight for a simple chevre.
Scoop it into some muslin and let the whey drain because even where it looks like not too much whey there is always way too much whey.
Only I did something different this time. When I innoculated the milk with the chevre culture I also added in some penicilium candidum. This is a cheese culture that is used to make soft creamy cheeses that are slightly oozing when you cut into them – like brie and camenbert or sainte maure.
After a day or two in my homemade cheese molds this is what I got. What started out at five inches in height had drained down to about two and a half inches.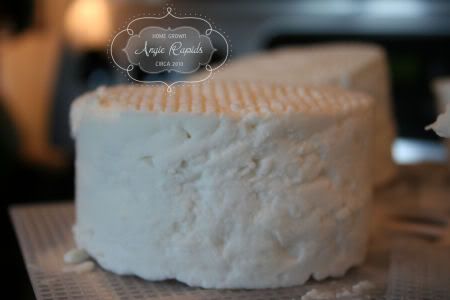 About midway through the two day draining process I turned the rounds over so that each end had some upright air time and would begin to not only dry a little but begin to form that perfect white mold rind – just like on the camenbert and brie you buy in the market.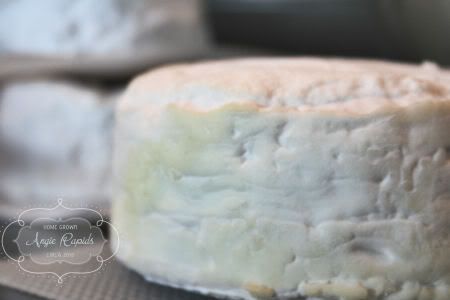 In another week or so I'll cut into one of these and let you know how it goes. I have high hopes the flavor will be rich and delicious and the inside will just begin to ooze at room temperature.
Do you like brie and camenbert? Do you like it broiled with brown sugar crust or just room temperature and creamy spread over sliced of baguette? I like it both ways with fruit and a bottle of red. Throw in some olives, hard meats (like pepperoni) and the meal is complete.
*****
Have you read about the new Samsung LCD refrigerator with apps? Head over to my review blog and leave your comments for a chance to win a $100 Best Buy gift card!
7 Responses to "Penicilium Candidum"