Would you mind clicking over to my post on my extraordinary family and leaving a brief note to let me know you were there? Please? Thanks a million!!
*****
Disclaimer: Do not do as I say. Make your own educated choices for yourself. This is a documentary of what I have done for my own historical purposes. I am not telling you to home can your own butter. I am not responsible for your choices and actions. Everything you do is up to you.
There is a huge amount of controversy when it comes to canning particular foods at home. There are those who believe that if a process or food isn't blessed by the USDA home canning guide it is a recipe for death. The USDA does not recommend any dairy products for home canning. I can't say that I blame them. Too many people take short cuts and don't follow even most basic directions for water bath canning jam and jelly so why would they follow directions for anything more complicated? I wouldn't want to take responsibility either.
On the other hand we also know big government isn't really looking out for our own best interests. It looks out for its own interests. Millions of dollars each year are allocated to the USDA but you won't see new recipes or newer methods for preserving food. The same recipes and recommendation have been printed in books, leaflets and pamphlets for almost 20 years now. Where is the funding going that should be used to test broader spectrum of foods and their preservation methods? To see more and better food preservation instructions then you, me, we all MUST get busy and campaign the USDA to do specific tests on specific foods.
Knowledge is power. The less you know the less power you have. In all things. Mind you, this is the same agency, the Department of Agriculture, who allows a percentage of rat poop and bug body parts to 'safely' be found in commercially prepared foods. You read that correctly. Bugs, eggs, larvae, rat poop, etc. It's in there they just don't tell you it is.
On to the butter.
After doing months of research back last year in the very early fall – around about this time actually – I was trapped in my house with the ear thing, suffering pain, almost total loss of hearing and very much so in my own little world in a world of noise I could barely make out and understand. It left a lot of time to live inside my own head.
All the things I have been mulling over and had simmering on the back burner that is my thought process were addressed in not one but two powerfully written pieces written recently on the Preparedness Pro website authored by Kellene Bishop.
Her post on food expiration dates and myths about butter caught my attention in a big way. She validated my own thoughts about food expiration dates on sealed packages – a date on a box or a label should not be the only factor in deciding if you will throw out a food product. This statement was exactly what I had been saying to Steve for years. "Anytime I see my government do something that makes no sense, I realize that it's usually about money and/or power." That really is what it all boils down, too. If you are using your knowledge to make yourself more efficient at providing for your family then you instantly become less dependable on the government to do those things for you.
The other post To Bottle or Not To Bottle Butter was the definitive authority that influenced me to continue in my pursuit of better self sufficiency in more ways. Again she validated my own thoughts on how commercial produced butter, salted, from pasteurized milk should not have the fear of botulism bacteria stigma attached to it. This article gives complete step by step instructions for canning butter. You can also find a videos on youtube by other individuals who use the same basic methods for canning their own butter.
It wasn't until I became motivated to try solar cooking that the concept of canning my own butter really took a foot hold. Then I came across this article -again written by Kellene, using a solar oven to can butter. This one is the one that solidly set my thoughts on canning butter.
"remember that you cannot burn or scorch anything in a solar oven. Thus, instead of having my butter melt in a saucepan on my stove for a long enough period of time that will eliminate the botulism concerns, I've begun melting the butter in my solar oven. This eliminates the oft-hyped concern that most bottle butter naysayers have to contribute about the process. At 180 degrees you are cooking low and slow. Botulism doesn't have a chance in that environment."
Again my own thoughts are being reflected back to me through another level headed and empowered person.
So, when I finally saved enough egg money I ordered the solar oven I had been eyeing since before last Christmas. I wrote about it's maiden voyage last week with a chicken dinner that turned out fantastic. Easily the solar oven climbed to temperatures at 330 degrees or more and maintained that heat for several hours throughout the day. This is what convinced me I could indeed can my own butter and do it safely.
First I sanitized my jars in the dishwasher using the 'santize' setting where it super heats in the cleaning and the drying cycles. Then I took those jars and put them in the microwave and let it run while I prepared the butter.
I found in the wide mouth pints is was easier to put 3 sticks in than to try to squeeze in the better part of four. The jars were so very hot they burned my fingers to touch them for more than a few seconds but it helped to get the butter to slip right in without a mess. Except for one jar I managed to get the butter in with even a smear of butter on the lip. I did use a hot damp paper towel wipe the lip of every jar before add 2 sterilized marbles and applying a lid and ring.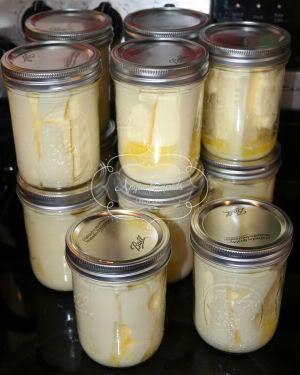 Then I placed them into the solar oven that had been preheated for at least an hour or more.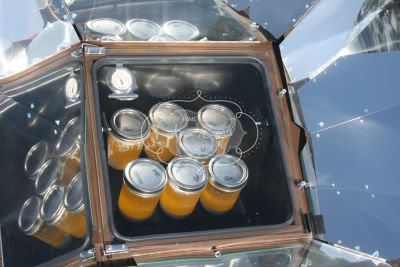 It took about 35 minutes for the interior temperature to begin to climb. Remember the jars and the contents had to come up to temperature and then maintain heat. Yesterday's sun was fantastic and the temperature rose to just above 300. I kept the jars in for a 2 hour cycle.
Once the jars were processed I removed them carefully. Believe me, 300 degrees in the solar oven is as hot as 300 degrees in your kitchen oven. I used a jar tong to move the jars. I couldn't touch them with bare fingers.
I set them on the counter and allowed them to cool down. About every 10 minutes I gave them a good shake to keep the milk solids from settling at the bottom.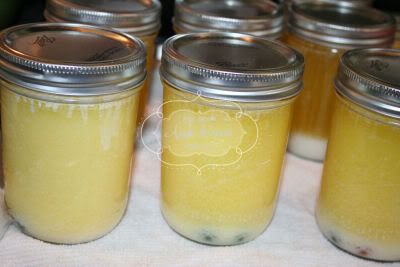 Once the jars had cooled to a reasonably warmish temp I moved them into the fridge. I continue to shake them about every 10 minutes to keep the milks from settling.
After coming out of the fridge all of the cans have sealed.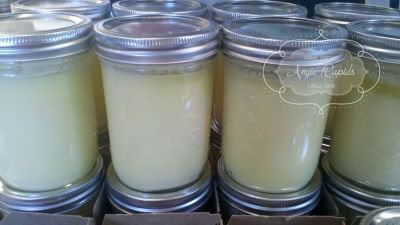 All together over the weekend I did 16 pints of butter. It wasn't time consuming or a big 'chore'. Once the solar oven got up to the desired 300 degrees and maintained the temps for over 2 hours I have no fear that bacteria could survive in that environment.
I don't know if you have noticed or not but the price of everything is on the rise. Just a month ago I paid under $7 for 4 lbs of butter at Costco. This weekend butter was priced at $9.99 for 4 one pound packages. That is an increase from $1.75 per pound to $2.50 per pound. I expect in a few more months those prices will increase yet again. It is happening to everything. Two weeks ago I paid $2.98 for a gallon of apple cider vinegar. Last night I saw the exact same vinegar priced at $3.44 per gallon.
Be frugal. Be prepared. Use your knowledge to make yourself powerful.
Read the links I posted in this article. Decide for yourself. Don't follow me. Follow your own instincts. As in everything do your homework and make educated decisions and choices that best suit you and your own family.