Would you mind clicking over to my post on my extraordinary family and leaving a brief note to let me know you were there? Please? Thanks a million!!
*****
Yesterday, to my delight, my Global Sun solar oven was delivered by UPS. Steven is excited when any box is delivered so combine my joy with his and we had a little explosion of utter delighted happiness as we drug in the box and set about opening it. I ordered it from Olympic Camping Gear. I thought the $20 for shipping was steep but after I paid for it the next day Sue refunded $4. The shipping was then $16.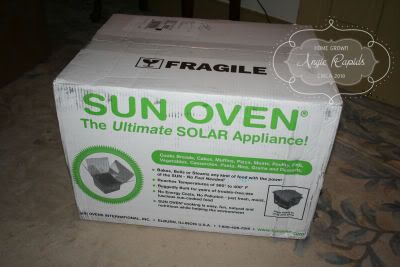 You see, I have been wanting one for a long time and finally I saved enough egg money to make the purchase. I do mean literally "egg money" – profits left from the sale of farm fresh eggs. Yayyy! It makes it even more rewarding.
So, yesterday around 3:30pm we opened the box and I set the oven up on the front porch to capture what was left of the sunshine. The clouds came over and it was all but finished by 4:30 but I at least got a chance to be giddy with delight when after only 15 to 20 minutes the temperature gauge rose to 225 degrees. Yes!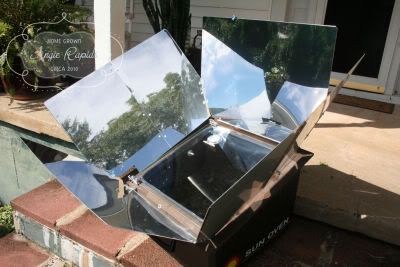 That inspired me to hurriedly make plans for today's supper.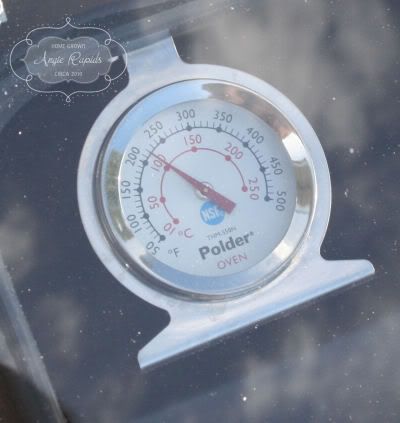 1 three pound chicken
2 large potatoes
1 onion
A handful of carrots
a little red and green bell pepper for color
garlic
butter
Salt, pepper and fresh herbs from the yard
At 8:43am I placed my black granite ware roaster into the solar oven.
The temperature was already starting to rise.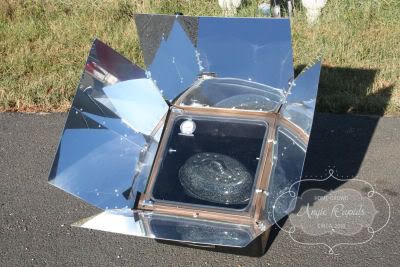 I'll be checking the temperature and adjusting the position of the oven as the sun moves around today.
I'll be live blogging with updates all day. I will not be opening the oven because that means the temps dropping and needing recovery time. I'll open it for the first time at 4 or 5 this afternoon depending on the sun and cloud coverage.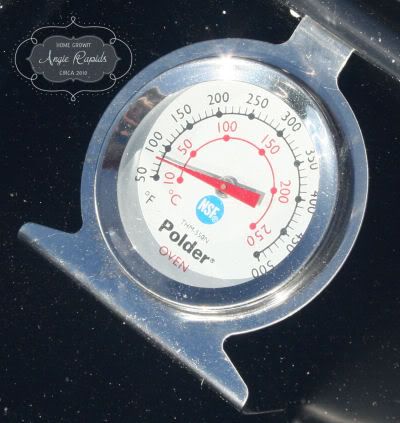 8:30 am
Stay tuned as I record the repositioning needs and monitor the temperatures all through the day.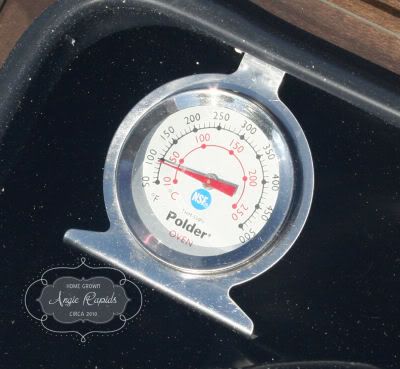 8:47 am
I had to run it just a little bit to follow the sun and checked the temps at 9:58 am.
Went out for a quick temp check. Over 300!
The temps are holding right around 325 degrees at almost 11:30. I had to move the box around just a little to keep the focus of of the sun.
Afternoon Update
It is now 12:22 pm on the east coast in central Virginia.
My chicken dinner has now been in the box almost 4 hours.
When you approach the area you can smell the herbs and roasting chicken easily.
The temperature is currently 330 degrees.
The glass is beginning to show condensation as the meat and vegetables are cooking.
I can't wait to open this thing up at 5pm!
1:30 pm afternoon update
Good things are happening inside if the condensation is any scale of measure to go by.
I can't even read the thermostat but I think it is hanging out between 330 and 350. The food smells awesome!
3:00 pm update
I had to readjust the angel of the box so that it was positioned more flat instead of raise to tilt forward. The temperature has dropped a bit down to 300 but I expect that by repositioning it the temps will come back up. It won't be long now before I am ready open it up for the very first look at our supper. Exciting!
5 pm Update
I couldn't wait until 5. I hurried up the time and went out at 4:50 pm. Even though there is plenty of sunshine I noticed right off that the temperature was holding just above 225.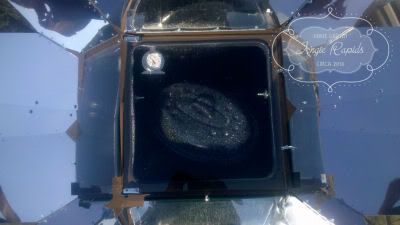 When I opened the glass door the moist heat rose up quickly bringing with it an aroma that make my stomach instantly start to growl. Never for a moment think the inside of a solar oven isn't hot. It is HOT! No burned fingers but I am glad I had my pot holders to remove the lid.
When I hesitated to take off the lid I was a little bit worried I would open the pot to find a white chicken staring up at me. I have had this nagging all day that the chicken maybe wasn't going to brown.
Boy, was I wrong!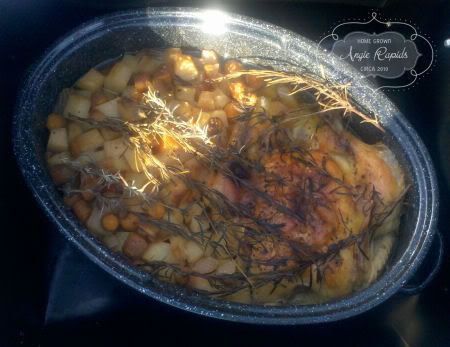 Look how beautiful! Roasted chicken, potatoes, carrots and onions! We are going to have a wonderful feast tonight!
One more photo coming when I plate it up to serve.
I'm ringing the dinner bell! Can and get it!
Forgive the photo quality I had to take it with my Droid.
41 Responses to "Solar Oven Chicken Supper"