This post is dedicated to more useful ideas for using the Excalibur Dehydrator I am giving away to one lucky reader. This week I made a big batch of bagel chips and croutons in my dehydrator. I want share with you how easy it is to make your own. Also how inexpensive doing it yourself really is. Thanks to a sweet friend the bagels and the bread were generously shared. It took very little effort on my part to make them into something that will keep for ages on my pantry shelf without spoiling. That is a win-win!
There is no secret to making bagel chips or croutons. They are exactly what you think they are. Dried bread.
The mystery is solved.
Bagel Chips.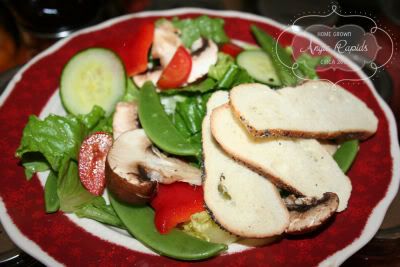 Bagel chips are as easy as 1.2.3.
A cutting board. A bagel. A bread knife.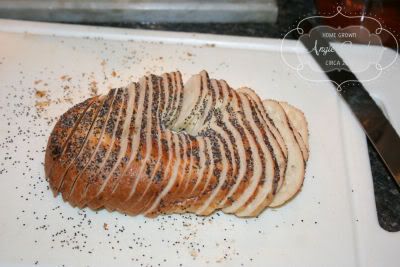 It takes less than one minute to work your way through the entire bagel.
Lay the slices out on the dehydrator racks. The racks go into the Excalibur. Set the temperature at 115 degrees. And walk away.
The chips will be ready in a couple hours. Sometimes I set them right before bedtime and just let it run all night. Serve them as you would a cracker. With salad. With Cheese and fruit. With soup. With cream cheese and a touch of jelly. My kids eat them as snacks like chips. If you are carb conscious a few of these will satisfy your craving for something crunchy and crisp and you won't eat the whole bagel. Just a few is enough.
Croutons.
The croutons are just as easy. They can be seasoned or plain. You can even grind them up after they have dried and use them as bread crumbs for other kitchen needs.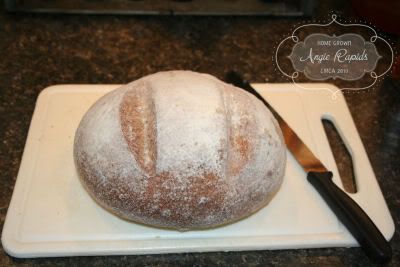 1. Cutting board. 2. Bread knife. 3. Bread loaf of your choice.
Slice the bread.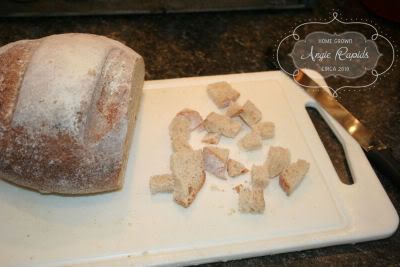 Cube the bread.
Season the bread cubes.
I don't use oil. The bread is moist enough that the dried seasoning will grab hold and won't shake off. This time I used granulated garlic and Italian seasoning mix.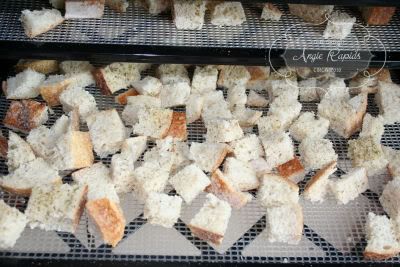 Load the trays. Into the Excalibur and close the door. Set the temperature at 115 degrees. Walk away. I leave the bread cubes to go over night.
You'll love the scent that fills your kitchen when these seasoned little cubes of crunchy delight are going. I kept thinking I was in an Italian deli. The kids kept wandering in asking what I was doing that smelled so yummy.
Again you can use them to top a salad. Serve with soup – croutons and tomato soup are a winter staple in my house. You can even make your own version of the popular stove top stuffing.
The best part?
12 bagels yeilded 2.5 gallons of chips. The croutons ended up at 2 gallons. The best part? Day old organic bread. No GMO grain products. Organic.
My kids will munch through the chips in about two weeks. The croutons will last much longer. They can be stored in a seal container and won't go bad. The moisture has been removed and there is no worry about moldy bread. You can also seal the dried breads in a vacuum sealed bag and store them away in your pantry for later use. Again – they won't go bad. The same technique is used if you use the cubes to make bread crumbs. Store them in an air tight container and use as needed.
You can do this with any bread. The next time you are in the grocery store check out the day old bread and see what you might be able to pick up at a discounted price. If you bake your own bread think how awesome it have your own baked goods dried and reserve for later use. It is so easy to throw together quick meals that seem as if you spent hours working to prepare them when you have a few little extras tucked away in the pantry.
Some of these croutons will repurpose themselves as bread crumbs for the coating for eggplant and/or chicken parmesan. Also as the holiday season approaches I'll be putting together gifts for friends. A quart of homemade soup and a cone shapped cello bag filled with delightful croutons tied with a bow is a wonderful way to say "Hello, Neighbor, I appreciate you." A jar of summer jam, a package of bagel chips and a box of bergamot and earl grey tea will warm up your friends on a cool winter evening. These are gifts that say more than anything you can buy. These are the way I like to say, "I love you and our friendship."
Y'all come on over for supper. There's always an extra place at the table. Salad dressing is in the fridge. There's plenty of good food and we'd love the conversation.
*****
Comment on HomeGrown and enter to win an Excalibur Dehydrator. Giveaway closes at 11:59pm November 13th.
47 Responses to "DIY Croutons and Bagel Chips"