I have taken quite a liking to my Excalibur dehydrator. It is a workhorse and is so much more efficient than those little round models. I don't think I could have dried anything near the amount that I have this summer. It is so efficient that most things I have dehydrated have been started in the morning or at lunch and by the next morning they have finished the drying cycle. Dried to a crisp and ready for storage.
The compact way food can be stored almost indefinitely is a major win for me, too. Last month I dried a 4 gallon bucket of tomatoes and they fit into two and a half quart jars. Can you imagine that? I need to take better photos to show you the before and after but I often forget until everything is on the trays and ready to go.
This week I had tomatoes from the garden and a few pounds of organic broccoli spears that needed to be preserved. My freezer space is at a premium. I didn't have time to stand over the pressure canner. The only option was dehydrating. It worked out fabulous!
The first jar is dried sliced tomatoes. 12lbs of tomatoes. Twelve pounds. Can you believe that? I made uniform slices, laid them out neatly on the trays, sprinkled with sea salt and some with Italian herbs, turn it on and walked away. After a few hours my kids kept coming in and asking what was that delicious smell coming from the kitchen. We had some of them as 'chips' when they finished processing. The slices sprinkled with Italian herbs and sea salt tasted very much like a pizza chip.
The second jar is broccoli. I had about 3lbs I needed to do something with and the fridge was full to capacity. I steamed it for 1 minute to preserve and bring out the bright green color, placed it on the drying racks and left it over night. Three pounds did not fill the quart jar.
The pint jar is tomato powder. All of the end pieces and some various varieties of tomatoes I collected over a few days of different drying sessions. Once dry and brittle I pulsed it in a spice grinder to make the powder. Adding just a touch of stock or water will reconstitute it for quick tomato paste. Can you believe that little bit of powder was about 4lbs of tomato? Talk about space saving preservation. I did not remove the seeds from any of the tomatoes and this includes the skin as well. The powder has a rich robust flavor from all the different tomato varieties.
The kids and Steve have finally slowed down the beef jerky. I was making a batch or two a week and now I am down to about once a month. This is a great way to set aside meats for easy storage, too. The jerky is so much better when you let it marinate over a period of days.
How did I ever live without it? I don't know!
This dehydrator has become a huge part of my everyday kitchen. I don't know how I have managed to live without it up to now. It makes the small round dehydrators look like kids toys. I think everyone should have an Excalibur as part of their kitchen tools. In fact, I love my dehydrator so much I want someone else to be able to share the same experience I have.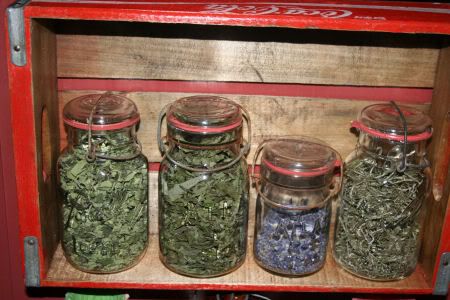 I have dried tons of herbs from my garden – Oregano, Rosemary, Lavender, Basil – to name a few.
I have decided to give away an Excalibur dehydrator to one lucky reader. Unlucky Friday the 13th has now become lucky 13! Starting today, 12:00pm (EST), August 13, 2010 and ending 11:59 pm (EST)November 13th, 2010 every comment on this blog becomes an entry in the drawing for a 4 tray Excalibur dehydrator model #2400.
I am purchasing this machine with my own money. This is not a sponsored give away and I have not been compensated in any way to do this. I really love this machine and want someone else to have a chance to own one.
Simply put – I am giving away 1 model #2400 Excalibur dehydrator (or equivalent model based on availability) by random drawing of eligible and qualified participants utilizing random.org to generate a random number which then will correspond with a numbered comment. There will only be one winner. That winner will receive one model #2400 Excalibur dehydrator (or equivalent model based on availability).
I am so excited about this giveaway. This is one of the most perfect ways to store and preserve foods without the need of refrigeration, canning jars, pressure canners, smoking, salting or brining. Properly dehydrated foods placed in to clean sealed jars or vacuum sealed bags have an amazingly long shelf life. These foods will be the same tomorrow, next year or 5 years from now when properly stored.
The nutritional value of dried foods is also a plus. We are some chip loving people at my house. Potato chips are often a staple with hot dogs, burgers, sandwiches or as snacks. Drying and seasoning vegetables has given us an entirely new outlet for 'chips'. Zuchini, carrots and tomatoes have become another option for our chip and dip needs.
Apple and Banana chips – they ate them before I remembered to take a photo. I made 4 gallons and they ate them all within a few days.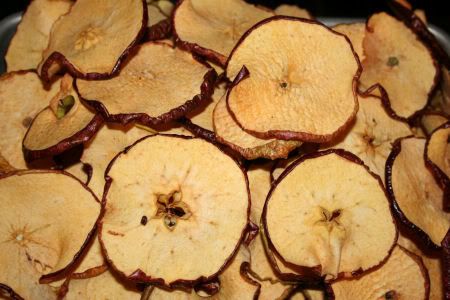 Think of all the wonderful gifts you give using beautiful fresh foods from your kitchen and garden. I plan to put together some jars of soup and stew starter for gift basket for the holidays. Potatoes, carrots, peas, onions, red, yellow and green peppers, corn, garlic to name a few layered in gleaming jars and decorated with a bow will be a pleasant gift to be enjoyed on a cold winter day. I am already dreaming of these vegetables simmering on the wood stove in a pot of stock filled with gorgeous wild game venison while cornbread bakes on the oven. I think I just drooled a little.
Not only is a perfect way to preserve wholesome foods it is also a perfect way to step away from the stove and still accomplish good things to eat from your kitchen. Fruit leathers can be made with fresh fruit you puree yourself or you can use your favorite yogurt to create yogurt leather – which my kids love. The flavors concentrate and the natural sweetness intensifies. Eating something as simple as yogurt becomes almost like eating candy. Seriously, your kids won't know the difference.
And speaking of dairy – the dehydrator is also the perfect environment for making yogurt from your raw and organic milk. Bring you milk to room temprature and add in the yogurt culture starter. Place your yogurt in a container and set in the Excalibur to 110F. IN a few hours remove your containers of yogurt and place them int he frige to chill. You will have the best homemade yogurt you can imagine.
Have I convinced you yet?
Wouldn't you love to have an Excalibur in your kitchen?
You can!
Every comment on this blog is a chance to win. Not just this post. Every post you comment on from now until the deadline will be an entry for the drawing for the Excalibur dehydrator.
(For those who asked – I have the 9 tray without the timer that I use.)
To be very precise so there is no confusion here is the legal stuff:
– I will give away only one (1) model #2400 Excalibur dehydrator or an equivalent model based on availability at the time of the drawing.
– This drawing has no cash value and is only for a dehydrator.
– The winner may not exchange or trade this prize for another option.
– The winner will be randomly selected from all eligible entries.
– The drawing will be conducted by random using Random.org.
– The winner will be notified via email and will receive his/her prize to his/her US resident address within 30 days from the date of response of the prize notification.
– Should the winner fail to respond within 3 days of notification of the winning draw that winner will be disqualified and another winner chosen.
– Each comment is an entry. You may enter as many times as you like. Be sure to use a valid email address with your comments.
– Tweet about this giveaway and leave the URL to that Tweet in a comment on this post for another entry.
– Blog about this giveaway and leave the URL to that post in a comment on this post for another entry.
– Comments must be: 1. written in English, 2. on topic and 3. not offensive, demeaning, or derogatory.
– Spam like comments will be disqualified and removed.
Please read the complete text of the Official Rules.
You can follow HomeGrown on Network Blogs. Stop by the HomeGrown's Facebook fan page and say hi.
204 Responses to "Dehydration Station"