I have noticed lately how surprised many people are (and they tell me so) when I talk about canning different food items. Most of the questions and astonishment comes by private messages or emails with the writer starting out with something like "I didn't want to ask out in the open because …" This makes me sort of sad. Let me tell you why.
In the age of promoting women to get out of the house, go to work, have a career, raise your kids, be busy to the point you can't breath and feel like you are going to fly off the earth, buy it pre-made, prepackaged, preprocessed we have let ourselves become uneducated in the home arts. Keeping a home and providing meals should not be drudgery and slugged through as if walking through mud. There is an art and a science to keeping your home and providing materially with comforts and food. It is knowledge that has been lost to so many.
I always find myself 'surprised' if not shocked when I am told by people they don't know how to clean something or they have no clue how to prepare something. Even when I go to the store and purchase several cases of canning jars the reaction throughout the store by employees and other shoppers is eye opening to say the least. I love sharing my knowledge with others but I find most often many people think it is far too complicated to be able to preserve food in a canning jar.
I don't know how to say this without stepping on toes as I know some of my readers are not as like minded as I am but I have this need to put this out there for the world so here goes:
I am a Christian. I am a fundamentalist. I am conservative. My faith is deep and has always been a part of my life for as along as I can remember. I don't have to question it but I could if I wanted to and I know where to find my answers. I know I can trust in it for it has never failed me. I have faith ever-so-much more than a mustard seed.
Over the last few years I have been inspired and convicted by a passage in the Bible. It is God's portrait of a woman. A beautiful woman. I want to be this woman. I fail daily but I keep trying. Though I may never succeed I do my best to be her. I am copying the verses here for you to read in full context.
King James Bible 1611
Proverbs 31
10 Who can find a virtuous woman? for her price is far above rubies.
11 The heart of her husband doth safely trust in her, so that he shall have no need of spoil.
12 She will do him good and not evil all the days of her life.
13 She seeketh wool, and flax, and worketh willingly with her hands.
14 She is like the merchants' ships; she bringeth her food from afar.
15 She riseth also while it is yet night, and giveth meat to her household, and a portion to her maidens.
16 She considereth a field, and buyeth it: with the fruit of her hands she planteth a vineyard.
17 She girdeth her loins with strength, and strengtheneth her arms.
18 She perceiveth that her merchandise is good: her candle goeth not out by night.
19 She layeth her hands to the spindle, and her hands hold the distaff.
20 She stretcheth out her hand to the poor; yea, she reacheth forth her hands to the needy.
21 She is not afraid of the snow for her household: for all her household are clothed with scarlet.
22 She maketh herself coverings of tapestry; her clothing is silk and purple.
23 Her husband is known in the gates, when he sitteth among the elders of the land.
24 She maketh fine linen, and selleth it; and delivereth girdles unto the merchant.
25 Strength and honour are her clothing; and she shall rejoice in time to come.
26 She openeth her mouth with wisdom; and in her tongue is the law of kindness.
27 She looketh well to the ways of her household, and eateth not the bread of idleness.
28 Her children arise up, and call her blessed; her husband also, and he praiseth her.
29 Many daughters have done virtuously, but thou excellest them all.
30 Favour is deceitful, and beauty is vain: but a woman that feareth the LORD, she shall be praised.
31 Give her of the fruit of her hands; and let her own works praise her in the gates.
A very hard standard to try and live up to, isn't it?
When I am in my kitchen and garden these words are always whispering to me:
She is like the merchants' ships; she bringeth her food from afar. She riseth also while it is yet night, and giveth meat to her household, and a portion to her maidens. She considereth a field, and buyeth it: with the fruit of her hands she planteth a vineyard. She looketh well to the ways of her household, and eateth not the bread of idleness.
It is a commandment to be wise with the food stores we are provided with. Make use of and be wise in sowing and harvesting and preserving. Don't waste. Be diligent. Share your bounty with your family and with others who are less fortunate.
So when people ask me why I can so much I typically answer that I can seasonal foods for times when they are not available fresh locally. It's how we eat in the winter months. Most have stopped listening when I say I feel convicted to make use of what is provided to be stored away for later not just for us but others who might be in need.
When I updated my status on Facebook last night to say I was canning milk the messages and emails flooded in with questions asking why or how and nearly everyone said, "I did not know you could can milk".
We have lost out knowledge and skills in home arts. With a few simple pieces of equipment we can safely can and preserve almost everything in our kitchen and not have to rely on electricity to keep a freezer and a refrigerator cold to preserve our foods. With a little effort they can sit in the pantry and need no special care right up to the time we take them down to use them.
When it comes to highly perishable food items like dairy products we don't have much we can do to keep to keep them for extended periods of time. Milk can be made into cheese and cultured in to sour cream, buttermilk, yogurt and the like but even those things have a very limited shelf life. You can freeze milk but it does separate and sometimes will be a little chunky when it thaws where the milk solids are broken down. You can freeze blocks of cheese but when you thaw them it breaks down into curds. Yogurt, sour cream, cream cheese and the like loose their creamy texture when frozen. It can be done but just isn't always the result we want or expect.
I believe in the value of raw milk. My kids drink no other milk. It is fresh from jersey cows and our dairy goats. When it is heated the good properties are lost. I know this and I stress this. However, there is no way to make cream of chicken, cream of mushroom, clam chowder, cream of broccoli, cream of tomato, cream of any number of things without cooking the milk. This is a given.
During times of the year when dairy animals are in milk we often find ourselves 'drowning' in milk. Milk is everywhere. You can't drink enough, cook with it enough, make enough dairy products or breads to keep up with the production. In most states you can't even give it away based on the laws governing dairy products and consumers. Other animals are usually happy to get their share of the milk but without a pig or three you will still find yourself drowning with an over flow of milk.
What to do?
Preserve it for use later. (See note at bottom of this post)*
If you have a pressure canner, sterile jars and a little time you can preserve that milk. It cooks in the jars and has a stable shelf life. You can use it later as the base for soups, gravy, baking and what not. It won't be good to serve cold with cereal but it will be fabulous in other cooking needs. It is recommended that when cooking with milk that has been pressure canned that the contents boil for a minimum of 15 minutes in a cooking process.
This past week a friend shared with me some half and half she had in her freezer. 30 quarts I believe is what she had stored. She needed room in her freezer for other things as well as she had fresh milk in her fridge to make cheese with in equally large portions. So, what to do with it? When it freezes it separates. So, it wouldn't be great for cheese making or pouring over your cereal or into your coffee. We decided to can it to use later when milk is lacking in the dry season.
I sent all the jars and utensils through the dishwasher on the sterilize cycle. I filled the pressure canner with appropriate amount of water and set it to simmer.
You can only can milk using a pressure canner. Do NOT ever attempt to preserve low acid foods (milk, meat, vegetables, etc) in a water bath canner. You cannot get those foods hot enough to kill the bacteria spores that are common in the air and on every surface around us to kill the bacteria that causes botulism – food poisoning. It can be fatal. There is much controversy surrounding the home canning of milk. There are many instructions to be found for a WB process but that frightens me to the very core. I would never eat anything with a waterbath canned milk. NEVER.
ONLY use a PRESSURE canner to can milk like you see here in these photos.
Start with clean, sterile jars and equipment. I run everything through the dishwasher. I start water simmering in my canner. I put my jars in the canner and keep them hot until I need to fill them.
Fill the jars one at a time with the milk leaving one inch head space. Apply hot lids and rings.
Return each jar to the canner to keep hot while you work. And soon all your jars will be filled and ready to process.
Put the lid on the canner and allow the steam to vent freely for a full 10 minutes.
Apply the weighted pressure regulator and being the pressure up to 10lbs and process for 25 minutes.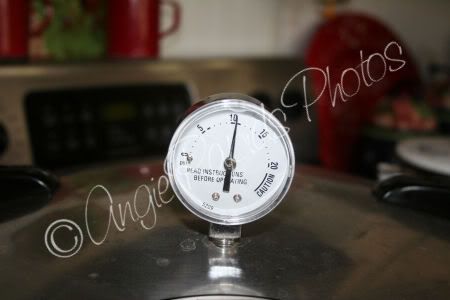 Once the pressure has reduced and the canner is opened move the jars to a thick layer of toweling too cool. You will hear the ping of the lids as they seal. If your lids do not seal, replace them with new ones and process again.
The milk takes on a caramel coloring. It is cooked milk. It is preserved and can sit on your pantry shelf for up to one year. Use as needed in soup bases, sauces, gravy, etc.
It is not hard. You can safely do these things in your own kitchen. Follow the rules of cleanliness, safety and sanitary precautions. Process the food items at the proper levels for the proper length of time. It is safe – more safe than in our grandmother's day. Don't be overwhelmed. You don't have to process 5 bushels of fruit at one time. I work with 7 quarts a time. 7 quart jars fit in my canner.
There is much discord (controversy!) about canning milk at home. The USDA indicates it is unsafe and all directions for processing milk and milk products have been removed from all of their literature. This is something you have to decide for yourself and weigh the pros and cons.
Here is an article from Mother Earth News and one from Razor Family Farms. There are two tidbits here in the Ask Jackie section of BackwoodsHome.
101 Responses to "Canning Milk In Your Kitchen"