Can she bake a cherry pie, darling Billy?
She can make a cherry pie,
Quick as a cat can wink an eye,
I love that little song.
I can bake a cherry pie. I can make the filling from scratch and store it in jars for later.
You can too!
Homemade Cherry Pie filling is really easy to make. It only requires a water bath to sealing the jars and a few ingredients.
You will need your standard canning equipment: water bath canner or a pot deep enough to set the quart jars, jar lefter, rings, lids, jars, funnel etc.
For the ingredients you will need: cherries, sugar, lemon juice, clear jel, water or juice.
Clear jel is a form of cornstarch used for thickening the filling. When heat is applied the jel becomes clear giving your pie fillings that picture perfect look. Regular cornstarch will leave your foods looking cloudy and white and not as appetizing. I purchase mine from a little store that concentrates on whole grains, bulk foods, and some of the very basics for real home cooking from scratch. This is not a product you will routinely find in your every day grocery store. Call around your area if you a natural or bulk grain type market and you should easily find it. If not I suggest ordering it online in a larger quantity.
Once you have a supply of clear jel in your pantry you will be a pie filling maniac. It is so pretty to see the beautiful jars lined up ready and waiting for those cold winter days when you are dreaming of a taste of summer.
Wash your cherries to remove sand and other debris. You want to pit the cherries to remove the seed from the center. Biting down on one of those in a pie will break your teeth. My cherry pitter can also be used for olives. Every kitchen needs one.
Cherries will stain your hands. If you are worried about your hands wear a pair of rubber gloves when processing the fruits.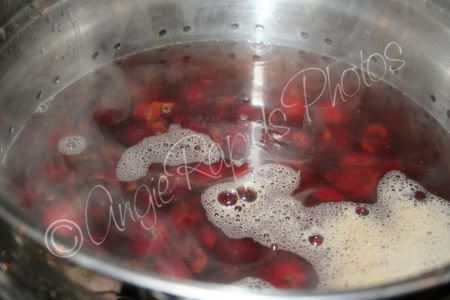 Once your cherries are clean and pitted they will need to be blanched. This helps to set the color. Bring a pot of water to a boil. Add in the cherries and allow the water to come back to a boil. Time a one minute boil and remove the cherries. Have a pan if ice water ready. Once you drain the cherries from the boiling water plunge them into the ice water to stop the cooking process. When blanching do not try to blanch more than 7 cups of fruit at a time.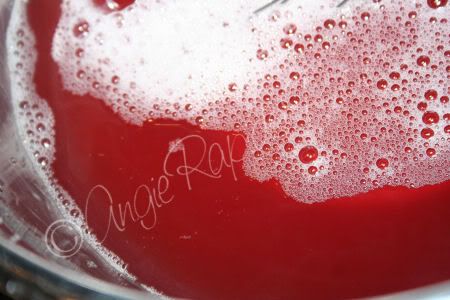 Once you have blanched the fruit you will want to retain the water. The water is full of sweet cherry flavor. We will use this water to make the filling with. You can also use cherry juice (which is expensive) or water (which has no flavor). I save the blanching water and use its flavored goodness.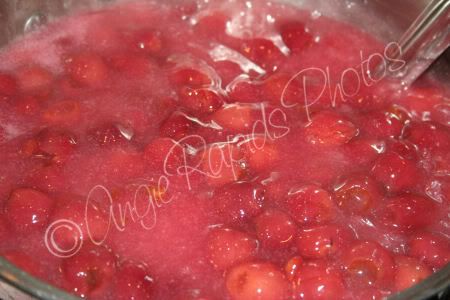 Set the cherries aside to drain. While they are draining start with the filling. This is a recipe for 7 quarts of pie filling using 6 quarts of prepared cherries. (I'll put the recipe for 1 quart of pie filling at the end of this post.)
In a deep cooking pot add:
7 cups of sugar
1 3/4 cups clear gel
9 1/3 cups reserved liquid, water or juice
On medium heat bring the mixture up to a boil. As you stir it (I whisk it to keep lumps out) you will feel it begin to thicken. Once it starts to thicken it will thicken quickly.
Add 1/2 cup lemon juice and mix it in well. Remove from heat. Careful as the thick bubbles can cause splatter and burn your hands.
Mix in the 6 quarts of drained cherries. I use a stainless steel ladle and pull up from the bottom of the pot to the top so as not to mash or beak up the fruit. It is important to evenly distribute the cherries throughout the filling.
Don't worry about the cloudy color. All of that will change during processing.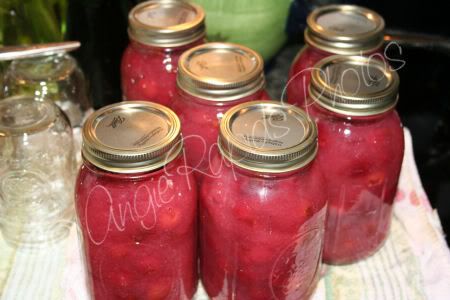 Ladle into hot jars and apply hot lids and bands. Wipe the mouth of the jars with a damp cloth before applying the lids to ensure a good seal.
Don't fill the jars too full. You will want at least an inch of head space for the expansion during processing.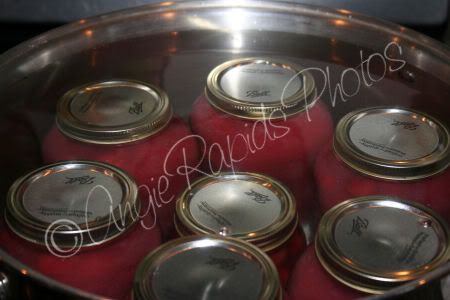 Process quarts for 30 minutes (25 minutes for pints) in a boiling water bath.
Once the jars are processed you will see the filling becomes very clear and you can see the fruit suspended throughout the jar.
Remove the rings, top with pretty fabric rounds or paper to protect the metal lids from dust and rust.
Do not substitute the fruit in this recipe for other fruit. Most recipes require other measurements for the filling to turn out proper for canning.
Recipe for 1 quart of pie filling
3-1/2 cups cherries
1 cup sugar
1/3 cup + 1 tbsp clear jel
1 1/3 cups liquid/water/juice
2 tbsp lemon juice
Prepare in same fashion as above.
15 Responses to "Can she bake a cherry pie, Billy Boy, Billy Boy?"