With all of those peaches it was a given I would be baking cobblers and pies. I want to share with you an excellent recipe for making peach pie filling. You can can this filling and put it away on your pantry shelf for those long cold winter days when a sun ripened peach would make the day more cheerful.
Wash, peel and slice your peaches. This is really easy. Using a pot of boiling water you can dunk the peaches for about 1 minutes then immediately take them out and plunge them into a a container (or sink) of cold water to stop the cooking process.
The skin will slip right off with little effort on your part.
Slice the peaches.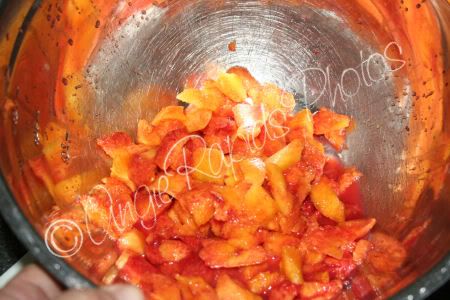 Use a product like fruit fresh to keep your fruits from turning brown.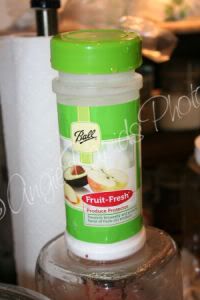 For the pie filling I made 7 quarts at a time using 6 quarts of sliced peaches.
In a large deep stock pot mix:
5 1/4 c. cold water
1 3/4 c. bottled lemon juice
7 c. granulated sugar
2 c plus 3 tbsp Clear Jel
While stirring over medium heat bring the mixture up to a boil. You will feel the mix begin to thicken as you stir. It will thicken quickly and while scorch if you don't work fast. I use a large whisk and keep everything moving while scraping the bottom and the sides of the pot. Boil for 1 minute and remove from heat. The bottom will scorch if you just leave the pot on the eye turned off.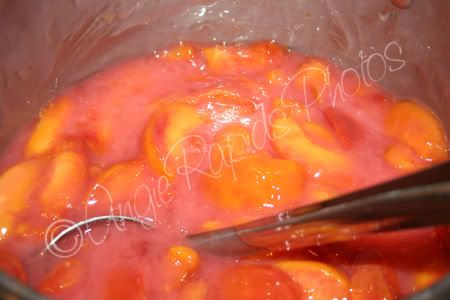 Add in the peaches and mix well. The cloudy look is normal. Don't worry. After processing the filling will become crystal clear.
Using hot sterilized jars fill the jars leaving 1 1/4 inch of head space. The filling will expand in during processing and will rupture the lids if you don't leave enough head space. Apply lids and bands.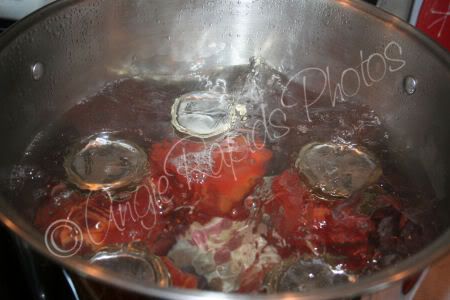 Process quart jars in a boiling water bath for 30 minutes.
Once the jars have completed processing the filling becomes clear and the jars are gorgeous. A dozen of these on your pantry shelves will bring many smiles to your face and those of your family when you bake a pie filling with summer time goodness during the gray snowy days of winter.
Recipe for 1 quart of peach pie filling:
3 1/2 c. sliced peaches
3/4 c. cold water
1/4 c. bottled lemon juice
1 c. granulated sugar
1/4 c plus 1 tbsp Clear Jel
Let them eat pie! A cobbler! and Tarts!
96 Responses to "Peach Pie Filling"