Over the last week to ten days the eggs began to pile up. No thanks at all to the virus someone brought home. No one was eating. I wasn't cooking. So the eggs they piled up on the counter sorted into baskets based on the few short days in which each had been collected. Nine days and no egg using meant they piled up quickly.
Chicken eggs. Duck eggs. Goose eggs. Guinea eggs. Turkey eggs.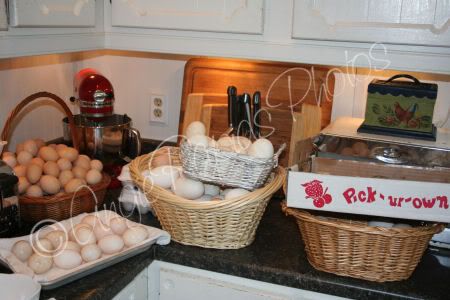 Eggs. Eggs. Eggs. Eggs. Eggs.
See what I mean?
Which means I had to do something with them. They will keep in the fridge for a month or two but my fridge is full with 5 dozen from the week before. They can rest on the counter for a few weeks as long as the kitchen is cool. With eggs coming in every day they would just keep piling up. So, I rolled up my shirt sleeves and got ready to break a few eggs and put them in the freezer.
Most people seem surprised to find out that you can freeze eggs for later use. You can freeze them but you can't freeze them in the shell. It's not that simple. What a mess that would be. When the egg froze on the inside it would expand and rupture the shell. It would be a mess. You have to crack them and prepare them for freezing.
The next thing they ask is why do I want to freeze eggs. Well, the photo above is one reason. Other reasons are: chickens do not lay every day of the year. When they molt and cold winter sets in they stop laying to preserve body resources to grow new feathers and to rejuvenate for the spring push of fresh eggs. Spring is when fowl lay the best eggs. Nature's way of producing the best means for hatching new spring chicks. From late March to early June is the best time for great eggs. While eggs are plentiful it is a great idea to preserve as many as possible. When the holidays come around – Thanksgiving and Christmas – the chickens are slowing down their laying and eggs get to be in short supply during this time when we cook the most. If I can put 50 dozen in the freezer over spring and summer then I don't have to fall back on commercial eggs (yuck) or go looking for someone with more eggs than I am getting.
Freezing the eggs does change their texture but not their flavor. I am not a fan of rubbery-ish scrambled egg on my plate but in cooking you really can't tell much difference in the frozen vs. fresh eggs.
When I have maybe a dozen or so eggs I often will crack them into an ice cube tray, freeze, then pop them out and put them into a baggy. With the number of eggs I had piling up there was no way I could do a couple dozen at a time. This job required the big guns to be brought out.
Considering the average recipe requirements for eggs I decided to put them in 4, 6 and 12 egg quantities. Except for goose eggs. Those I froze individually. 1 goose egg equals 3 – 4 regular eggs, smaller ones equal 2 chicken eggs. I feed the pups 1 goose egg each day so I wanted to store as many of those eggs as possible for the pups meals, too. Geese and ducks lay seasonally. Come the heat of late August and the geese and ducks will one day take a hint from mother nature and all egg production will stop. At the very maximum I can predict I might get another 40 – 60 eggs from each female. That's not very many eggs left to collect for the current laying season.
I wash the eggs well in warm soapy water and lay them out to dry. Using a small dish I crack each egg into the dish and give it a quick inspection – looking for blood spots or meat spots – also I can see what my roosters are up to based on the condition of the blastoderm on the yolk. (At the end of this post I have added some basic information about eggs. You may or may not want to read it. Don't feel obligated to read it. It's there if you really want to know and understand the typical egg and its function.)
I put the number of eggs I want in the blender. Give it a quick pulse or two. Add a tiny pinch of salt to prevent gelling. Pulse once more.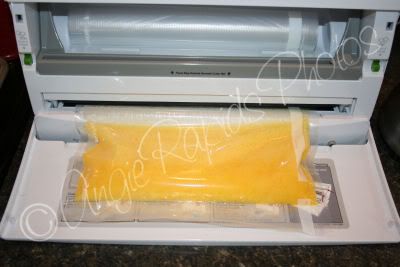 Pour into bags. Seal them up using the 'moist' setting.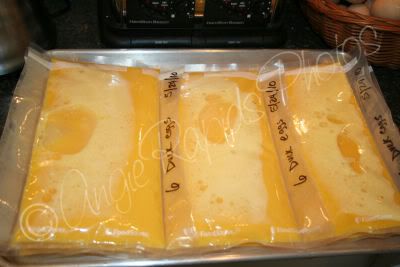 Lay them out flat on trays and put those in the freezer as level as I can make it. I like to freeze them this way so they nest and can slip into small spaces. You can also use cups to freeze them in or some other zip baggie.
This is how the freezer looked this morning. I did rotate the frozen ones last night and move the rest of them from the refrigerator to the freezer this morning. Everything is rock solid now.
This is part of the chicken eggs shells left over.
These are the duck egg shells. They are more waxy. This waxy coating helps to protect them in natural wet habitats where ducks are known to nest.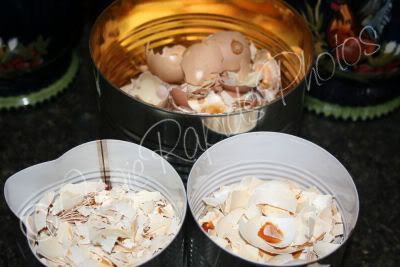 I keep the shells sorted. I place the trays in a 350 degree oven for about 15 minutes. This cooks any egg particles, sanitizes the shells and leaves them crisp and brittle. Using my hands I crush them and put them into used cans that I save. When the cans are full the shells go back out to the birds. They need calcium to make good shells and this is a perfect form of recycling and giving the birds back something they need.
I ended up with 202 eggs total that I put into the freezer. At that point the smell of eggs had left me a little green around the gills. Anything left in the baskets where boiled, mashed and sent out to the chickens last night for their supper. They certainly enjoyed them with a little raw milk.
If you need to separate the eggs and freeze the yolks separate from the whites I am told by my dear friend Terrie Lacy that adding a pinch of salt to the yolks help to keep them from getting tough and changes the way ice crystals form when freezing. Yolks frozen alone tend to end up more like a gel. The salt helps prevent that from happening. I rarely freeze eggs separate so I have no first hand knowledge of this but I do plan to try it with a small batch when I have another accumulation of eggs needing to be preserved for future use.
FYI – What you may or may not want to know about eggs.
This may gross some of you out. It may be more information than you ever wanted to know. It may put you off eating eggs for a while. Sorry, that is not my intent. I only wish to educate. It is important to know where our food comes from and how it gets here.
Someone may come along in the comments and show off big words and make things overly complicated so just know I am hitting the highlights and not trying to explain rocket science to anyone.
Eggs are laid by fowl. The most commonly associated with the eggs we eat are chickens. All bird eggs are edible. When available we eat chicken, guinea, turkey, quail, duck and goose eggs. You can also eat rhea and ostrich and other eggs too. Even a little robin's egg.
When an egg is laid, and if you ever have the good luck to watch one being laid you'll see it has the slightest bit of dampness that dries almost instantly as you watch. This is the 'bloom'. It is protective coating on the shell that prevents bacteria from crossing through the pores of the shell and helps keep the egg fresh. Farm fresh eggs, clean, collected daily can sit on your counter top in a cool kitchen for several week before using. Room temperature eggs cook better, I think most people who cook know that, but eggs that have never been refrigerated are even more fantastic. I do not refrigerate my eggs. We generally use them up or I sell them before they get 'old'. If an egg lingers around for more than 14 days I cook them and feed them back to the chickens. It is great protein and the shells provide plenty of calcium to make more egg shells. Don't even start with the 'you feed them their own eggs?!?' because a hen will greedily eat her own eggs or any other egg if given the chance. it is not a practice to encourage if you want eggs for yourself. A setting hen incubating her own eggs will often eat the eggs that don't develop or stop developing. Nature has a way of dealing with things and that is usually the best way. I try not to let my human emotions get in the way.
Every egg has the potential to develop into a chick. Chick is a term that is applied to freshly hatched birds. Some birds have more precise names, for instance a turkey is a 'poult'. That potential is based on the presence or absence of a rooster.
A rooster will mate with his hens many many times a day. It is not the same mating we know of in mammals. The rooster and hen perform what is called a cloacal kiss. The external openings at their posterior is the exit for all of their bodily functions. They have a tube for excrement and one for reproduction that meet together and form the vent opening or cloaca. The rooster and hen touch cloacas and the semen of the rooster is transferred to the hen. The hens body pulls the sperm inside and it is held in a pocket type structure inside of her reproductive tract. A hen exposed to a rooster for a series of matings then removed from his presence can produce fertile eggs for as long as three weeks. The fertilization of her eggs happens deep inside of her body before the egg is completely developed and the shell is created.
Only fertilized eggs will develop into said chick.* I put absolutely no store in stories of people saying they got eggs from the grocery store and cracked one open andf it had a chick inside in any recent history. In commercially produced eggs: 1. the hens are never exposed to roosters 2. Eggs are inspected more than once under high powered lights and there is almost no way for a developing egg will get by those sensors. The only way it could happen would be from a small producer who provides 'as is' eggs or free range eggs with a rooster present and that are not inspected. That is rare even in the smallest and most earthy organic style food stores. Those eggs would have to be old and left in a nest for 3 or 4 days or more with an active setting hen before being collected.
Fertile eggs will not develop without a means of incubation. They require a warm humid environment of 100F – 102F degrees to begin developing into chicks. A fertile egg will not begin to develop while sitting on the counter top or in the fridge waiting to be cooked. It doesn't work that way. A fertile eggs tastes no different than an infertile egg. You cannot candle an egg and determine if it is fertile. That is one huge myth I'll talk about just a bit further on in this explanation of eggs.
Every egg from every bird is the same. We can get very technical but for now just a general explanation of what you are seeing once an egg is cracked open.
Let's take a look at the egg itself cracked into a dish. The cracked eggs are form my geese so that the yolks are large enough you can see the details in the photos.
I think everyone knows the yellow is the yolk and the white is the albumen.
The yolk is the part of the egg that nourishes a chick as it develops. It is the very last part of the egg to be absorbed just before a chick hatches. It nourishes the chick for up to 3 days after it hatches giving it a chance to get on its feet and get itself together in this big new world. Most healthy chicks I have hatched usually need only a few hours to get themselves acclimated and then you'll see them pecking at bits of food and tasting water. To be so fragile they can be very resillient and strong.
The albumen is a clear liquid made up mostly of water and simple proteins. It's primary function is to add a layer of protection to the yolk. In layman terms, when a chick is developing the white works very much like amniotic fluid in a human. As the chick grows and develops the liquid begins to wick away through the shell and only the most minimal amount is present when a chick hatches. That is the 'wet' on a chick and has to dry out and fluff up to be the pretty little chick most of us are familiar with in photos. A chick is 'born' into the world under its own force of will to live. It uses a little spike on the top of its beak (egg tooth) and chips around the shell from the inside out and then pushes its way into the world. I never get tired of watching it. It always takes my breath away and makes me cry. Life is a wonderful thing.
The chalazae is the little white 'string' you see on either side of the yolk. This is NOT rooster sperm. I repeat – the chalazae is NOT rooster sperm. Whom ever started that myth needs to be taken out and shot at 20 paces with broody poop**. This 'string' is what nature uses to suspend the yolk in the center of the egg. That's it. That's its purpose. Nothing more. Nothing less.
The blastoderm is that very tiny white spec on the egg. That is the tiny cluster of cells that have the potential of forming a new chick. A chick cannot form if the egg is not fertilized and is not given the proper incubation environment in which to develop. *There is scientific evidence that an egg can begin to develop even if it has not been fertilized by a rooster. It is very rare but it can happen. But it cannot happen outside of an incubation environment. A fertile egg only means there is a potential for a chick to grow. Said chick will not grow unless there is some means of constant heat applied at 100F – 102F for a constant of 21 days.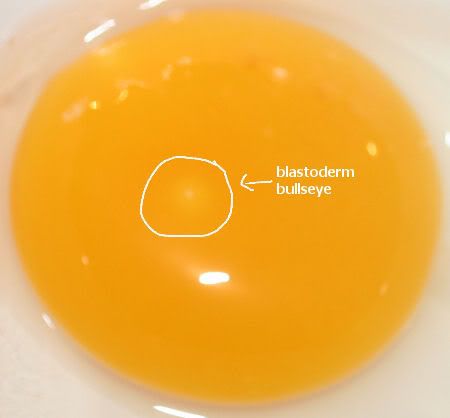 Look at the photo above of the yolk compared to the other photo in this section. Can you see the difference? Can you see the slight ring around the blastoderm? It is what most refer to as the "bullseye". This is what we use as an indication to keep up with our roosters and whats going on with him and his hens. It is a good sign for me to crack open my eggs and see this. I do not keep a pen with just hens. All of my pens a have a rooster. All of my eggs are fertile. I like it that way!
Egg Facts
– clean farm fresh eggs do not need refrigeration. They can keep fine on a counter top in a cool kitchen. In a cold kitchen in winter, eggs can keep for as long as 6 weeks and still be perfectly fresh. Purchasing refrigerated eggs from the grocery requires that you keep them refrigerated until use. The bloom has been washed away and the eggs are susceptible to spoilage.
– when cooking and baking with eggs always bring them up to room temperature for best results.
– you do not need a rooster to have eggs. Hens will lay eggs without a rooster. You need a rooster to make chicks. Think about it in terms of your own female body. You don't need a man to have your monthly cycle. You need a man to fertilize your own egg cells to make a baby. No man = no babies. No rooster = no chicks.
– to tell if an egg is raw or hard cooked, spin it. Because the liquids have set into a solid, a hard-cooked egg will easily spin. The moving liquids in a raw egg will cause it to wobble.
– eggs are a perfect source of protein. Most people don't stop and think about it but eggs are a form of 'meat'.
– white eggs and brown eggs are exactly the same. Some breeds of chickens lay white eggs – the most common commercial eggs. Others lay brown eggs. Some even lay blue or green or deep chocolaty or brownish red eggs. I have even seen some pinkish eggs. In general you can tell what color shell a chicken will lay by looking at the color of their ear lobes. It is a giant myth that all white feathered chickens lay white eggs. Most chickens used for commercial egg production are leghorns, which tend to be white, and they in particular lay white shelled eggs.
Have a rambled on enough??? Have a great day my friends! I'll be back later to proof read and spell check. Sorry for anything you stumble over here until I do.
**broody poop – hens hold their poop forever during the last many days on a nest. When they finally finish hatching their eggs and get up for a leg stretch they take a giant, smelly, gross poop. She probably feels one thousand times better once she does!
The post following – The Incredible Hatching Egg – is a pictorial opposite of this one. It is what happens when I put fertile eggs in my incubator and the chicks that come out.
84 Responses to "The Incredible Edible Egg"