My Orpington pens are of the blue/black/splash variety. Meaning the dilution of the black gene has mutated leaving the chicks that hatch with 0, 1 or 2 blue genes that define their color.
My breeding pens are a combination of colors. While blue is the standard recognized color many people have taken a liking to the splash variety and often they are the most sought after coloration.
The blue gene is a fairly predictable thing based on breeding for color. It doesn't matter which of the pair is which color, it is not sex linked, and the outcome percentages is based on a law of averages on a hatch of 100 chicks.
Some people question the need of having black in the breeding pens. Black hens or even a rooster are needed to keep the blue color strong and deep. Repeated generations of blue breeding without black to strengthen the coloration will leave you with very light colored and diluted genes. Remember – you need the black genes – they are what makes the blue dilution possible.
Blue x Blue = 25% Black (no blue gene) 50% Blue (one blue gene) 25% splash (two blue genes)
Black x Blue = 50% Black (no blue gene) 50% Blue (one blue gene)
Black x Splash = 100% Blue (one blue gene)
Blue x Splash = 50% Blue (one blue gene) 50% Splash (two blue genes)
Splash x Splash = 100% Splash (two blue genes)
I have a blue rooster, Wheeler, a splash rooster, Bragg, and another blue rooster, J.E.B. They are each housed with hens of blue, black and splash coloration. (Yes, All of my bbs orpington roosters are named for Confederate Generals.)
This is Wheeler last Feb 2009.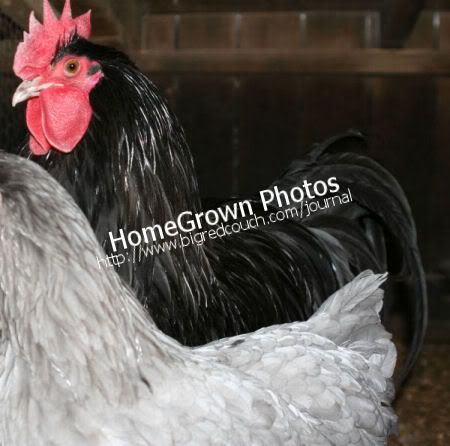 This is a video of him I took in February of 2010.
Pardon the mud. We had over 4 feet of snow that finally melted. It left everything muddy.
Hatching eggs are available for shipping or local pick-up.
$35 per dozen plus priority mailing fees to anywhere in the continental US. Please note it costs more to ship to the west coast and Texas.
Payment may be made by money order only by United States Postal Service or by Paypal.
Paypal payments must be by a verified buyer.
Please Note:
*I do not make an guarantees on shipped eggs.
*I do not replace eggs that fail to hatch.
*As with any shipped eggs you take your chances. I wrap and carefully pack fresh eggs the best way possible with lots of bubble wrap and ship priority mail.
* Payment is by Paypal with verified buyers only.
* I reserve the right to refuse sale to anyone who doesn't meet the Paypal requirements.
Feel free to contact me through my website email address bigredcouch [at] gmail [dot] com to enquire about eggs.
I will hatch chicks for those who don't feel they are able to do so for themselves. I do NOT ship live chicks. Chicks must be picked up with 2 days of hatching. I require a 50% non-refundable deposit prior to setting a hatch.
55 Responses to "Blue Orpington Chickens"