My in-law's anniversary is coming up next month. I am always wondering and searching for months before hand for something unique and lovely to give. It is really hard for me to settle on a choice as they are the type who have everything they need and most of what they want already.
This year they had their kitchen back splash tiled in the prettiest watery blues and green glass type tiles. It is such a lovely lovely lovely tile that lends an air of tranquility to her kitchen. It is a gorgeous kitchen, too.
So, what do you give someone who has everything?
I decided to grow our gift this year.
This is a 14 or 15 inch pot I found lurking on a gardening shelf in a store and I knew when it saw it that it would suit her tastes. Then I went and got me some tiny little herbs and put them in the pot.
I set it in the sun.
I watered it as needed.
I fed it once a week.
Look at this thing grow! The tallest plants are over 12 inches high. It makes me happy to look at it.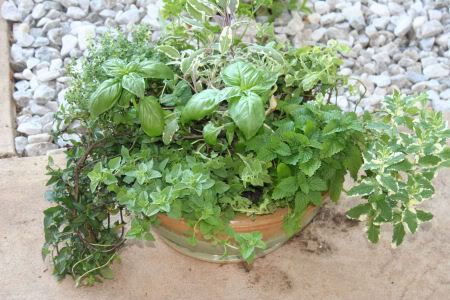 I hope she loves it.
Oh, no worries on spilling the beans, to the best of my knowledge they don't read my blog and probably don't even know it exists.
I would be thrilled to pieces that someone would take the time and effort to show me how much they cared. Also, for me, giving a living thing is way up there on the coolest things you can give list. (But not animals. Animals and pets should NEVER be gifted as they are such deeply personal choices to make. No, no living animals as gifts, thanks.) I also tend to prefer to be the gifter and not the giftee.
What do you think? Do you like getting gifts like this? Or do you prefer to be the giver?
2 Responses to "Herb Garden Gifts"