I made a commitment to myself to try my best to only spend my money on goods that are made in America. This may be one of the hardest things I have ever tried to do. I may have to readjust and commit myself to only spending our money on good NOT made in China for some items. This is a sad reality to face.
I have already taken to buying things from our small local family owned stores, farmer's markets, local meat processors, etc. I don't buy Monsanto seeds. I encourage the girls not to throw their money away one things that could be deemed 'junk'. We do our best to support the local economy.
Recently I found I needed to replace some baking pans that looked beyond shabby as they had lost their outer coating thanks to a brillo pad and the inner metal showing decided to rust between washings and I was using enough aluminum foil on them to keep Reynolds in business for a long long time. So, out with the old and in with the new.
Right?
Wrong.
I have no need and no inclination to go out and pay ridiculous amounts of money for baking pans. I refuse to buy something 'designer' but I don't want some fly by night flimsy pans that will get me right back where I was in half the amount of time. I cruised all of the local places (Bed, Bath and Beyond, Several kitchen specialty stores, Costco, several large high-end department stores, Target, Walmart, Kmart etc. etc. etc.) and really didn't find anything that suited me. However, I did come across a few things that made me a bit angry.
First, it is no secret I am no fan of Martha Stewart and Paula Deen has been loosing favor in my eyes for a while now. Every store seems to have something these two endorse. And if they endorse it they are making a nice fat profit on having their face on the labels. But at what cost is their profit being earned?
Not one item being pushed is made in America. I was a taken aback, a little shocked then it just pissed me off and I started reading the printed labels on the pans. Some of them you have to unstick from the pans and turn over to find the "Made In" tag.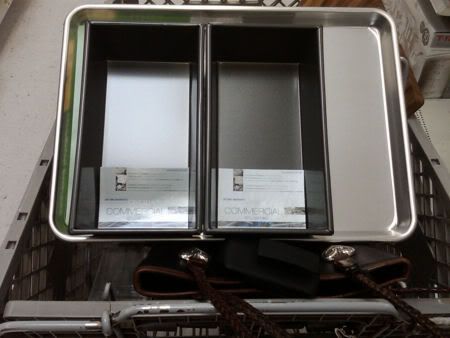 These nice and heavy bread pans by Oneida are in the "commercial" baking pan catagory. The half sheet pan underneath is made by Nordic Ware and is not commerical. Each pan is priced at $10.
Oneida label words hidden on the back out of view – "Made in China".
Nordic label in plain view and bolder lettering "Made in the U.S.A."
I purchased several pieces of Nordic Ware.
I also have been hunting for some wooden ware pieces – larger and not cheaply turned wooden spoons, rolling pin, etc.
Guess what?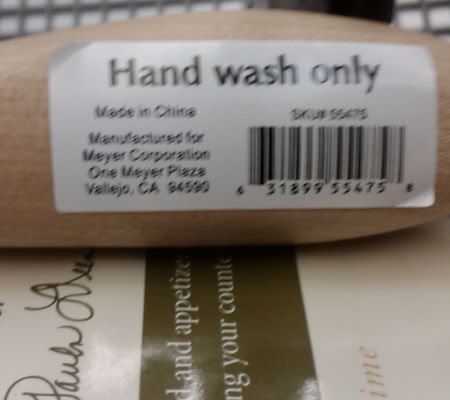 Made where??

Made by who??
In fact, this entire wall of Deen endorsed items are NOT made in the U.S.A. Her endorsed cast iron? 'Made in China'. Stewart's endorse stainless steel? "Made in China." As is all of the cookware I saw on display in Kmart with Stewart's name on the labels.
I won't buy them. I won't send our dollars overseas. I won't put more money into a rich woman's pocket. Not that I have anything against being rich but sometimes you know you just get a dirty taste in your mouth and have to move on and gargle repeatedly to cleanse yourself.
Unless someone out there is turning out food safe wooden rolling pins, bread boards and wooden dippers and spoons I'll have to do without. (Is anyone out there wood workers? Are you making anything useful at a fair market value?) I don't want to not have these items. Sometimes I even have a bit of an inner struggle with myself over an item I need but so far the other me has won and there are no made in China products being purchased here. There may be some from the past but in the last year I have become more and more tough about my purchasing power and the items we use.
As we approach July the 4th and the celebration of American Independence I urge you to stand up for America, put your money where you live and commit to only purchasing goods Made in the U.S.A.
Urge isn't good enough. I challenge you to support our nation and "Buy American".
**I have not linked to any of the stores, products or personalities in the thread on purpose. I don't want to send any traffic to their websites.
I encourage you to browse the Nordic Ware website for American Made bake ware and other items.

17 Responses to "Buying American"