Archive for the 'Good Things' Category
After four years of waiting, watching and weed pulling I am beginning to enjoy the fruits of my labor.
Behold the green spears of asparagus that I cut 5 minutes before our Sunday supper.
I can't even begin to describe the taste difference in fresh asparagus compared to the store purchased bundles or frozen trays. Let's not even discuss the mushy cans.
Within an hour of cutting the natural sugars in the asparagus begin to oxidize and change. You'll never taste them unless you have access to fresh beds where you can cut the spears and rush right in to rinse them under cold water and immediately pop them into a pot of boiling water.
Heaven!
Now is the time to prepare your beds and plant some root crowns. In just a couple years you'll have a bed of beautiful asparagus that will come back year after year after year. You'll get 20 years of harvest from your efforts.
I have written several times about using vinegar around your house for cleaning and laundry and weed control. I keep meaning to show you other ways I use vinegar for cleaning and I keep forgetting.
This week I ran out of cleaner and needed to make some more. That reminded me I needed to show you too.
VERY easy. When I say easy I mean brainlessly easy.
Lemon peels and vinegar. Set it and forget it.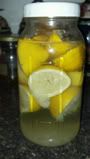 Orange peels and vinegar. Set it and forget it.
No measuring needed. Stuff a jar with peels and top with vinegar. In just a few days the fragrance of the citrus will marry with the vinegar. When you open the jar all you will smell is the delicious citrus scent.
Everyone likes lemony fresh cleansers that are non-toxic and safe.
Here is a tip for those of you who have to clean bathroom mirrors where toothpaste is sprayed daily. A few newspapers or coffee filters and you have the perfect window and glass cleaner. Rub-dub-dub scrub out your tub too. Anything you can use an all purpose cleanser for you can us citrus and vinegar.
I have green bell peppers, sea salt and dill cucumber and zucchini slices, pizza seasoned tomato slices in the dehydrator. Those will be great chips!!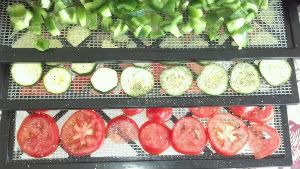 I have hot peppers cooking down for hot pepper sauce. Vinegar, salt and peppers is all that it takes. Stop buying it and make your own. I use a lot of different peppers and the layering of flavors and heat is amazing. Cook until soft, blend, seal in jars using water bath methods for 5 minutes.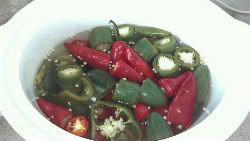 This afternoon I have teenage girls descending on my house and have lots of things to prepare. There will be pizza and brownies and all sorts of goodies but first I have to prepare them!
Have a great weekend!