Archive for the 'HomeGrown Christmas' Category
Plan your Christmas menu and shop for it early.
Don't get caught in the hustle and bustle of having to go out and shop for your Christmas menu during the last days before Christmas. Enjoy those days home with your family. Watch Christmas movies, visit with friends, enjoy guests in your home. So much time is wasted doing things that can already be out of the way so that you can enjoy the season without feeling pressed for time. Many dishes you can prep things ahead of time and simple store them in the fridge until time to start your meal.
This years my menu is going to be rather simple with minimal preparations.
Smoked Ducks, one with orange glaze, one with plum sauce and one with garlic glaze
Cranberry Pecan Wild Rice
Roasted brussel sprouts or asparagus
Multicolored Carrots
Multicolored Beets
Italian Cream Cake
My momma is coming for several days. I plan to spend my time with her and no standing over the stove cooking meals.
I am so excited! She hasn't been here for Christmas in a long time. That's the best gift for me this year. Time with my momma!
Back up your laptop, desktop, iPad, tablet, notebook. Backup your backup. And not with the cloud. Give yourself a gift of serious digital storage.
I thought I had done this and was secure. In the past month not only have I lost a laptop with years of information stored on it but recently a band of roving dogs took out my 1TB WD My Book. All is not lost it is just that the cables are now a little wonky and the connection to the storage is not always stable.
I can remember a time when 1GB of storage was an almost unattainable amount of storage in an affordable way. But today with some savvy shopping you can secure massive storage capabilities for well under $100. If you keep your eyes open and do a little searching you can do it for under $50. That is right. 1TB of digital storage for under $50.
I love Western Digital and their external storage options. I love their outlet store even better. You can get factory refurbished products for unheard of low prices. So, I bellied up to the keyboard and ordered one more round. Only as I was checking out the outlet store items I was able to purchase a 1TB My Book to store all my photos on I was able to snag a 500GB Passport for $29.99. I have wanted one of those for a long time. I can pop it in my purse and take whatever I need everywhere I go. The best part is it is barely larger than a credit card.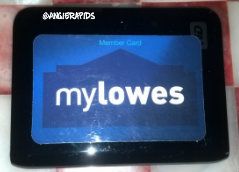 Little and cute!
Today, while I am still waiting to pass the kidney stone I have my photos backing up on my new storage. It is only estimated to take 4 hours and 42 minutes for all those file to complete. That's a lot of photographs!
HomeGrown Christmas Day 13 – Give yourself the gift of Digital Storage!
Spend a night in the ER.
Yes, that is what I did.
My body waited 46.5 years before it introduced me to "Renal Colic".
In every day terms that means kidney stone.
I am home, not in pain at this time, waiting for it to pass.
While I am recovering I spent some time watching Sweet Priscilla put Jackson through his paces.