Archive for the 'Farm' Category
During bad weather and winter storms there is always a chance the power will go out. It is a certainty for us living in a rural area. At some point we will be without electricity. When that happens and darkness falls it is easy to just go to bed and sleep through it but … but … we don't always do that. Sometimes we are sitting up in a dark room huddled around a tiny light trying to read or the kids playing board games. Eventually flashlights have to be turned off, lamps are blown out, and the candles snuffed.
Last year's storms got me to thinking about how most people don't keep candles on hand for any other purpose than to make a room smell nice. The days of keeping a supply of candles on hand for actually lighting a room has slipped by without much notice by a large majority of people. The price of those decorative candles is outrageous. Maybe I am just a cheapskate but I can't see putting $8 to $25 in a single candle.
I got busy a few weeks ago and stocked up on candles for emergency purposes. It was fun! And it saved tons of money.
I am a saver jars and most especially when a canning jar gets a nick or a chip in the rim I refuse to throw it out and simply repurpose it. I decided my jar stash would be my candle jars this time. It used up a lot of them and I no longer have to keep a separate box of chipped jars. All gone! No mistakes waiting to happen in the canning kitchen.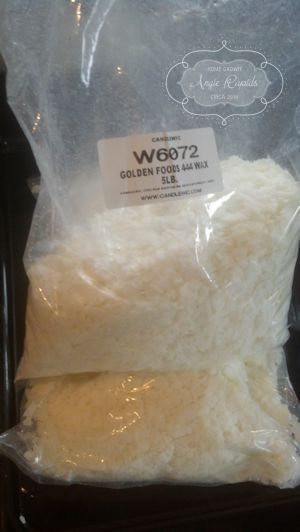 I purchased ten pounds of soy wax and a bag of 50 wicks from Amazon. One day when I was in town I took a quick trip through the dollar store and picked up a box of 50 match books for $1.00 and a package of 30 sheets of sandpaper for $1.50. I swung by the junk store in search of a pot to melt the wax in because I don't have a pot I am will sacrifice for the job and handling a hot coffee can isn't something I want to do either. I found a stainless steel teflon coated pot for $1.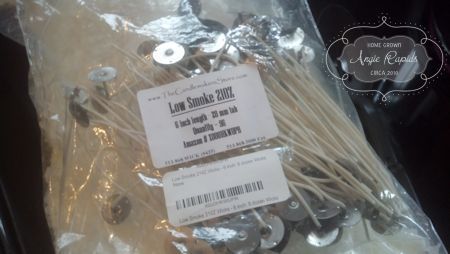 I melted the wax.
Poured it into pint jars. Ten pounds of wax filled 12 pint jars perfectly.
I put the wicks in and used these plastic knives to prop them into position.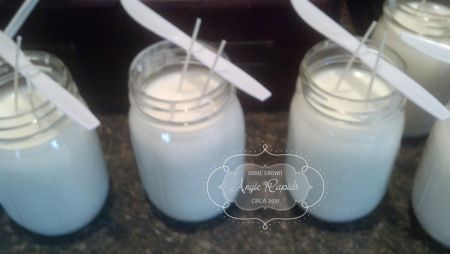 In about 3 hours the wax had cool and the candles were perfect.
I trimmed the wicks and in to every jar I placed 2 books of matches and a small piece of sandpaper – just in case there will always be a striker for the matches.
I saved old lids from jars I opened and applied a lid and ring.
The candles and matches are perfectly safe from moisture and ready to go when needed. The soy wax is silky almost like oil and burns away clean without smoking. I am considering making another dozen it was so fun and easy. This time I might add some essential oils to make those smelly, delicious 'decorative' candles. Now I understand why so many soap makers become candle makers too!
While I was at the junk store I ran up on this box of devotional candles for the low price of $3. This box contained 192 candles. I put them into wide mouth jars and also added matches to those jars. These candles cost me 1 cent each and the matches were 2 cents. Another great preparedness item found for almost no cost at all!
Price breakdown
12 jars $00.00
Wax and Wicks = $31.78
Matches (x2) = $00.04
Sandpaper = $00.01
pot = $ 1.00
Total = $33.83
$2.81 per 16 ounce candle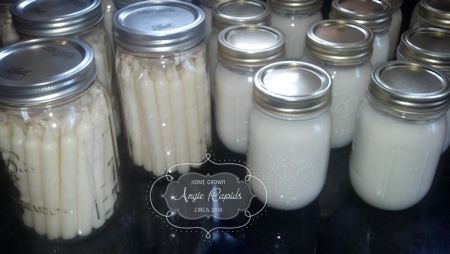 Do you have a stash of candles on hand for emergency purposes?
I could be the Karate Kid because I surely know how to paint the fence! It took 42 gallons of paint to paint the fences, the new little greenhouse, back porch and the kitchen and dining room. Sadly I am not finished yet!!

Cross section of the front.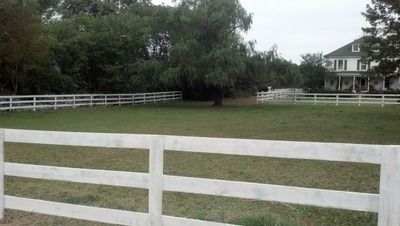 Out front.

Out back.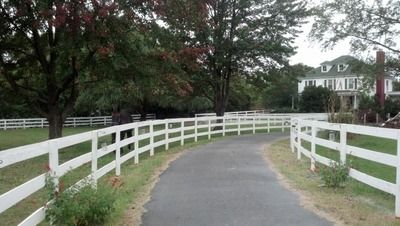 Curve of the driveway.

I even painted those column. Every single brick face one at a time.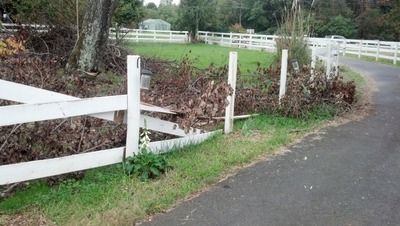 Where another tree fell we have repair the fence and I have to paint that section. Again.

My new greenhouse

The back porch.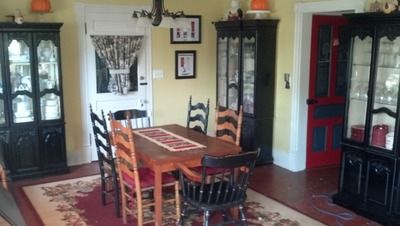 The dining room.I also painted the furniture!
I have always disliked these columns because of the brick color. None of the bricks around here match. So you know the old saying – a little bit of paint can hide a lot of sins. I didn't want a fully painted column just a different brick. I bought brick red paint and spent a couple hours sitting in the sunshine painting each brick face. looks great doesn't it?
Now you know what I have been up to with my 30 days of radio silence! You couldn't pay me enough to be a professional painter!
I have tried to be more productive around here but it is not showing on my blog. I do apologize for my absence. I am going to remedy that immediately.
I looked at the calender this morning and noted it is exactly 6 more weeks of summer and then my kids are off to school again. I am both horrified and pleased at the same time. I suppose the next time I am in Wal-mart and Target I should start stocking up on school supplies. I love school supplies and always buy too much but we donate the extras to the class so there is always plenty for every child.
This week will bring my and Steve's wedding anniversary to a celebratory eight years of wedded bliss. Time flies when you're having fun! I was trying to come up with a gadget to surprise him with. I think I may have found one. I already got mine last week.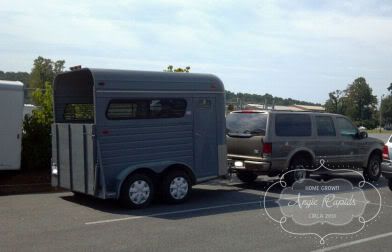 It is a two-horse bumper pull having undergone some nice restoration work. It will suit our needs perfectly right now.
I can add 24 pints of bread and butter pickles and 12 pints of dill pickles to my stash.
Saturday evening we had a girls night out. Olivia took Colby, Grace and I up to Skyline Drive and we stopped along the way and took in the sights before having dinner.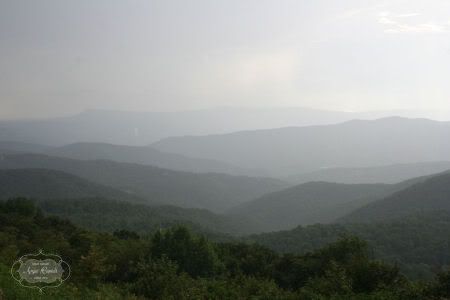 It is really breath taking up there.
How gorgeous is this view?
I have been making jewelry from Jack's mane and tail clippings. This is the bracelet I made for myself. The black and white braid is from both Jack and Diana. I think it is a lovely piece. The weight on my arm is nice. The beads are metal and glass and the little sparkle of bling makes it pretty.
I am considering offering making them for other people who have lost their best horse friend.
I have several new batches of soap curing. I can't wait to try them. They all smell delicious!
What's new in your neck of the woods?