Archive for the 'Food Storage' Category
For ever I have wanted an All American Pressure Canner. Several times I have almost clicked the button to purchase one but never did. You see like so many kitchens these days my stove top is glass. The All American is not your average canner and the weight of those things on my glass top combined with the heat generated when canning would most likely shatter my stove top. Not good.
Eight years ago when we were forced to buy a new stove I went to Lowe's took note of everything in my price range, selected the options I wanted and whittled it down to this frigidaire model. Nearly everything was glass or ceramic top and there were no double oven models available with the standard stove eyes. When it came right down to it I really had no choice. We had no stove, no oven, due to malfunction of the decrepit beast in our kitchen having died so I had to have something to cook on. So I purchased what was in stock that could be loaded in the truck and taken home with me.
This Christmas when I was asked what I would like to have I asked for the canner. I just did it. I chose the 915 model (15 1/2 quarts size) and my dearest sweet in-laws gifted me with this beautiful canner for Christmas.
Knowing that I couldn't use it on my glass top stove I had thought about using it with the gas burner for the turkey fryer -which a lot of people do with heavy summer canning. I hate using gas because for one it is expensive these days and two when you use those burners the bottom and outside of the pot gets those black smut marks that will not scrub off. I don't want to mess up a brand new canner on a gas burner. I don't want to buy bottle gas just so I can use the canner.
After a lot of reading and researching I decided that a heavy duty restaurant grade electric eye would be the perfect answer to my needs. So we ordered one made by Cadco for my Christmas present from my sweet husband. It was ordered in plenty of time to be delivered by Christmas and all is well in the world. Except the warehouse canceled our order in error. Called us then reprocessed the order making the delivery date the 28th instead of the 24th. One things after another it snow balled into the warehouse was backup with orders, the manufacturer was back logged, etc etc etc. Eventually the manufacturer, Cadco, caught with their back ordered and Monday my hot plate was ready to be shipped. Yesterday it arrived on the beautiful brown UPS truck. Better late than never!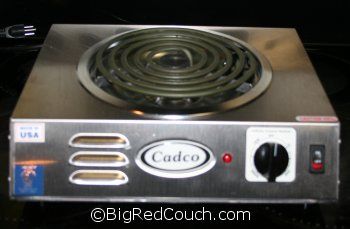 This 'hot plate' is an eight inch, single eye burner on a 14 inch stainless steel base rated for restaurant use. It has great reviews and better yet this baby is Made in the USA!
If I had chosen a larger All American canner I would have stepped up and purchased the more heavy duty burner in the Cadco line which costs a good bit more than the model I chose.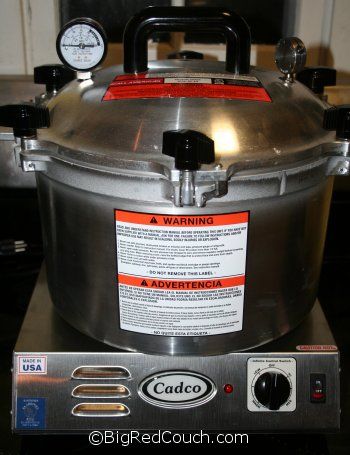 The All American Canner fits on it well. I tried it out this morning to see how well it heats. It took 6 minutes for one quart of very cold water to come to a complete rolling boil. That is pretty fast. The heat setting knob is an 'infinity' knob and it turns in either direction to turn off and on and to set the temperature. It also has a manual on and off master switch to instantly kill the power to the control knob.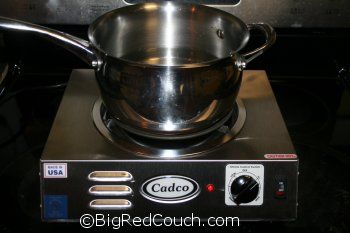 My plan is to give both the All American and the hot plate a good work out today!
If you have been putting off the purchase of an All American canner due to having a glass or a ceramic top stove I suggest that you look into the Cadco (Made int he USA) product line to solve your problem. I can only think that the only thing better than my current set up it to have a second one just like it. Double the canning power!
I probably have things in my freezer most you don't. I have things like bags of chicken backs, ox tails (cow tails cut at the vertebra, beef tongues and hearts to name a few. Over time those things build up and start to take up a lot of my freezer space. Last week we sent a cow to the market for processing. That means at some point next week I'll get a call to come pick up our beef. I'll be needing every inch of freezer space to make room for an entire 600+ pounds beef.
This morning became the time when I reached a point where I had to deal with all the odds and end in the freezer to make way. With a fire in the kitchen wood stove and two very big pots I started cooking down what will be come stock for my pantry.
The bones from these meats will cook a very long time. When the stock is finished and becomes cold it will turn to jelly. You can't buy that kind of stock in those boxes or cans at the market. A few noodles, a handful of veggies and that stock become instant soup – and not the powdered and over salted grocery store offerings.
It's simple and you can do it too. Save all your pieces and parts and bones. When you roast a chicken save the carcass, toss it in the freezer until you have two or three. The same with beef bones or hams or lamb or fish – even shrimp shells. All of these things can later be used to make a large batch of stock to have on hand for all your needs.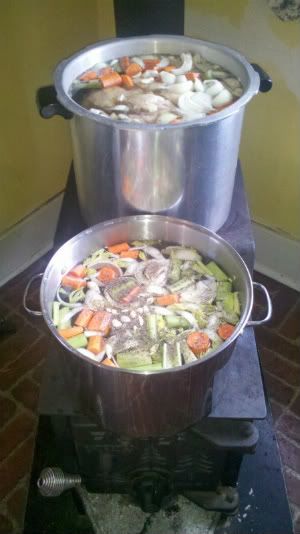 I started a fire in the wood stove because it was chilly and rainy this morning and I hate the damp feel of the air in here. When it is burning I prefer to harness that energy for cooking. Food cooked over wood fire tastes better, richer and the flavors are more intense.
Stock is simple. Put the bones or meats in a large pot. Add things like onion, garlic, carrots, celery, pepper, a little salt, herbs of your choice if you want and then top it off with water. Set it to slow cook for eight to twelve hours. Once it is cook strain the broth then allow it to sit in a cool place or the fridge. The fat will rise to the top and you can skim that off for later use. Which is what I will do tomorrow morning.
Tomorrow will be a canning day. I fill my quart sized jars with the stock and pressure can all the nutrient rich stock. At my altitude I will process my jars in the pressure canner at 11 pounds of pressure for 25 minutes.
Tonight's supper will be noodles and veggies cooked in the rich broth. I'll pick the meat from the bones and make Colby and I a low carb version of the soup – no potatoes but instead some low carb pasta.
I'll be busy the the next 48 hours.
What will keep you busy?
This is the time of the year when even those people who wouldn't dare be seen with a celery stick in their hand much less their refrigerator caves in and buys at least one bunch.
What would Thanksgiving be without dressing made with celery and sage? How could you make homemade soups and stews without celery, onions and garlic? It would all be void of flavor. Not to mention the veggie tray at numerous holiday get togethers being naked without celery sticks to nibble on. How else do you get the big globs of dip to your mouth??
I was really excited to get to bring home this big box of celery stalks the other day. Visions of bottles and jars filled with celery flakes and diced celery danced in my head. Have you ever looked at the price per pound sticker on the store shelf under those little bottles of celery flakes and seeds? Often those things run in hundreds of dollars when purchased by weight. The cost can be so exorbitant that you'll think twice and put those bottles back on the shelf in order to search out a better price not to mention a better source.
I took the box home and I pulled out the excalibur. Then I washed the celery stalk by stalk and leaf by leaf.
I filled all nine trays with leaves and chopped stalks.
And now I am here in my kitchen trying to decide if the remaining stalks will go into a salad, a soup or a hundred other things I can think of for supper tonight.
"Gosh, Angie, you sure are excited about some crappy old celery." I can hear you out there. I have powerz!
I am excited because this celery is organic.
Celery is one of those vegetables that requires a lot of pesticides and chemicals to produce what you find in those neat plastic bags at the grocery. The residue on the vegetables can't be washed away no matter how times it is processed. It is a little known fact that few people are aware of.
If you are going to buy celery this holiday season please spend the few cents extra and buy organic celery. Do it for yourself, your friends, and your loved ones.
This also makes me think about apples and how regular apples in the store are loaded with pesticide residue. And that is a whole nother post.
Buy your apples and celery organic.
Then make apple salad or chicken and apple salad and know you are serving up a big bowl (or sandwich) of organic healthy goodness.