Archive for the 'Dehydrator' Category
I have written several times about using vinegar around your house for cleaning and laundry and weed control. I keep meaning to show you other ways I use vinegar for cleaning and I keep forgetting.
This week I ran out of cleaner and needed to make some more. That reminded me I needed to show you too.
VERY easy. When I say easy I mean brainlessly easy.
Lemon peels and vinegar. Set it and forget it.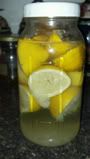 Orange peels and vinegar. Set it and forget it.
No measuring needed. Stuff a jar with peels and top with vinegar. In just a few days the fragrance of the citrus will marry with the vinegar. When you open the jar all you will smell is the delicious citrus scent.
Everyone likes lemony fresh cleansers that are non-toxic and safe.
Here is a tip for those of you who have to clean bathroom mirrors where toothpaste is sprayed daily. A few newspapers or coffee filters and you have the perfect window and glass cleaner. Rub-dub-dub scrub out your tub too. Anything you can use an all purpose cleanser for you can us citrus and vinegar.
I have green bell peppers, sea salt and dill cucumber and zucchini slices, pizza seasoned tomato slices in the dehydrator. Those will be great chips!!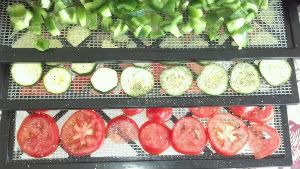 I have hot peppers cooking down for hot pepper sauce. Vinegar, salt and peppers is all that it takes. Stop buying it and make your own. I use a lot of different peppers and the layering of flavors and heat is amazing. Cook until soft, blend, seal in jars using water bath methods for 5 minutes.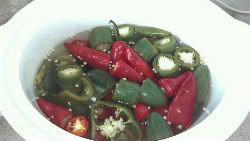 This afternoon I have teenage girls descending on my house and have lots of things to prepare. There will be pizza and brownies and all sorts of goodies but first I have to prepare them!
Have a great weekend!
I often get picked on because I tend to can all year round. Most people seem to have this idea that canning is done only in the summer and early fall when harvests are abundant and foods are highly perishable and need tending too. That is not true.
There is always something you can can. You might be making a large pot of soup or stew and don't have extra freezer space for it. You decide to break out a giant batch of chili and canning chili is a great way to have instant meals that are shelf stable. Oh, the things that you can do in winter with your pressure canner. Late fall when the weather is crisp and cold is when most people take their livestock to be processed for the freezer. To get ahead and save precious freezer space meats can be easily canned at home and then you don't need to worry about power going out or freezer failure.
This past weekend I made large pots of chicken and beef stock from bones and scraplets I had been saving in the freezer. I ended up with lots of stock! I made beef stew, chicken soup, chicken and dumplings and saved out some stock for low carb sipping in my mug when I was hungry but had no carbs to left to eat for the day. I ended up with 16 quarts for the pantry.
It was my good fortune to also be on the receiving end of a few organic bell peppers. I had six quarts cleaned and chopped peppers that I put into the Excalibur.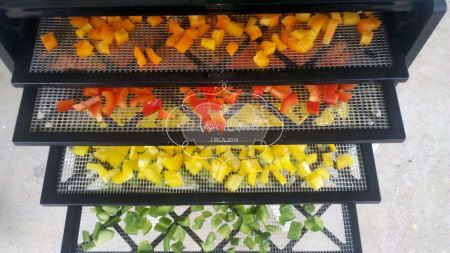 I finished with a quart of dried peppers for my pantry shelf.
This is the time of the year when even those people who wouldn't dare be seen with a celery stick in their hand much less their refrigerator caves in and buys at least one bunch.
What would Thanksgiving be without dressing made with celery and sage? How could you make homemade soups and stews without celery, onions and garlic? It would all be void of flavor. Not to mention the veggie tray at numerous holiday get togethers being naked without celery sticks to nibble on. How else do you get the big globs of dip to your mouth??
I was really excited to get to bring home this big box of celery stalks the other day. Visions of bottles and jars filled with celery flakes and diced celery danced in my head. Have you ever looked at the price per pound sticker on the store shelf under those little bottles of celery flakes and seeds? Often those things run in hundreds of dollars when purchased by weight. The cost can be so exorbitant that you'll think twice and put those bottles back on the shelf in order to search out a better price not to mention a better source.
I took the box home and I pulled out the excalibur. Then I washed the celery stalk by stalk and leaf by leaf.
I filled all nine trays with leaves and chopped stalks.
And now I am here in my kitchen trying to decide if the remaining stalks will go into a salad, a soup or a hundred other things I can think of for supper tonight.
"Gosh, Angie, you sure are excited about some crappy old celery." I can hear you out there. I have powerz!
I am excited because this celery is organic.
Celery is one of those vegetables that requires a lot of pesticides and chemicals to produce what you find in those neat plastic bags at the grocery. The residue on the vegetables can't be washed away no matter how times it is processed. It is a little known fact that few people are aware of.
If you are going to buy celery this holiday season please spend the few cents extra and buy organic celery. Do it for yourself, your friends, and your loved ones.
This also makes me think about apples and how regular apples in the store are loaded with pesticide residue. And that is a whole nother post.
Buy your apples and celery organic.
Then make apple salad or chicken and apple salad and know you are serving up a big bowl (or sandwich) of organic healthy goodness.