Archive for the 'Girl Stuff' Category
I have written several times about using vinegar around your house for cleaning and laundry and weed control. I keep meaning to show you other ways I use vinegar for cleaning and I keep forgetting.
This week I ran out of cleaner and needed to make some more. That reminded me I needed to show you too.
VERY easy. When I say easy I mean brainlessly easy.
Lemon peels and vinegar. Set it and forget it.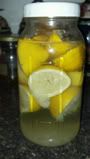 Orange peels and vinegar. Set it and forget it.
No measuring needed. Stuff a jar with peels and top with vinegar. In just a few days the fragrance of the citrus will marry with the vinegar. When you open the jar all you will smell is the delicious citrus scent.
Everyone likes lemony fresh cleansers that are non-toxic and safe.
Here is a tip for those of you who have to clean bathroom mirrors where toothpaste is sprayed daily. A few newspapers or coffee filters and you have the perfect window and glass cleaner. Rub-dub-dub scrub out your tub too. Anything you can use an all purpose cleanser for you can us citrus and vinegar.
I have green bell peppers, sea salt and dill cucumber and zucchini slices, pizza seasoned tomato slices in the dehydrator. Those will be great chips!!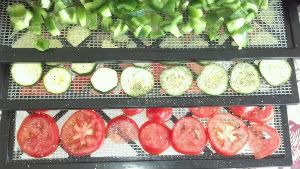 I have hot peppers cooking down for hot pepper sauce. Vinegar, salt and peppers is all that it takes. Stop buying it and make your own. I use a lot of different peppers and the layering of flavors and heat is amazing. Cook until soft, blend, seal in jars using water bath methods for 5 minutes.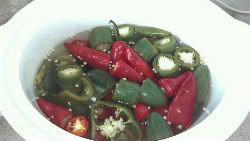 This afternoon I have teenage girls descending on my house and have lots of things to prepare. There will be pizza and brownies and all sorts of goodies but first I have to prepare them!
Have a great weekend!
This past weekend I took a turn through a couple junk shops.
For $10 I brought home this 16 qt. Sears pressure canner. Perfect working order. It was a steal!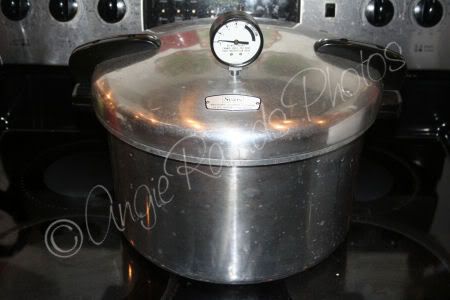 For $2 I hauled home 12 of these bail wire old fashioned canning jars. Which I love!
For $1.50 a sweet friend found this book at the GoodWill and then gave it to me. It is the 1966 edition.
Do you like junk shops, flea markets and places like GoodWill or Salvation Army stores? I certainly like to take a walk through them occasionally. You just never know what you will find.
My turkey hatch finished. I have 12 bronze turkey poults and 3 guineas. Very pleased! This should warm the hackles of your heart.
Sweet!!
The little ones are guineas. The bigger ones are Turkeys. Steve said to set the eggs we collected over the last week. So I did. Today is Day #1 with 28 Turkey eggs and 20 Guinea eggs.
Fingers crossed.
I am looking for one of these. I know I saw one in a catalog but I can't find it again. Can anyone help me out?
We had a surprise thunderstorm yesterday afternoon. The sky turned dark with no warning. Heavy rain came for about an hour. Just enough to soften the ground and make for light work of getting 23 more tomatoes in the ground. Also some squash and other herbs. I was able to complete the work in an hour and put down a thick bed of straw around the plants to help keep weeds down and to hold in moisture. I rinsed off, came in the house and had a quick supper. I had planned to out and let the sprinklers run a few minutes to water everything in well. Just as I finished the dishes the sky opened up and another heavy rain came and watered them form me. I love it when mother nature helps me garden!!
Today is the last day of school. Dismissal is at 11am. w00t!!
Happy weekend everyone!
Gracie's video debute. Her first How To for Cosmetic Application.
This one is titled Every Day Gold Look with Red Lip
Give her some comment love if you have a youtube account. Please and Thank you.
*******
My Bucket List
Live in a fishing village on the coast of Maine during lobster season.
Live in Alaska for a year to experience the full cycle of the Midnight Sun and the Polar Night.
Spend the month of December in Vermont secluded in a cabin in a snowy tiny village.
Spend time in the south pacific living like a ne'er do well.
Travel the US from coast to coast with no rhyme or reason – just going with the flow and money being no object.
Publish a work of fiction.
Fit in a size 2 dress for just one day – without being sick or mentally ill in the process of getting there.
See Steve develop that one application that the world can't live without.
See my children grown and with their own happy spouses and children living comfortable and productive lives.
Have a 'sleeping porch'.
Earn a PhD.
Have a weekend garden party with Stephen King as my honored guest.
Meet my online friends in person.
This list will be updated radomly.