Archive for the 'Quilting' Category
I have since the beginning liked my quilt frame. It is the Gracie king model from the Grace company. I made my purchase based on price without much experience with a machine quilting frame. Finding a dealer anywhere local here in rural central Virginia to actually do a hands on comparison of a quilting machine much less a frame is like looking for that needle in a hay stack. For now I have this frame and it is the one I have to use and sometimes I get so frustrated I am even liable to tell you that I am 'stuck with it' until I can save up, sell this one, and get something else.
Well, that may have just changed. I am finding that suddenly the Gracie frame is not as evil as it had become in the past. The main problem with it beyond the constant need to tighten screws and work with the temperature and humidity to keep it level is those awful black plastic tracks that come with the frame. It is clear from the moment you begin putting the frame together that something is going to go downhill sooner or later and you can pretty much count on it being sooner. The plastic tracks are the rails that the steel carriage wheels roll on when you move the long arm during the quilting process. Plastic rails under the pressure of the weight of a machine moving back and forth over it tells you almost instantly that the steel carriage wheels are going to chew into that plastic and wear it down quicker than you expect.
On my frame I have a Tin Lizzie 18×8 manual model long arm machine. The weight of the machine is about 50 pounds. It is the highest weight recommended for the Grace wooden frame. Somewhere in process of quilting a 10th or 11th king size quilt I began feeling the slightest little bumps and dips which throws the quilting off into wibbles and not so smooth sewing lines. Running your fingers over the plastic the places where the steel wheels have chewed into the plastic is readily noticeable. Cleaning the plastic rails with renaissance wax the soft cloth always ended up covered with black dust which is a clear indication of the carriage wearing away the rails bit by bit.

The only way to fix it is to go online at the Grace website and order a new set of plastic tracks. The tracks for the king length cost $28.00. Then you get a bit of a shock because the company charges nearly $25 for the 'shipping and handling'. When the flat box comes in the mail feeling lighter than air you begin to question the validity of the shipping charges. When you go through this same scenario three times in one year you start to get angry. Not only do the plastic tracks wear down but you are rolling along just fine and suddenly they split right down the length and you can't quilt another thing until you replace the tracks. Fortunately you always keep an extra set on hand for such an event but after a couple years it becomes more than just frustrating it makes you hate your quilt frame and the company that makes it.
Let me tell you something else. Getting someone from the Grace Company to actually reply to an email or to contact them by phone is like sitting in the middle of the ocean with a cane pole waiting to catch fish. Chances are, it ain't happening. They have an 800 number but I have NEVER spoken to a real person on the other end of the line. This, as much as the plastic tracks has made me not want to ever use another Grace product. There has to be a better way of dealing with a company and of keeping the long arm moving with having to constantly spend money. Quilting is an expensive hobby. Buying a long arm is expensive. The constant upkeep and repairs of broken plastic pieces and parts is like watching your money run through a sieve. The frustration really builds and the joy of quilting becomes tedious and no longer a joy.
Unless you figure out another way.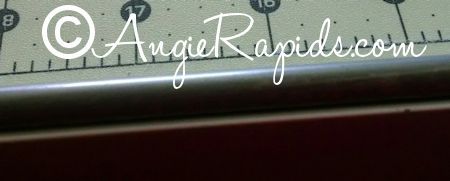 The resolution to the problem was so inexpensive and simple it almost seems like it was too good to be true. I had been reading on a couple quilting groups where a few women had said their husband had replaced the tracks on their frames with steel rods. A million questions later from people who did not give up details or their secrets too easily I finally had what I hoped would be the solution to my problems.
I called the local machine and welding shop. I asked if they had cold one-quarter inch stainless steel rods 132 inches long. The nice gentle man said it was a standard item in a welding shop, it comes cold rolled (meaning very smooth) or hot rolled (meaning unsmooth) and quoted me a price of forty cents per foot. To replace both tracks with steel rods would cost $8.80. You read that correctly. Eight dollars and eight cents plus tax. To also replace the two short lengths of plastic on the carriage itself was $1.77. I spent the total of $11.19 to replace the plastic tracks that were costing me $52.70 every few months because they cracked too easily.
This baby rides on these rails smoothly and evenly. The machine glides like a dream!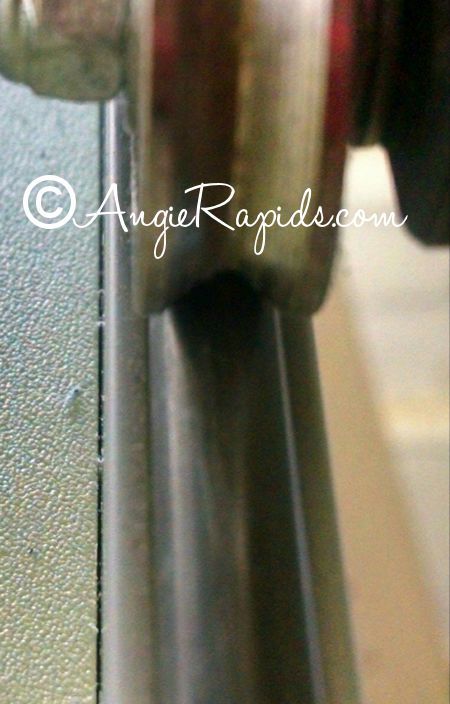 If you are having the same problems I did try replacing those black plastic tracks with the proper length of cold rolled stainless steel 1/4 inch rods easily found in the shop of your local machine and welding company. Double measure or even take one of the black tracks with you. You want the rods to be long enough that you have to bend them just a bit to slip them into the grooves on either end of the frame and lay flat in the lip of the raised aluminum frame track beds to be held securely in place. Same for the rods on the carriage. They need to be long enough that they sit securely under each end cap on the machine carriage.
It took me 15 minutes to move the machine, remove the tracks, slip in the rods, put the machine back in place. I cleaned and polished everything with renaissance wax and this baby corners like she is a high speed train on rails.
I am now, once again, in love with my quilting frame.
Find me on Facebook at HomeGrown
I have been searching for something new to create. I bought some fabric and could not decide on a design. I sat for 3 days looking and searching and could never find anything that felt right. So, I stopped looking.
Then the other day I ran across an old photo. This photo is one I have been researching to find out as much information as possible. I believe it is a depression era image possibly taken when the US Dept. of Agriculture was documenting the conditions of the people in rural areas in need of social services help.  I cannot be sure. If anyone knows any of the history of this photo I would love it if you would share it.
Wednesday the light bulb came on, inspiration struck and today I finished piecing a new quilt top.
It still needs a good pressing and I also have to think about how I want to quilt it.
The block is named The Arrowheads. The design is from the late 19th century and would have been commonly found at the time I believe the photo was taken. What caught my eye is the star just around the center of the block. See it?
These quilt blocks measure 26 1/2 inches square.I had to do the math calculations and make my own pattern pieces. I broke the design down into four 9 patch blocks, four arrows made up of two different sets of flying geese and a rectangle and of course the center square. I really love this block. I love it even better because it is what I call a 2'fer – a two for one. I made something new inspired by something old and filled my desire to piece a black and white quilt.
Now I am thinking about what I will do next.
I made this small quilt top from scrap bags I purchased on eBay. The fabric is Pine Fresh by Sandy Gervais for Moda. I randomly created blocks from the various strips with no accounting for width. I tried not to put two strips of the same color together. When the pieces were too similar or had too much black I cut the blocks and started over adding to them to lighten them up.
This morning I put this on the frame.
I am doing a meandering loopty loop with no real rhyme or reason.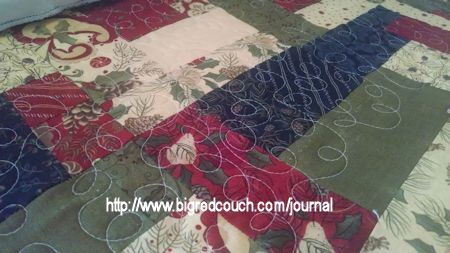 It is turning out really nice. So far I am more than pleased with the results.
What are you working on these days?