Archive for the 'Christmas' Category
Have you ever eaten a sugar plum? Do you wonder what they are? Read through "Twas the Night Before Christmas" by Clement C. Moore and I shall reward you with sugar plums.
Twas the night before Christmas, when all through the house
Not a creature was stirring, not even a mouse.
The stockings were hung by the chimney with care,
In hopes that St Nicholas soon would be there.
The children were nestled all snug in their beds,
While visions of sugar-plums danced in their heads.
And mamma in her 'kerchief, and I in my cap,
Had just settled our brains for a long winter's nap.
When out on the lawn there arose such a clatter,
I sprang from the bed to see what was the matter.
Away to the window I flew like a flash,
Tore open the shutters and threw up the sash.
The moon on the breast of the new-fallen snow
Gave the lustre of mid-day to objects below.
When, what to my wondering eyes should appear,
But a miniature sleigh, and eight tinny reindeer.
With a little old driver, so lively and quick,
I knew in a moment it must be St Nick.
More rapid than eagles his coursers they came,
And he whistled, and shouted, and called them by name!
"Now Dasher! now, Dancer! now, Prancer and Vixen!
On, Comet! On, Cupid! on, on Donner and Blitzen!
To the top of the porch! to the top of the wall!
Now dash away! Dash away! Dash away all!"
As dry leaves that before the wild hurricane fly,
When they meet with an obstacle, mount to the sky.
So up to the house-top the coursers they flew,
With the sleigh full of Toys, and St Nicholas too.
And then, in a twinkling, I heard on the roof
The prancing and pawing of each little hoof.
As I drew in my head, and was turning around,
Down the chimney St Nicholas came with a bound.
He was dressed all in fur, from his head to his foot,
And his clothes were all tarnished with ashes and soot.
A bundle of Toys he had flung on his back,
And he looked like a peddler, just opening his pack.
His eyes-how they twinkled! his dimples how merry!
His cheeks were like roses, his nose like a cherry!
His droll little mouth was drawn up like a bow,
And the beard of his chin was as white as the snow.
The stump of a pipe he held tight in his teeth,
And the smoke it encircled his head like a wreath.
He had a broad face and a little round belly,
That shook when he laughed, like a bowlful of jelly!
He was chubby and plump, a right jolly old elf,
And I laughed when I saw him, in spite of myself!
A wink of his eye and a twist of his head,
Soon gave me to know I had nothing to dread.
He spoke not a word, but went straight to his work,
And filled all the stockings, then turned with a jerk.
And laying his finger aside of his nose,
And giving a nod, up the chimney he rose!
He sprang to his sleigh, to his team gave a whistle,
And away they all flew like the down of a thistle.
But I heard him exclaim, 'ere he drove out of sight,
"Happy Christmas to all, and to all a good-night!"
This is the recipe for sugar plum. They are delicious!
2 cups whole almonds
1⁄4 cup honey
2 tsp. grated orange zest
1 1⁄2 tsp. ground cinnamon
1⁄2 tsp. ground allspice
1⁄2 tsp. freshly grated nutmeg
1 cup finely chopped dried apricots
1 cup finely chopped pitted dates
1 cup confectioners' sugar
Preheat oven to 400. Spread almonds on a baking sheet in a single layer and toast in oven for 10 minutes. Set aside to cool, then finely chop. Not ground as fine as almond powder but rather a fine grind.
Combine honey, orange zest, cinnamon, allspice, and nutmeg in a medium bowl. Add almonds, apricots, and dates and mix well.
Pinch off rounded teaspoon-size pieces of the mixture and roll into balls. You'll need to rinse your hands off alot as this mix is sticky.
Roll balls in sugar. Refrigerate in single layers between sheets of waxed paper. Store in an air tight container.
Sugar plums will keep for about a month. The flavor improves after ripening for 3 – 4 days.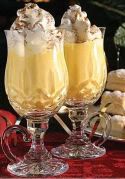 This one isn't for kids but it makes a happy holiday!
This one is very fluffy and is like drinking a cloud.
Adult Egg Nog
12 eggs, separated*
1 1/2 cups superfine sugar (domino makes a superfine sugar in a small box)
1 quart whole milk
1 1/2 quarts heavy cream
3 cups bourbon
1/2 cup dark rum
2 cups cognac
nutmeg , for sprinkling
In a very large bowl, beat egg yolks until thick and pale yellow.
Gradually add sugar to yolks. Using a wisk beat in milk and 1 quart cream.
Add bourbon, rum, and cognac, stirring constantly so you don't get those separation lumps.
Just before serving, beat egg whites until stiff. Fold into the above mixture.
Whip 1/2 quart of heavy cream until stiff and fold into the mix.
Sprinkle the top with nutmeg.
*I trust my chickens are clean and disease free and I am not worried about raw eggs. Besides with that much alcohol there isn't a bacteria that can survive in it. Cheers!
Non-Alcoholic Egg Nog
12 eggs, separated
1 1/2 cup granulated sugar
4 cups very cold heavy cream
4 cups very cold whole milk
1 tablespoon vanilla
1/4 – 1/2 teaspoon grated nutmeg
nutmeg for sprinkling
In large bowl beat the egg whites until stiff. Fold in half of the sugar. Careful not to break the whites.
In an another larger bowl beat yolks until creamy. Fold in half of the sugar.
Fold egg whites into beaten yolks.
Carefully stir in the cream, milk and nutmeg.
Sprinkle with nutmeg.
I am reposting this recipe from a few years ago. It bears repeating! This is a great recipe for holiday nibbles for the family or giving as a gift in a cute cello bag or decorative container. Your friends won't believe you when you tell them the ingredients.
When I was growing up one thing for sure you would find as a staple in my momma's kitchen was saltine crackers. I don't much remember having crackers often from my grandma's kitchen but with my momma they were a staple item.
I think it was because when we left my grandparent's home when Momma remarried we shifted from one lifestyle into another. Similar class of living but different in the case of how poor people lived in South Carolina in a mill town and how they lived in Georgia coming off a very rural farm setting. Some things were the same and some things were different.
For instance, while there was always fish of some type during the warm months the fish came after big planned trips by my grandparents to the Santee River, complete with boat, night lights, trot lines and lots of bait. When we moved to Georgia fishing was an all year long event since my new stepfather had his own 18 acre pond. We fished any time we wanted and there was any number of type of fish on the table for the weekend. The special trips was when my stepfather would go deep sea fishing and come back with salt water fish and shrimp. Which brings us back full circle as my Momma would boil up a huge pot of shrimp and we would spend our supper around the table peeling shrimp and eating them with saltines and a salad. (I know for a fact one of the reasons I have been fighting weight issues all my life is because of my southern upbringing and all my happy memories center around food.)
Every hunter I knew back then (and mostly likely those still hunting today) had a stash behind the truck seat during hunting season consisting of a bag with cans of potted meat, vienna sausages, sardines and a couple sleeves of saltine crackers. When you're in the woods, out in the middle of nowhere, you need sustenance and the perfect form of protein and carbs for hunting men is crackers and canned meat -or so I was taught to believe as a kid.
I grew up with saltines. My kids are growing up with saltines. Tomato soup is fine with saltine crackers when you suffer from a weak stomach. A little peanut butter and a few saltine crackers turns a snack into a feast. Cheese and crackers is another fine snack that with the right cheese and a little fruit elevates itself to a meal.
So you see I have a very long relationship with saltines. Now, here's the tricky part. All saltines are not equal. Nope. Premium charges a premium for their rectangular box of four sleeves of crackers. Mighty fine crackers, too. Sunshine Bakery and Murray Biscuit company have a right fine offering as well. Some of the no name brand crackers just can't hold up under the pressure and their crackers often end up a crumbled sleeve without a hope in the world of seeing a spoonful of peanut butter and definitely not a cocktail dipped shrimp or a hot sauce soaked oyster. Don't scrimp. Buy a nice brand of cracker and enjoy all the saltine cracker has to offer.
It has a lot to offer beyond being the 'bread' of a poor man's snack or meal.
Saltine crackers are also the platform on which to build very good candies. I love the combination of sweet and salty. How can you go wrong with a very basic staple? You can't. Trust me. I know these things. Stock your pantry with a couple box of saltine crackers. You'll be glad you did. Especially when you want something a little sweet and salty and you know it is too late and too far to seek out anything in a store. As if!! Daddy wasn't the type that believed in "running a car up and down the roads wasting gas and putting on mileage." I can hear his voice as I type those words. Scary even to this day.
So, you want something sweet and salty and the cupboards are bare. Oh, no! What will we do? It is too late to go out. It is too far to drive to the grocery store. Wait! You have saltines in your pantry! Oh, look, there is brown sugar, too and a bag of chocolate chips left over from the cookie baking a while back! And there is butter in the fridge! The day is saved!
This is country kids toffee.
Preheat your oven to 400 degrees F.
Take one sleeve of saltine crackers (35 – 40 crackers) and lay them out in a baking sheet.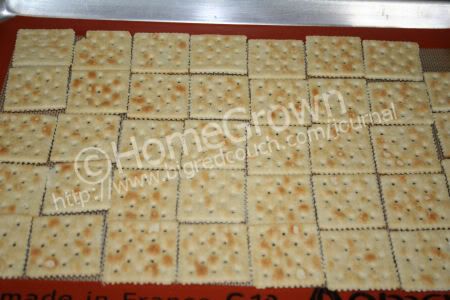 Melt one stick of butter and 1/2 cup of brown sugar. Over medium heat bring it to a boil and boil for three minutes without stirring it. This is your sugar candy base.
Remove from the heat. Drizzle the butter and sugar mix over the crackers. Careful not to burn yourself. Boiling fat and sugar will blister your fingers. It's okay if the candy spills over. The crackers will absorb most of it. If you use a silpat it will peel right up when it hardens.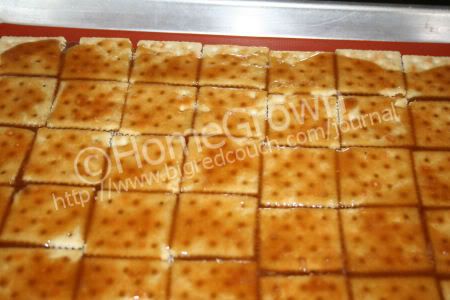 Slide the baking pan into the oven and bake for 7 minutes.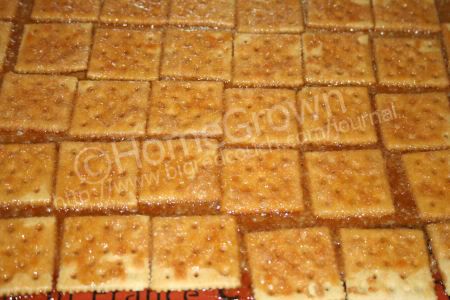 Remove from the oven and sprinkle the chocolate chips over the hot bed of crackers. After about 5 minutes the chips should be melted and you can spread them evenly over the cracker base.
I used what I had on hand – 1/2 bag of mini chocolates and 1/2 a bag of Ghirardelli dark chocolate chips. Go slow and spread them with a butter knife. You might think the saltines would tear and squish but don't worry the buttery sugar mix has made them hard like toffee.
Let the pan cool or put it into the refrigerator until the candy is cold and set. To serve break it into pieces like toffee.
Once the chips are melted and you have spread them you can use a piping bag and melt white chips and drizzle a stream over the chocolate to dress it up in a fancier 'gourmet' look if you want. You can also add chopped nuts under the chocolate layer. We are talking serious decadence now. People won't believe you when you tell them it is nothing more than saltine crackers, butter and chocolate. They will think you have a secret and you aren't sharing it.