Archive for the 'eggs' Category
If you are looking for a way to get ahead in the morning I have a great recipe for you that your family will love. It only takes a few minutes work in the evening to have an awesome hot breakfast the next morning.
I take a casserole dish and butter it well – or like in these photos I use small ramekins so that there are no leftovers to tempt me.
Slice your favorite bread – egg bread, challah or a nice sour dough and then line the dish with one layer of bread making sure to cover the buttered surface of the dish. Toss in some raisins if you like. Often I use bread with fruit already it in.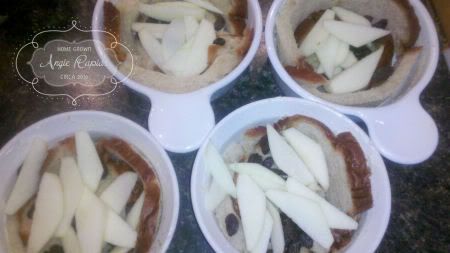 I often will thin slice apples and tuck those inside as well.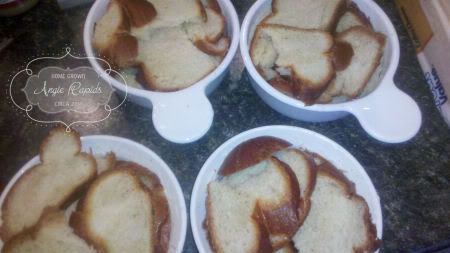 Top the dish with more thin sliced bread and press it down and make it fit tight.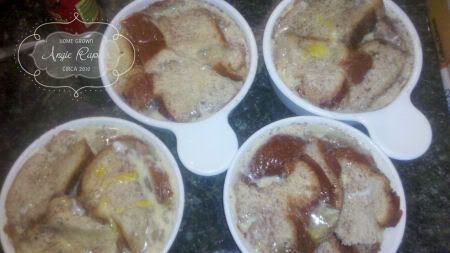 Next whip up some eggs. I use 6 eggs and 1 cup of cream. Add in a dash of cinnamon and nutmeg for another layer of flavor.
Pour the egg mixture over the bread. Press it down and let the bread soak up the liquid. You'll be surprised how much that bread can sponge up.
At this point you can pop it in the fridge and cook it the next morning or you can do what I do. I usually mix this up while I am getting supper ready. I let it sit until I am ready to watch a program about an hour before I go to bed. When the show starts I put the dishes in a 375 degree oven and set the time for 25 – 40 minutes give or take. When the timer goes off I take them out and open the oven door. I let most of the heat escape then I put the dishes back in the oven.
At 5am or 6am the next morning (Gracie gets on the bus at 6:30am so we have to be up and early around here) the dishes are still just slightly warm. I slice and serve with a warm drizzle of syrup. My kids have had a hot homemade breakfast and I did not have to put in a lot of effort – but don't tell anybody. No one really has to know how easy it is and you get all the credit for your amazing hard work.
The Ducks started laying about a week and a half ago. The geese started laying this weekend.
It is difficult to understand just how big a goose egg is.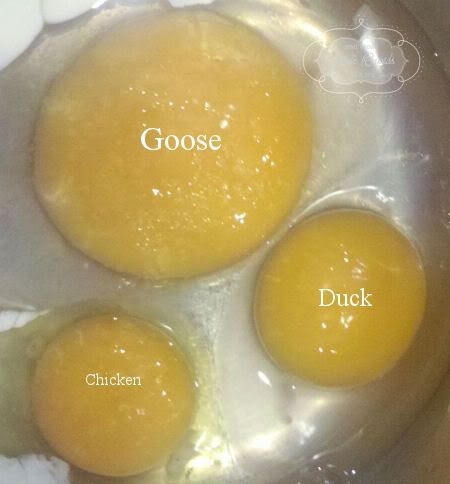 This is one goose egg, one duck egg and one chicken egg with a splash of cream and a dash of salt.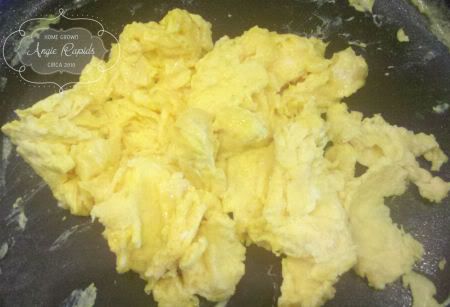 Once scrambled it made enough eggs for five of us for breakfast.
Five large helpings of eggs.
What did you have for breakfast?
"On September 17, 1787, The US Constitution was signed by 39 brave men and forever changed the course of history."
Today, September 17th, is Constitution Day. It is a great opportunity to read the Constitution with your kids and your spouse. We have a framed copy of the Constitution, The Bill of Rights and the Declaration of Independence. If you don't have a copy in your possession you can read it online.
*****
Before I get started on my eggs today would mind clicking over to my post on my extraordinary family and leaving a brief note to let me know you were there? Please? I am going to badger you and remind you it is a very little price to pay for all the things I share with you over here. LOL
*****
The last post I wrote on freezing eggs was a big hit. I hope you get as much use out this post on dehydrating eggs.
I have a confession to make. This is the most easy thing you will ever do. Ever. I promise.
You only need three things to make it work. Eggs, a nonstick skillet and your dehydrator.
This is one of the very few reasons I own a nonstick pan. If you don't have one borrow one. This is why – we are not going to add any oil or butter to the pan to scramble the eggs. Add oils and fats will drastically lower the shelf life of the end product. Meaning the eggs will go rancid quick. Eggs have a lot of natural oils in them. The yolk is really rich and if your chickens get a diet of fresh food and forage the yolks will be even richer.
I have a nine tray excalibur so I planned to do 9 dozen eggs – one dozen for each tray. It makes for fast work to crack a dozen at a time then to use the blender with a quick pulse to beat the eggs.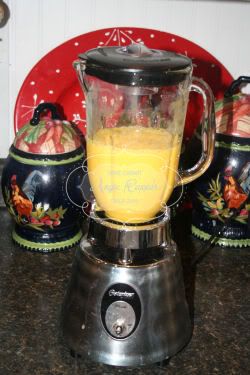 I could have never gotten as fine a mix by hand.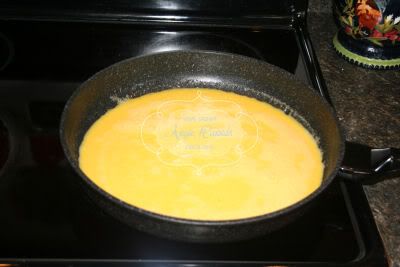 Pour into the heated pan and scramble.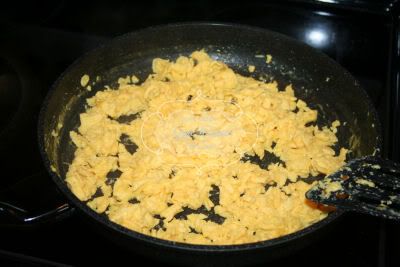 Try to make the nuggets of eggs smallish. They dry quicker than big hunks of egg.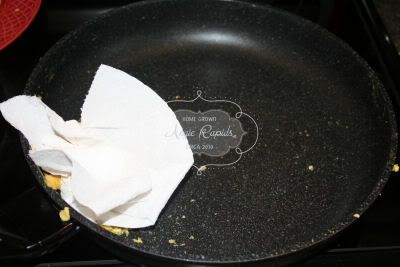 Use a paper towel and wipe out the pan after each batch of eggs.
You'll find a rhythm and the perfect heat setting for your pan as you work. I was able to add the eggs to the pan, move over to the sink and crack 6 or 8 eggs before the eggs needed a stir then finished up another dozen in the blender almost in time for the ones in the pan to finish up.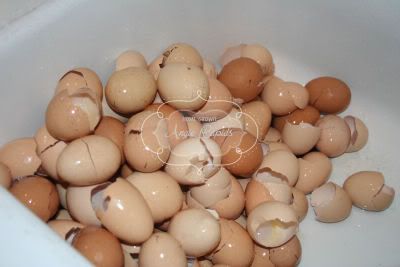 Before long you have worked through all of your eggs and theres nothing left but the shells. Take these shells and put them on a cookie tray. Bake them off for a about 15 minutes in a 350 degree oven. Crush them and offer them back to your chickens as a calcium source. Recycling! If you don't have chickens you can compost them. Don't dare throw them away. That is a waste of a good resource! If you know someone with chickens give them the crushed shells. They will thank you for even the store bought egg shells.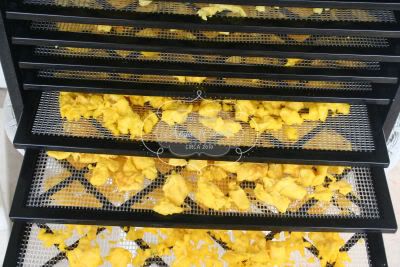 Spread each layer across the entire tray and load them one by one into your dehydrator. I set the temperature to 145 for these eggs.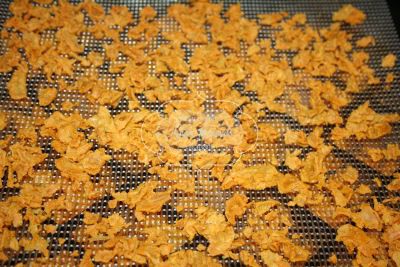 After 12 hours or so this is how they look. They are as dry as rocks. Look how dark they are! If you start with a dark yolk your eggs will be even darker when they dry.
This is a 4 quart mixing bowl. The eggs did loose a lot of moisture but there is still a great deal of bulk to them. You will also see the oils in the eggs once they are dry. I was really surprised how oily these were. Goes to show you better diets for your layers produce much better eggs.
Into the food processor and let them go a fairly long time. It will initially sound and feel like you are smashing rock in there but they will begin to break down. When you think they are finished think again. They will probably look like graham cracker crumbs instead of powdery egg. Let them go a bit and they will break down smaller but they won't be as fine as what you what might buy packed commercially.
As each batch finished I poured them into my half gallon canning jar. At first your jar will fill up quick but tamp it down by gently bumping it up and down on the counter. The eggs will settle and you can fill the jar all the way to the top.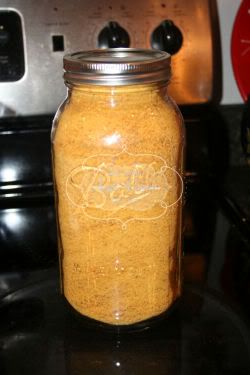 Apply a lid and vacuum seal it. These will be fine on my shelf for several months. If I don't use them all and they are still passing the nose test I can always pop them in the freeze for an indefinite amount of time.
This morning when Colby was leaving for work she came into the kitchen as asked why a jar of graham crackers were out. She wondered what I was baking today. So – don't forget to label your jar. LOL
Have a great weekend, Everyone!
Update
No one is reading through the replies so I am going to post this here instead of answering all the emails and repeating myself in the comments.
You can use them for anything you want. Reconstitute 1 tbsp to 2 tbsp water for recipes for 1 egg. You can use a larger portion and reconstitute for scrambled eggs – yes, cook them again, or to make omelettes. What you do with them is up to you and your cooking preferences. If you have an overload of eggs this one way to safely store them without needing refrigeration.
Many people do not live in a manner where they buy groceries weekly and keep no food stores. A very large population practices home food storage for emergency preparedness and the ability to help others in times of hardship.
If you feel you need to store provisions for your family for times of need or crisis please know I understand and hope to share some of my knowledge with you. For those who don't want to store food shelf stable then don't bother with it. Don't send me emails asking why someone would want to store an egg when they can buy them at the grocery store fresh. This is an alternate source for storage.
For myself, I have many types of fowl. Sometimes eggs are plentiful. Other times they are not. I like to use the times of plenty to prepare for the times we will be without. This is one way to do so without requiring freezer space. I did any earlier post in the summer about freezing eggs. If you want to freeze them by all means please freeze them.
I hope this helps. See you all next week.
*****
Comment on HomeGrown and enter to win an Excalibur Dehydrator. Giveaway closes at 11:59pm November 13th.