Archive for the 'Sew – A Needle Pulling Thread' Category
This Premiere De Luxe model 1952 is a Japanese made sewing machine that was considered a knock-off of the iconic Singer Sewing Machine of the early 1900's through the 1950's. It is a work horse of a machine made of cast iron and steel working components. For those who sew a variety of things it is right up there on the top of the list of things we want to have because not only does it sew a lovely straight stitch it will also sew several layers of denim as well as leather. That is something tough for the average today sewing machine to do.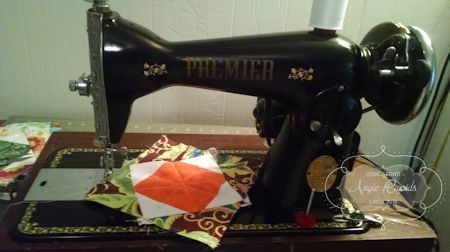 This machine was purchased at a local GoodWill for $3.99. Less than four whole dollars for the fabulous piece of workmanship. It has sat in my sewing closet for about three years. Finally I pulled it out and took it to the local sewing machine repairman.
She needed some semi-major work on the tension and bobbin housing along with new belt, new rubber guides for the bobbin winder, some general cleaning and a very thorough lube and oil. It cost me $82 to have her serviced but most of that was the time and effort of the great guy who fixes these old gals. I am happy with that investment in her.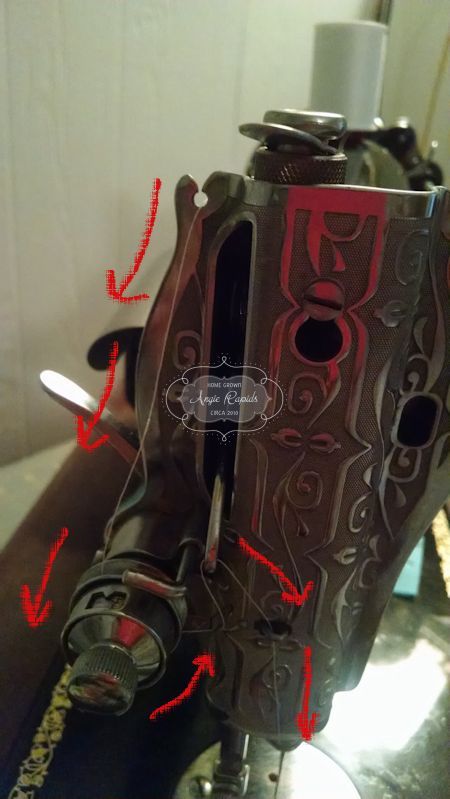 I have photographed how she needs to be threaded so if anyone else has one of these gems they can use my photo as a reference. Many of these machines look the same but the threading can be slightly different on all of them.
Most importantly, she sews a lovely stitch. I am taking the time today to give her some running time. Together we are making a few quilt block coasters for sweating tea glasses and hot coffee cups.
Do you have a vintage sewing machine? I'd love to hear about it so feel free to leave a comment.
Video of one of these machines in action.
I am a bit of a collector of sewing machines. I love them. I learned to sew on my momma's cabinet style Singer back in the 70's. My first machine was a red and white brother that did nothing but sew a straight line. One day it locked up and something in the arm broke. It was cheaper to buy a new machine that to have it fixed. My next machine was a simple Singer and my daughter now has it as her own machine. Over the years I collected a few that I love.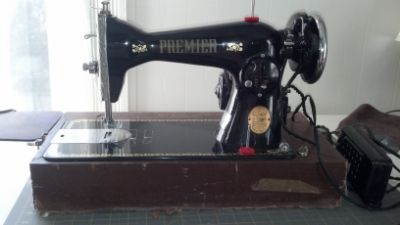 A friend found this Premiere at the Good Will for $4. It needs some work to make it usable so it is tagged for the repair shop.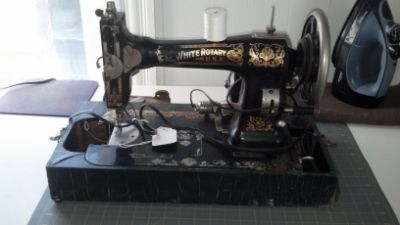 This is a 1913 White Rotary. My husband gave it to me for my birthday the second year we were married. It sews a nice stitch.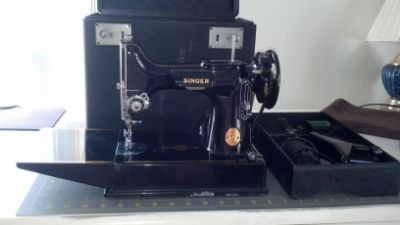 This is a Singer Featherweight. I found it for a steal on Craigslist. It makes a very nice stitch but needs a new bobbin casing one day soon. It is an awesome little machine to take along to sewing and quilting groups.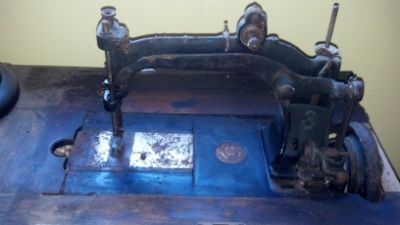 This one is a Wheeler Wilson Number 8 treadle sewing machine. This sewing machine was patent in 1876. It was a cadillac of a machine. The company expected to sell many and make a fortune. Unfortunately this high price and industrial look left it a poor seller as few could afford them. When in working condition these machine sew like a dream. I hope to be able to this one restored some day.
This is a Singer serger. Love it! It is many years old. At times I do get annoyed with it because the least little thing screws up the thread tension settings.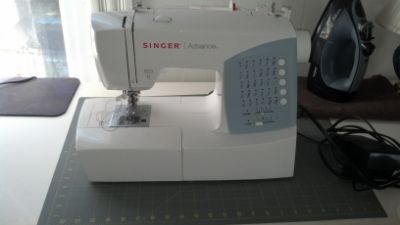 This is a Singer Advance. I bought it years ago when my daughter was asking for a sewing many of her own. I got this one and passed my older model on to her.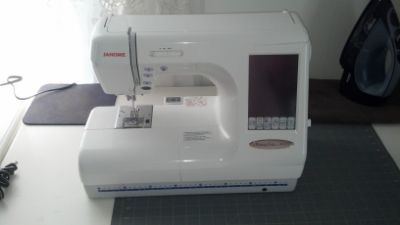 This is a Janome Memory Craft 10001 embroidery machine. I was blessed to have received this machine as a gift. The women who owned it advanced to a much larger and fancier machine. After years sitting in her closet she pulled it out and gave to someone who would use it. That would be me.
This is the newest in the machine line up. It sews like a dream but I feel guilty about having it. This is the Juki TL-2000Qi – and it is made in China. I truly try not to buy things made in China and this one is still eating at me. I bought this one to go with my Grace quilting frame. It is a powerhouse of a machine. It sews beautifully and is a powerful quilter.
You see there is only one sewing machine manufacturer in the USA now. Merrow is an industrial machine and not made for home sewing. I don't need a knit or crochet machine and a Merrow won't work for me. I have had no alternative but to buy a machine made in another country. And that bothers me. Perhaps that is one reason why I buy so many of the older machines, get them working and pass them along to others who need a good machine.
What machine do you use for your sewing needs?
My momma came up for a visit. It wasn't planned. The kids asked her to come up for a few days and so she did.
In 5 days we organized my kitchen, got a new floor and shelving for my mudroom/pantry and did some canning, shopping, manicures, pedicures among other delightful girl things.
One thing she wanted to show me was a trick she learned about making decorative pillowcases. We used a piece of muslin and she went through the steps of making the pillowcase with all the seams perfectly lined up and even and neat.
She left this morning to go back home. I miss her already!