It has taken me about two years to finish this quilt. It started with my grandmother's handkerchiefs, choosing something to embroider on them and working toward a quilt top pattern, January of 2013 I actually started piecing the quilt top.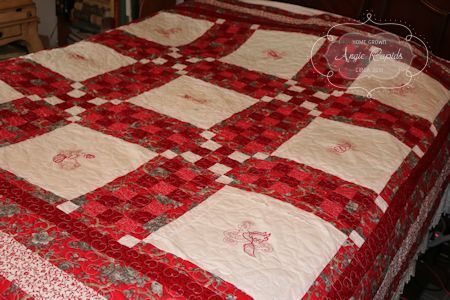 This past winter I had it on my frame and finally got around to the actual quilting. When I worked on it I would think about my grandmother and sometimes the melancholy would win over the happy and I would put it away.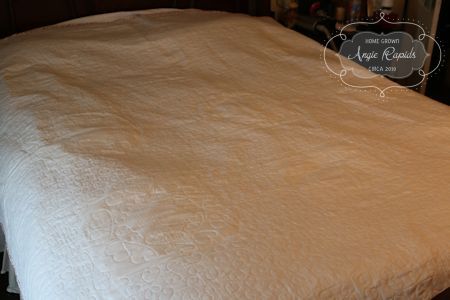 It has been sitting folded under my quilt frame for the last few months waiting on me to stitch the binding and attach the label. My mother came for a visit this past week and she helped me finish the binding.
This is my favorite quilt I have ever completed. I love all the memories it brings back of my grandmother and how much I love her. It is because of my mother and her generous heart that I had the handkerchiefs to work with.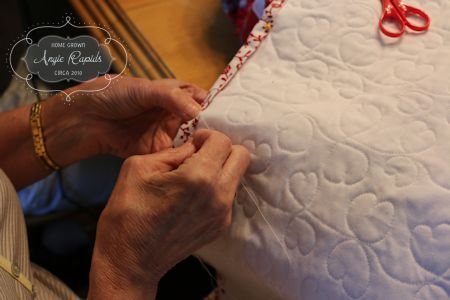 Things that might have been thrown out, like these handkerchiefs, when my grandmother's house was cleaned out she saved and sent to me and my sister.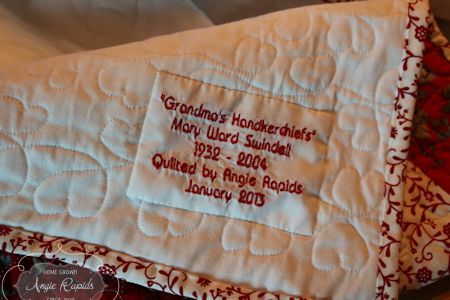 When the quilt was finished my heart was full. I gave the quilt to my mother.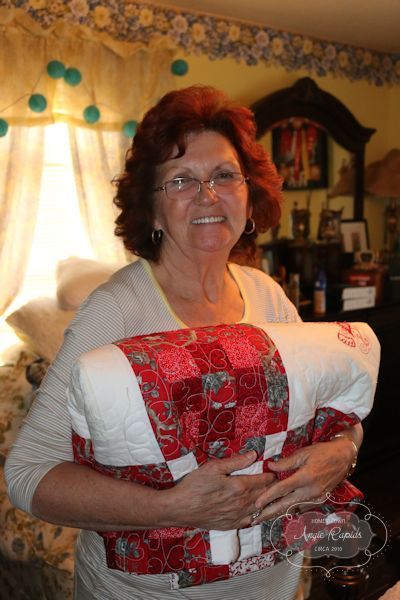 I hope she feels warmth on cold winter days and knows I love her and is warmed by the love and memories of her mother.
I found this clawfoot tub for sale on craigslist for $60 several years ago. We picked it up from a pasture where it was being used as a watering tank for horses.
When we got it home we found it was larger than the current bathtub and would not fit the original bathroom. So she sat and she sat. And she sat some more. Until we had to rip out the bathroom floor and found there was room for her in there after all!
This has been the longest bathroom repair and restoration and I am reaching the point of no return where I want to hurt somebody if they don't hurry up and help me get this done. Because I am almost done. Done. DONE!
Yesterday I flipped her over, primed and painted her outside walls red.
The feet got there own fancy pedicure treatment.
I restored the board and batten to the bathroom walls and now the area where she sits looks like nothing ever happened here in the past 105 years since the house was built.
Here is a little sneak peak. I don't want to reveal too much before the bathroom is finished.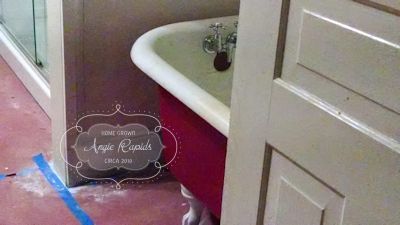 I am really starting to see my dreams take shape in reality!
I am not going to get all preachy and tell you that the only way to have a great cake is to make it from scratch using organic ingredients and weighing out every thing with precision skills. These days I am stressed for time to do anything for myself and this is a great cake if you make it from scratch or use a box. Today let's just use the box.
1 lemon supreme cake mix. Mix it up just like the directions on the back of box instruct you to do with one minor exception. Cut back on your water by 2 tablespoons because you have to compensate for the juice in the blueberries.
Next rinse your blueberries and drain them well. While they are slightly damp toss them in a little flour. This helps to keep them suspended in the cake layers instead of falling straight to the bottom of the pan.
Next fold your floured blueberries into the cake batter. Pour into greased and floured (or spray with bakers joy) and bake as instructed or until the edges begin to pull away from the pan.
Cool completely. I like to let mine cool then sit them in the fridge to chill because I am going to use a basic cream cheese frosting and it sticks better to cold cake.
For the frosting whip together a block of cream cheese, a stick of butter (both softened), 1/2 tsp lemon extract the zest of one lemon and 2 cups of powdered sugar. If it is too stiff add 1 tsp of heavy cream or milk. If you get it to runny add more sugar. It should be buttery smooth but still form and hold peaks as you frost.
Or just get the frosting from where you got the cake mix and doctor it up with a little lemon zest.
Tada!! Lemon Blueberry Cake that everyone will love of a hot summer day!