Last January (a year ago!) I started a quilt top and posted about it here. I couldn't decide where I was going with it or what I wanted to look like when I finished. I am not into cookie cutter quilts with fashionable expensive fabric print collections as their foundation.
I shopped in several fabric stores and pulled together a group of fabrics in a family color that went well together and was pleasing to my eye.
I laid the blocks out in varying patterns until I found something that not only I liked but Grace liked as well. She fell in love with the colors as soon as she saw them and staked a claim on this quilt.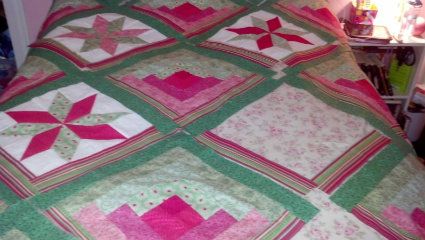 When the top was finished I pieced a backing and took it down to my neighbor to quilt. They have a computer controlled quilting machine and it is fast and very little work for them to complete the quilting. A few days later they called me back and said the backing was too short and I needed to fix it. To say the least I brought it home, tossed it in the corner of the sewing room and forgot about it.
Over the last few months Grace has complained about her bed duvet and has been after me about finding something new for her bedroom. Her bed set has been on her bed for almost 9 years. I guess it is time for a change!
The past few snow storms have made it a great time to get some unfinished projects to the finished stage. After quilting a couple of quilts for my momma I eyed the bag in the corner and decided now was the time.
I popped the quilt top on the quilting frame with a pink flannel backing and a 100% cotton batting.
It took me an entire day to do the quilting. Another to do the binding.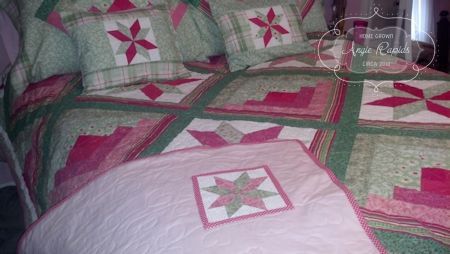 And then at Grace's urging another to make matching pillow cases and some accent pillows. The quilt is a mix of LeMoyne star variation and log cabin blocks made to look like tulips.
After 3 days of work she now has a new bedroom bed set and I have another finished project under my belt.
I have been hesitant about this quilt top but now that it is finished it is really stunning to look at. I love the vibrant colors and it really takes her bedroom to a new flavor of pink decor.
This post was previously published and is now Updated on 4 March 2014
Making a quilt for me is a 3 step process:
1. Making the top
2. Sandwiching and the actual quilting
3. Binding and Finishing
The process starts long before the actual first step of sewing with the selecting of fabrics and the inspiration of a design. Then there is time spent shopping for fabrics, batting, backing, thread and if necessary patterns, sharp new cutting blades, tracing paper, fabric marking pens and other bits and pieces of sewing notions that the project requires.
When doing this for yourself it is a process of art and love goes into every stitch. When doing it for others it is work and that is a job doing something that you love very much. A job equates to being paid a paycheck that encompasses not only the material goods but also the talent, skill and time it takes to turn out another lovely quilt that will be cherished by the owner and hopefully handed down for generations to come.
Having been asked how I price my quilts I thought it was a good time to sit down and put it on paper so there are no surprises when I am approached to make a standard bed sized quilt for someone.
Cost
Quilt Top
I only use 100% cotton fabrics. These fabrics last longer and will not break down over time like synthetic and blended pieces. The price of fabric varies but at best expect to pay anywhere from $6.99 to $15.99 per yard of fabric for the quilt top. Typically a quilt top can use anywhere from 4 to an unlimited number of different fabrics. Some fabrics will be used more than others and will require more yardage. Expect to spend about $100 for the quilt top fabrics.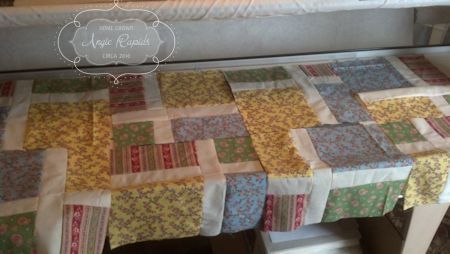 Quilt Back
For the quilt backing the pricing can be as little as $35 for gorgeous 120 inch wide muslin or equally as expensive as the quilt top when choosing a designer fabric for the back.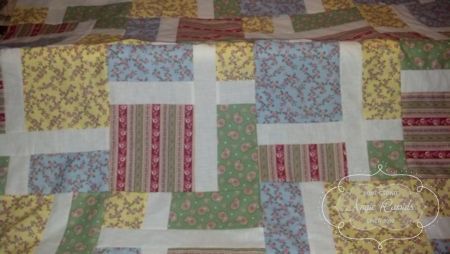 Quilt Batting
Between the quilt top and the backing is the thick padding that lends weight and functional warmth to quilt. The batting I use is 100% cotton and averages about $30 a package for a standard quilt size. To save on costs I do try to purchase the batting on sale or with a coupon. Sometimes it is not possible and I have to pay full price for the package of batting. I do not use the polyester loft batting that is cheaply found in craft centers. The acid in the synthetic batting will eventually break down and eat through the fabric causing the quilt to have a very short life expectancy.
Quilt Binding
Fabric for binding the edges also has a cost per yard associated with it the same as the other fabrics. The binding is cut on the bias and hand sewn.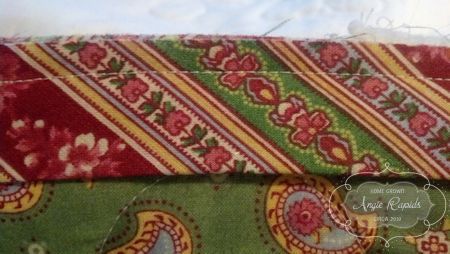 Sewing Notions
There is also the cost of thread -and it takes a lot of thread to make a quilt. Choosing a colored thread over traditional white thread adds a bit more to the budget costs.
The minimum expected cost for the material goods for a quilt on average is $185 – $200. This does not included any of my time actually cutting, piecing and sewing.
Quilt Top Design and Piecing
To make a quilt top I expect to spend a good solid week or two on the cutting and piecing of the design. The simpler designs in a basic patchwork quilt requires less time than more intricate quilt blocks that require star points to match up exactly, Dresden plate petals to be sewn precisely or paper piecing which requires even more concentration on being exact. The more intricate the design the more skill it requires and the longer it takes to complete a quilt top and therefore I have to charge more. It takes me one to two weeks (possibly longer) for a quilt top to be completed. And, yes, that is 6 to 8 hours a day working for you on your quilt top design. If the backing is not a standard 120 inch wide fabric I will have to piece the fabrics to make it fit the quilt top. This requires more sewing.
Quilting
Once the quilt top is complete next comes the steam pressing and loading all the layers onto the quilting frame. I do not hand quilt. Due to carpal tunnel syndrome and arthritis I do all my quilting by machine. On average once a quilt makes it to the frame I like to have it off within 2 to 3 days times. This is where a ton of thread is used up very quickly. Edge to edge quilting is standard. Custom quilting is priced out by the square foot and can take several weeks. It is more efficient to me to complete a quilt with edge to edge quilting.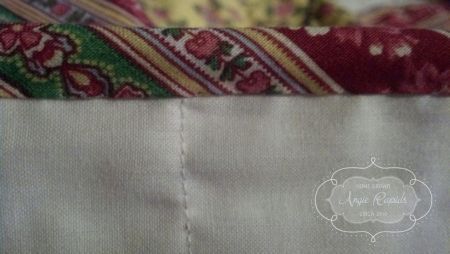 Binding
I complete the binding by hand. It is the only way to get that seamless and effortlessly finished look. A standard sized bed quilt takes me as long as 18 hours of hand stitching to complete.
Finishing
Finishing is the best part. This is clipping threads and checking seams. A labeled is placed on the back of the quilt stating who made it and for whom it was made for with a date in order to identify the quilt should it ever be lost. Then the very best part. The quilt is washed and then dried. This causes the fabrics to softly pull and pucker creating the look of a vintage and well loved quilt that is soft and ready to be snuggled under.
Pricing
Pricing for a basic standard bed sized quilt comes with it many layers of material cost and skill. It also requires many hours of labor. How much would you expect to be paid for 3 to 4 weeks of your work? Do not expect any less of someone you have contracted with to make you a one of a kind heirloom quality quilt.
Base pricing
Standard bed sized sampler style patchwork quilt with edge-to-edge quilting and muslin backing:
Materials $200
Sewing, Quilting, Finishing $300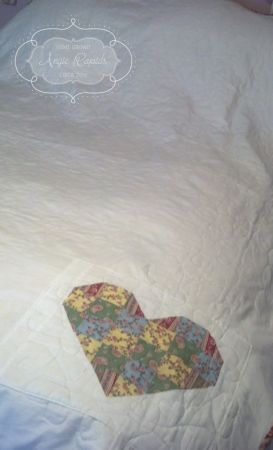 At minimum expect to spend $500 on a one of a kind, hand made quilt.
Anyone who really knows me knows that I have been homesick for the last six months. Melancholy, tearful, dreaming of backhome with its scent of pine trees in the air, fields under a blanket white as snow in late August and September waiting for the harvest of the cotton, the late evening whine of cicadas, the sweet smell of magnolia in humid southern summer air, frosty mornings and warm afternoons, red dirt roads and antebellum houses. All these things and more sing the love song of home to my soul.
This past week we dropped everything and rushed back home due a horrible tragic accident that took the life of my young cousin. While the moment was sad and soul wrenching at the same time being there revived me and I drank in every moment, lived in every minute and tried not to count the seconds ticking by.
As the funeral was pushed back two days further than we expected we had some time to fill. We made the rounds of the cemeteries on a long Sunday drive. Paying respects to those long past, clearing off fall leaves, remove spent and faded flowers and setting out fresh bouquets. As we drove we talked and joked and got to know ourselves as much as each other again. I shared the things about those who are the reason we are here and hoped those stories are remembered and passed on.
As we drove down a long South Carolina sandy dirt road I started to sing, "Oh,I wish I were in the land of the cotton, Old times there are not forgotten ….."
As if by magic the trees cleared and we rolled up on fields of cotton seemingly left from fall all but forgotten. I instructed my cousin to hit the brakes and out I flew from the Jeep we were riding in.
It was cotton as far as we could see. And pine trees.
We pulled up stalks of cotton and crammed them in a bag and scurried back to the car.
I got my wish.
I was in the land of cotton, palmetto trees and my ancestors.
I felt like Dorothy and clicked my heels three times.
I really was home again.