Several years ago Steve's mom gave the girls two of Steve's grandmother's dresses to have for dress up. They came in a brown paper bag with a few hats and a purse. Over the course of a few years the girls left behind playing dress up in exchange for being teenage girls and young women who dressed up in their own choices of dresses, heels and hats.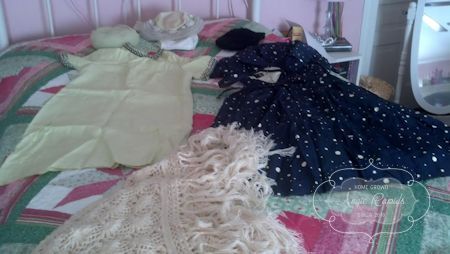 The dresses have been in a storage box in the attic over the last couple years. I asked last year if anyone had issues with me using the dresses for another purpose. They are soiled, stained and torn and long past their days of dress up.
This morning I pulled them out of the attic. They have a new purpose. I will be using the fabric to make a quilt in memory of Steve's grandma.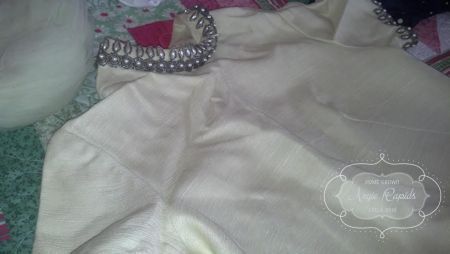 The pretty pale mint green feels like it might be silk. The Navy blue is what I call a Lucy-style dress with stiff crinoline. The two colors will look stunning and offset each other beautifully.
For me this is a perfect next project.
or not.
It snowed all night and we expect more through the morning and early afternoon.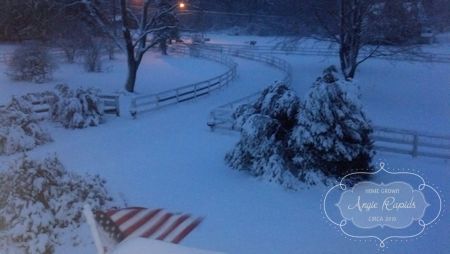 I keep telling myself that snow puts nitrogen in the ground for my garden and Spring is almost here!
Happy St. Patty's Day!
Last January (a year ago!) I started a quilt top and posted about it here. I couldn't decide where I was going with it or what I wanted to look like when I finished. I am not into cookie cutter quilts with fashionable expensive fabric print collections as their foundation.
I shopped in several fabric stores and pulled together a group of fabrics in a family color that went well together and was pleasing to my eye.
I laid the blocks out in varying patterns until I found something that not only I liked but Grace liked as well. She fell in love with the colors as soon as she saw them and staked a claim on this quilt.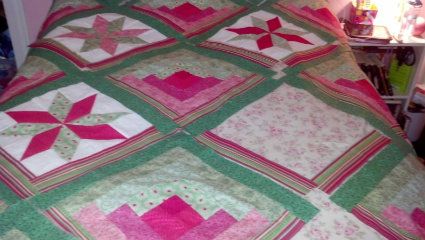 When the top was finished I pieced a backing and took it down to my neighbor to quilt. They have a computer controlled quilting machine and it is fast and very little work for them to complete the quilting. A few days later they called me back and said the backing was too short and I needed to fix it. To say the least I brought it home, tossed it in the corner of the sewing room and forgot about it.
Over the last few months Grace has complained about her bed duvet and has been after me about finding something new for her bedroom. Her bed set has been on her bed for almost 9 years. I guess it is time for a change!
The past few snow storms have made it a great time to get some unfinished projects to the finished stage. After quilting a couple of quilts for my momma I eyed the bag in the corner and decided now was the time.
I popped the quilt top on the quilting frame with a pink flannel backing and a 100% cotton batting.
It took me an entire day to do the quilting. Another to do the binding.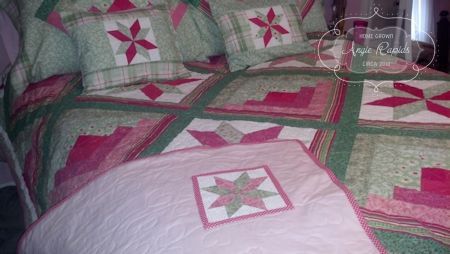 And then at Grace's urging another to make matching pillow cases and some accent pillows. The quilt is a mix of LeMoyne star variation and log cabin blocks made to look like tulips.
After 3 days of work she now has a new bedroom bed set and I have another finished project under my belt.
I have been hesitant about this quilt top but now that it is finished it is really stunning to look at. I love the vibrant colors and it really takes her bedroom to a new flavor of pink decor.