I took a chance and purchased a scrap bag bundle off of ebay. The pattern set is Pine Fresh by Sandy Gervais for Moda.
I color sorted the strips into green, yellow, red and black.
Then I randomly began sewing the strips together in whatever way they came to hand. I made blocks at least 15 inches by 15 inches. If the colors where too matching or the black strips too over powering I cut them into fourths and then made less heavy blocks.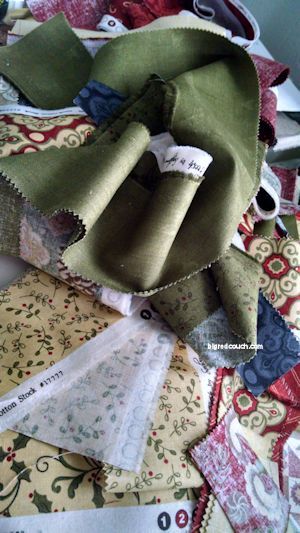 In just a few hours I had pieced a quilt top large enough for a full sized bed.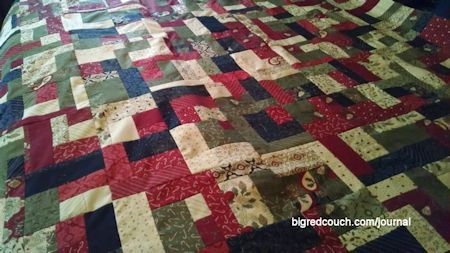 I will work on a border design with the remaining scrap strips and try to come up with something to really showcase the the random loveliness of the Christmas designs in the fabrics.
I would love seeing your own scrap quilts if you care to share in the comments.
If you follow this blog on Facebook then you know my mother and sister spent seven days here over the course of two weeks. We did little else but sleep, eat and quilt. They brought with them the quilt tops they wanted longarmed and in the course of seven days I was able to longarm all seven quilts for them. Let's say when they left for home my arms were tired, I wasn't in the mood to cut quilt blocks but I was in the mood to be creative. With my birthday coming up in this next week I decided to give myself a gift that I have wanted to do for several years.
I started with three scraps of wood left over from the bathroom makeover. Each was given two coats of primer.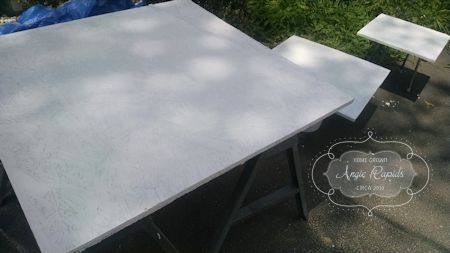 Then one by one I started painting. I used sample paints and odd colors from the paints incorrectly pigmented at various paint stores. Mostly I had primary type colors in various shades that compliment one another.
This sawtooth star is a variation identified in Barbara Brackman's Encyclopedia of Pieced Quilt Blocks as the Star of Virginia. It will hang on my big barn that I can see outside of my kitchen windows.
This block is known as the Georgia block from the fifty states series of quilt blocks. It will hang on the road side of our smaller barn.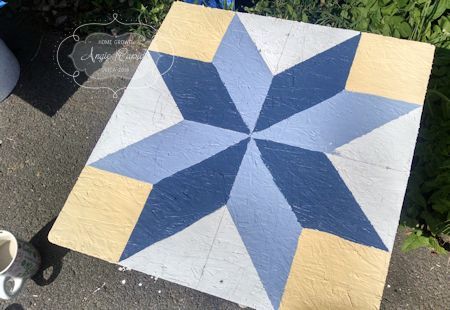 This block is a variation of a Le Moyne Star and will hang on the door side of our tobacco barn.
Each block will hang under the eves of the roof and will be protected from most rain. Just to be on the safe side they all have 2 coats of marine spar varnish helping to make them waterproof.
Happy Birthday to me! Hopefully this week I will get someone to help me hang them!
This Premiere De Luxe model 1952 is a Japanese made sewing machine that was considered a knock-off of the iconic Singer Sewing Machine of the early 1900's through the 1950's. It is a work horse of a machine made of cast iron and steel working components. For those who sew a variety of things it is right up there on the top of the list of things we want to have because not only does it sew a lovely straight stitch it will also sew several layers of denim as well as leather. That is something tough for the average today sewing machine to do.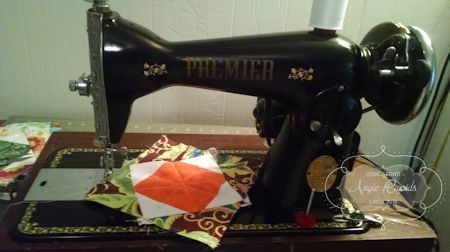 This machine was purchased at a local GoodWill for $3.99. Less than four whole dollars for the fabulous piece of workmanship. It has sat in my sewing closet for about three years. Finally I pulled it out and took it to the local sewing machine repairman.
She needed some semi-major work on the tension and bobbin housing along with new belt, new rubber guides for the bobbin winder, some general cleaning and a very thorough lube and oil. It cost me $82 to have her serviced but most of that was the time and effort of the great guy who fixes these old gals. I am happy with that investment in her.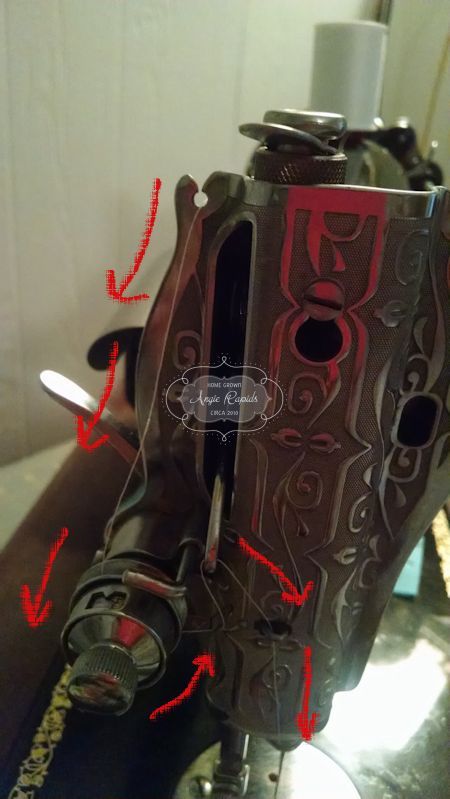 I have photographed how she needs to be threaded so if anyone else has one of these gems they can use my photo as a reference. Many of these machines look the same but the threading can be slightly different on all of them.
Most importantly, she sews a lovely stitch. I am taking the time today to give her some running time. Together we are making a few quilt block coasters for sweating tea glasses and hot coffee cups.
Do you have a vintage sewing machine? I'd love to hear about it so feel free to leave a comment.
Video of one of these machines in action.