Grace is a rising high school senior who will graduate in June of 2016. She is earning her way to Great Britain by fund raising, donations and hard work.
The trip is being sponsored by a history teacher at her high school and the tour is through EF Tours. Donations can be made directly on her tour page.
She came up with the idea to do a quilt raffle to help raise some of the money needed to participate in the planned trip.
Tour Details: Along with the nearly $4500 price tag for the trip itself she will also need an estimated $400 additional for tipping of the tour guides, bus drivers and other professionals assigned to her tour group, meals not included in the package, snacks and drinks each day. Yes, that is a great deal of money but this is a once in a life time chance to fulfill her dream of seeing London Bridge, the Eye of London, Blarney Castle, St. Patrick's Cathedral, Edinburgh Castle, Glastonbury Abbey, Stonehenge, Salisbury Cathedral, Big Ben and Houses of Parliament, Piccadilly Circus, St. Paul's Cathedral, Westminster Abbey, Changing of the Guard at Buckingham Palace, Windsor Castle and all the sights and sounds of Dublin, London, Edinburgh, north Wales, and Killarney just to name a few of the destinations on the itinerary.
With your help and generous donations she will be able to see all the things she has read about in history books and to help reconcile the early pre-Revolutionary history of America which was at that time a British colony and under the rule of the English Crown, King George III and Queen Charlotte.
Quilt Details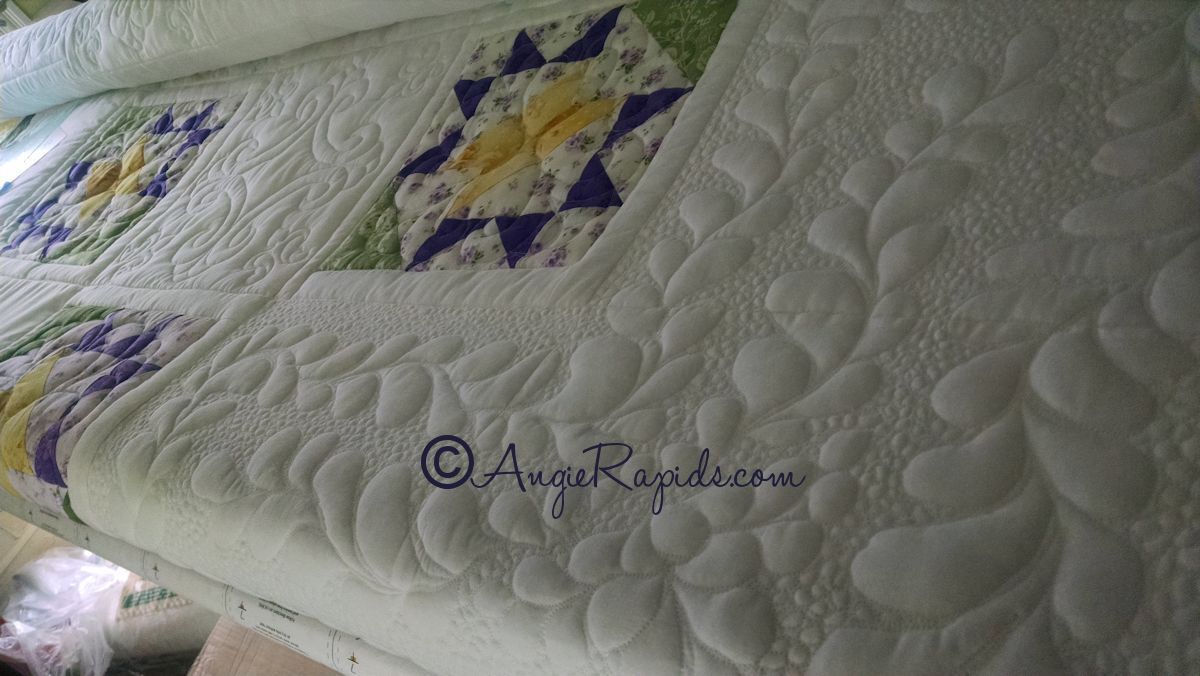 The raffle quilt is "Queen Charlotte's Crown". Finished it measures approximately 100 x 80. The design is my own and the pattern for the block was reconstructed from an antique quilt block pattern estimated to have been design in the late 1790's in Charlottesville, Virginia.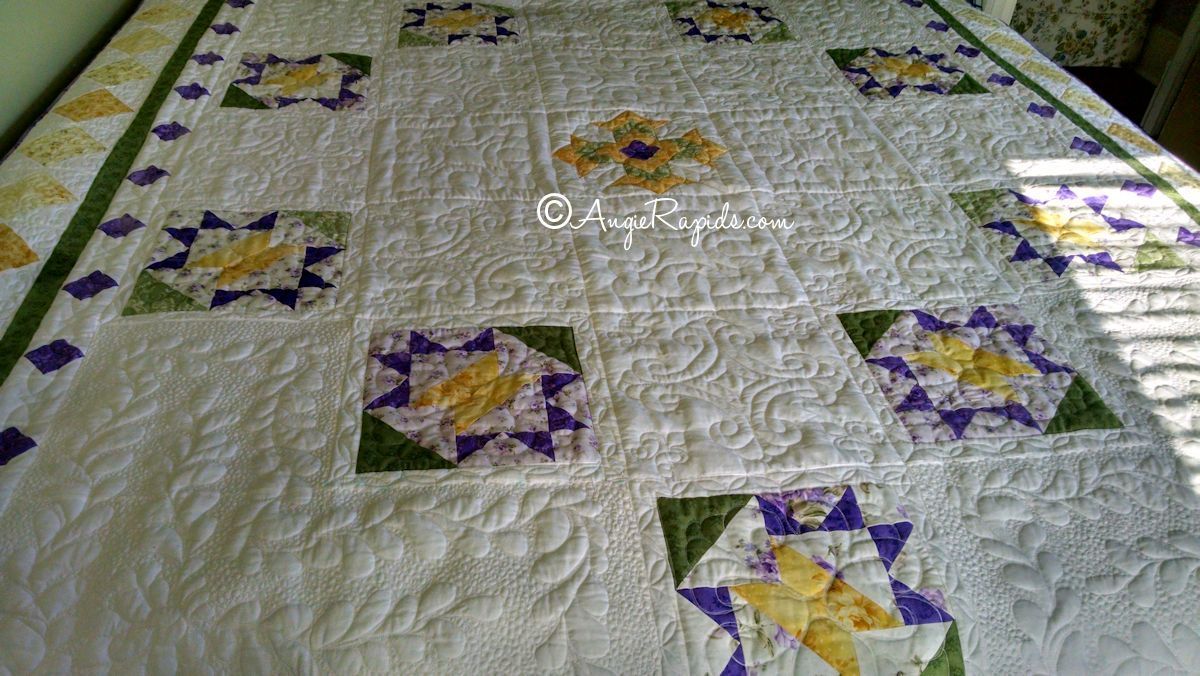 The Queen Charlotte's Crown block was redesigned from an English paper piecing technique to a simple 6 blocks that can be easily cut and sewn in a just a few minutes. The center block is "God's Eye" and was used in reference to royal belief that those of royal birth were placed on the throne by the hand of God and there was no other higher authority.
The fabrics used are 100% cotton. The colorful palette if from Eleanor Burn's fabric by Benartex, Lemon Chiffon and Wisteria. The royal purples and yellow golds are representative of colors worn by royalty and present in famous portraiture of the Queen during her rein as the last queen to rule over the American Colonies.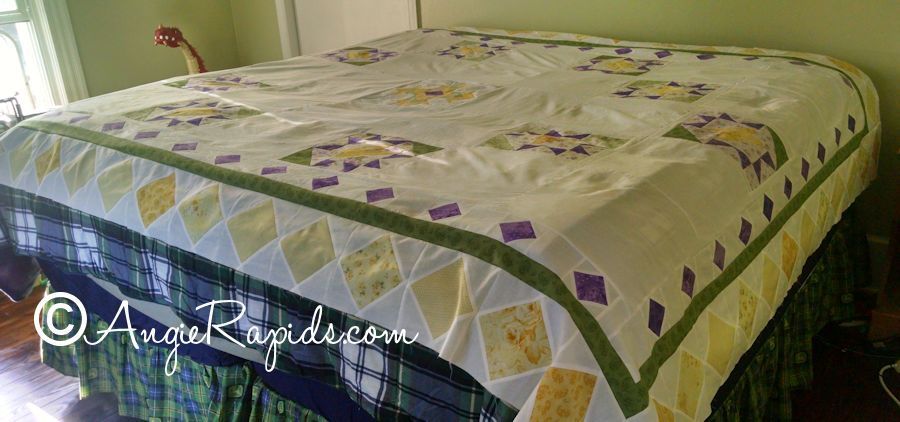 The quilting was done on a Tin Lizzie long arm sewing machine and is all free hand manual work.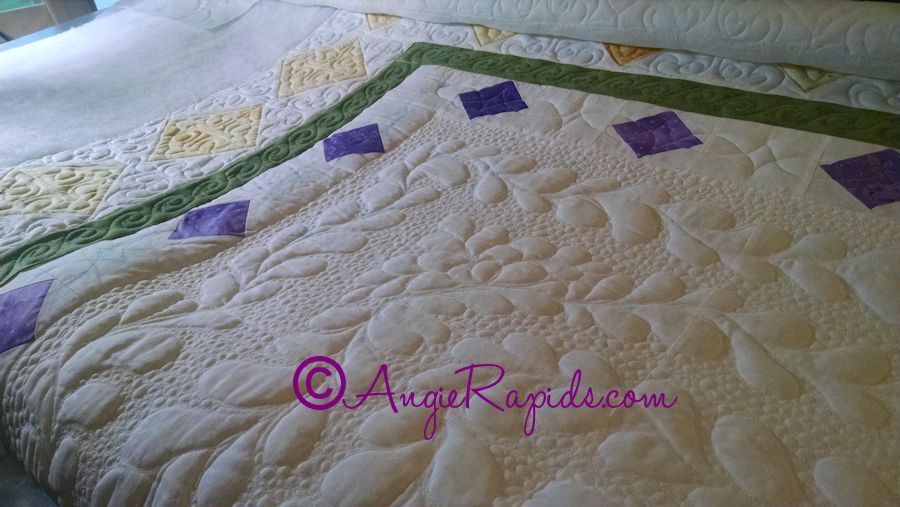 Raffle tickets may be purchased by a $5 donation on her tour page.
More photos coming soon. It has been raining and prevented photography session outdoors in sunlight to better show the details of the colors and quilting.
Thank you so much for your generous help and support.